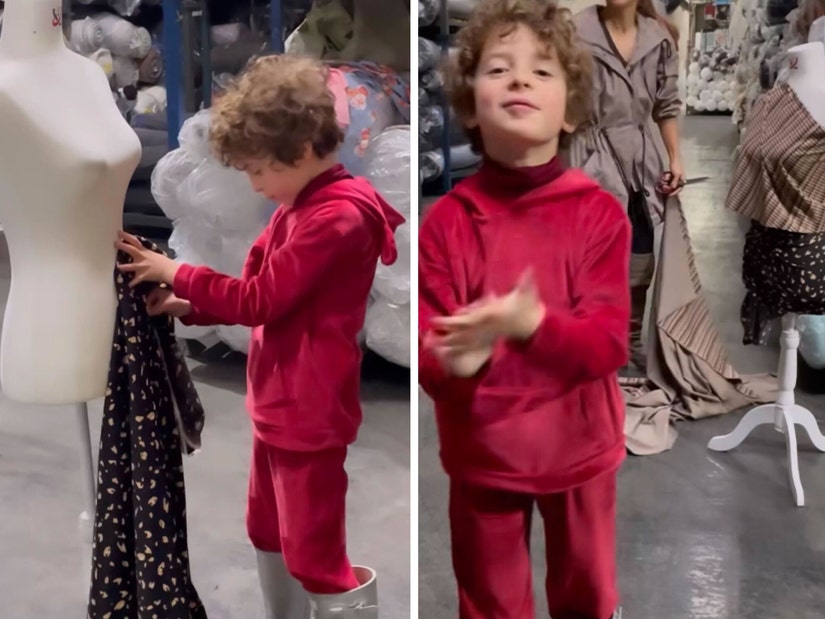 Instagram
The little fashion designer has even received commissions from celebrities like Sharon Stone.
7-year-old Max Alexander is a dressmaking prodigy whose natural fashion instincts may have been passed down from another life.
In an interview with People, the first grader and his mom Sherri Madison shared how his passions for designing clothes have led them to believe he has a deep connection with late Italian designer Gucci.
"I actually was," Max told the publication with confidence of the claim he is the reincarnation of the legendary fashion designer. Madison revealed that her son's interest in dressmaking came out of nowhere when he was only four years old.
"I didn't notice. He told us. We were at dinner during the lockdown, and he just literally announced, 'I need a mannequin,'" she recalled. "He was very serious. No laughing. I was like, 'Okay, I've never seen you interested in fashion. What are you talking about?' He said, 'That's because I don't have a mannequin. If you get me a mannequin, I'll show you. I'm a dressmaker.'"
Waiting for your permission to load the Instagram Media.
Madison, a cardboard artist, made Max a mannequin out of cardboard and his designs soon went viral and has even gotten commissions from celebrities like Sharon Stone.
"He just started making dresses, it was the craziest thing," she said. "I ran and got my husband. I was like, 'Come out of your office, you have to see what Max is doing. It's crazy.'"
Shockingly enough, the tiny fashion designer had no prior experience or exposure when it came to dressmaking. It wasn't until Madison dug into their family history that she discovered that Max's grandparents had a fashion business in Canada.
"It turns out his grandparents were in the fashion business in Montreal. My grandparents and my mom were all sewists, but Max didn't know any of that, it came out of nowhere," she continued, and when Max created more than half a dozen dresses, he "started begging to learn how to sew."
Waiting for your permission to load the Instagram Media.
Madison sat him down on her lap and taught him basic skills, but soon Max's sewing talents surpassed her own and he began taking classes at their local sewing shop. Though he has learned the technical aspects of dressmaking, Max has picked up designing, draping and more on his own.
"He's just so committed to it, and he has so much fun. It's truly his happy place, his studio, and even just playing with the material," she gushed. "For the first year or two, we said, 'Well, tomorrow he's going to be a cook.' But it just stuck."
"That's really the unusual part that impresses me, is the commitment for such a very young child, and his true passion to want to make people feel beautiful, which he has told us since he was 4."
While Max has already accomplished so much at a young age, he hopes to become "the head of the house of Gucci or he wants to have his own atelier, Couture to the Max Italian."
The designer also shared a message for other children who want to pursue fashion design, "Practice makes perfect," he said.