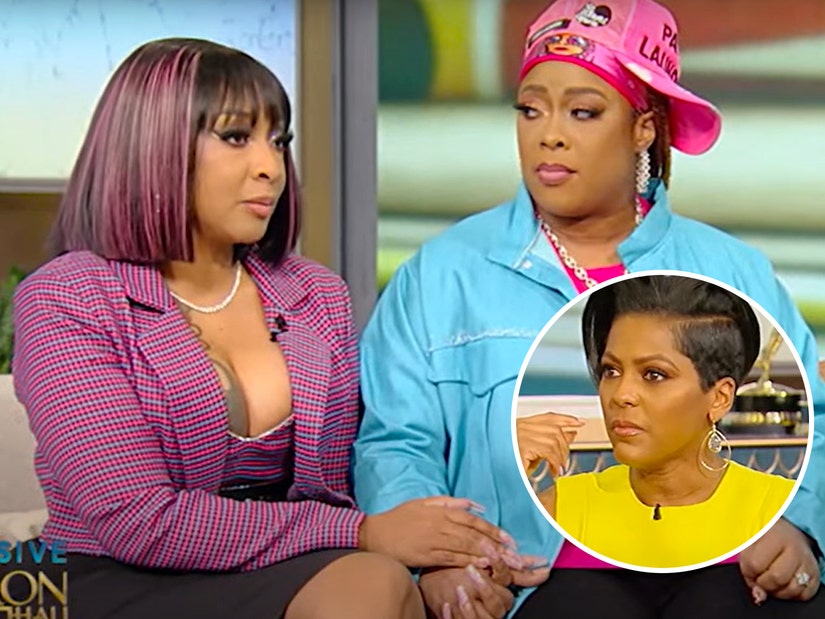 The Tamron Hall Show
Judy says the two were bombarded with comments including, "I just hope you guys miscarry," after the rapper said one of the few Black donors available to them looked like Jiminy Cricket.
Da Brat and wife Jesseca "Judy" Dupart didn't expect to have such a hard time finding a sperm donor ... or the backlash that came with their search thanks to an offhand comment about the process the rapper made on the couple's reality TV show.
Appearing on The Tamron Hall Show on Thursday, the two -- who are expecting their first child together -- opened up about why the whole process was so difficult, so much so that they were unable to have a Black donor, as they had originally hoped.
While the 49-year-old rapper is carrying the child, her wife's eggs were used. According to the pair, Judy discovered she is a carrier of four different genetic disorders, which meant the donor pool was then substantially reduced from thousands to only a handful of Black men. On "Brat Loves Judy," Da Brat didn't seem too thrilled about the options left -- saying, "If you look like Jiminy Cricket, the one or two Black people I saw, that thing ain't finna be looking like my child."
That comment sparked some serious uproar online, leaving Hall wondering why the two decided to keep it on the show in the first place instead of editing it out.
"I didn't think it would be offensive to anybody. I cracked jokes about almost everybody that I saw, that one just happened to make it in the show. I wasn't trying to be mean or say anything negative about Black people," said Da Brat. "We were looking for a Black donor. We're Black, we wanted a Black donor. So it was just misconstrued and taken way out of context."
"I guess they thought it was funny and I didn't think it would bother anybody or else I would have taken it out. I had no idea people were going to be so offended, but I meant no harm whatsoever," she continued. "People take things and run with it. People who know me know that I didn't mean any harm. So if I offended anybody, I do apologize. But it was a joke between me and my wife and the doctor, like, we joke like that, we play around so it wasn't meant to be offensive in any way."
But Judy said a number of people online did take it very seriously, leaving hateful comments on both of their social media pages after the episode aired.
"I'm more on social than she is and there were things that I was really trying to avoid her from seeing. They had comments that said, 'I just hope you guys miscarry,'" she shared, adding that she was furiously trying to delete comments as they came in to shield them from her wife.
"So I'm trying to delete a lot of stuff so she can't see it on my page and she can't see it on her page because it was extreme hate," said Judy, who spoke out against some of the backlash on Instagram at the time by calling her wife's comment "distasteful" while reiterating how difficult it was for them to find a Black donor.
Waiting for your permission to load the Instagram Media.
"I'm kind of used to some of it, you know, from being on social media, but when it comes to our child, something that we worked really, really hard for -- I was in the hospital -- something we worked really, really hard for," she added, before addressing her IG response. "I felt like, oh my god, if nothing else at this time, I feel like this should be at least an educational moment so our people aren't as ignorant, so other different women don't have that situation."
Elsewhere in their interview with Hall, Judy also explained why the pair always wanted their donor to be "somebody anonymous."
"We didn't want anybody to come back and say, 'I'm your father,' or anything," she said, comparing the initial process to "shopping" online.
The two revealed the baby news back in February, with Da Brat saying that the time that she thought having children "wasn't in the cards for me."
"I felt like, because I didn't get pregnant earlier on, then it just wasn't going to happen for me," she continued -- saying it all changed when she met Harris-Dupart. "I was like, I want a little me with you."