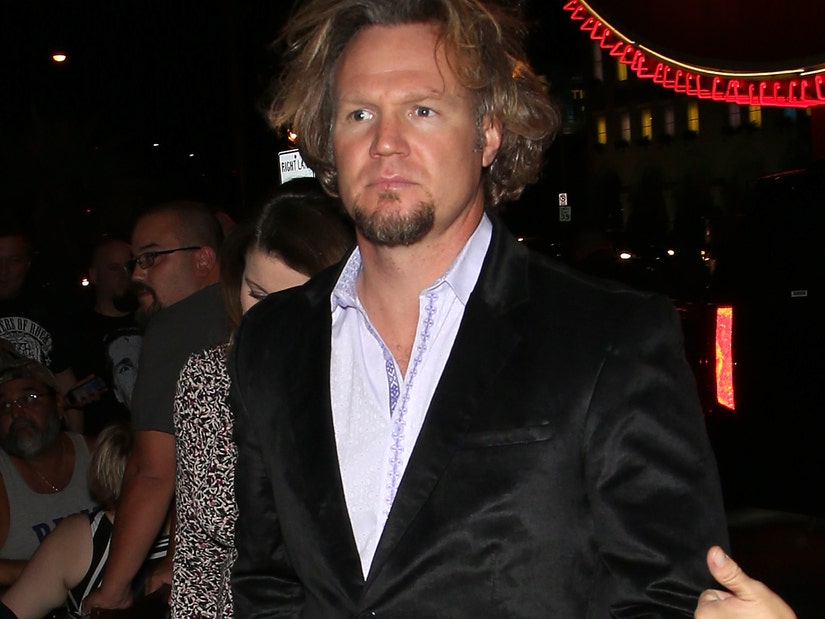 Getty
According to quite a few of his 18 children, the Sister Wives patriarch has not been able to give each of them equal attention
If you've tuned into "Sister Wives" over the past few seasons, it's easy to see that tensions have been rising between Kody Brown and the rest of his family.
While three of his wives -- Christine, Janelle and Meri -- have decided to end their relationships with him, some of his children have also severed ties with their dad. Amid all the family drama, several of Kody's kids have spoken out against their father and said some not-so-flattering things about him.
Here's what some of Kody Brown's children had to say…
Gwendlyn Brown, one of the children Kody shares with his ex Christine, has been extremely vocal on her opinions about her family. Over the past season of "Sister Wives," Gwendlyn has candidly reflected on each episode -- and she hasn't held back her feelings about her dad. During an episode where Kody could be seen doting on his two youngest children that he shares with Robyn, Gwendlyn admitted that it was tough to watch Kody be an "active father" when he had been absent from her life at times.
"I know that I should be happy for them but seeing him be like an active father with these kids really hurts," Gwendlyn said. "It's terrible that I'm making this about myself, but it hurts so much to see him be a good father to others when I, like, didn't really get that much. I know I should be happy for them and I am, I'm so happy they have a good father, or what looks like to be a good father and an active father."
She continued, "I just didn't get that and I don't remember that. I don't remember coming home from kindergarten and seeing my dad and him being happy that I ate all my lunch or that I made a friend at school. It was always my mom -- and it's great, I'm so happy I had her -- but it was never my dad and it sucks that he was not there so much."
In recent seasons of "Sister Wives," Gabriel Brown, who Kody shares with his ex Janelle, has been open about his strained relationship with his dad. He shared that everything came to a head when Kody forgot his birthday. Looking back on the incident, Gabriel says Kody called him on his birthday -- but only to "gather information" on how to treat COVID.
"I shouldn't have done this but I did anyway -- I didn't remind him that it was my birthday because I wanted to see if he remembered. And he didn't. And so to him it was just a phone call, just asking me about Covid," he shared during an episode of "Sister Wives."
"It was a lot worse than just a phone call for me," he tearfully added. "But, yeah, a couple hours after that, he tried to call me back, tell me happy birthday and make up for it and that's the last time I ever talked to my dad."
Paedon Brown, who is one of Kody and Christine's sons, admits that as one of 18 children, he didn't get enough time with his dad. In a candid appearance on the "Reality Life with Kate Casey" podcast, Paedon shared that he felt Kody played favorites with the younger children in the family.
"He mainly tried to focus on the younger kids," he said. "When there's another one born, I don't want to say, favorite is the wrong word, but favorite is the best example I can give. With a new child he needed to protect."
He continued, "He still loved us very much, but Logan being the eldest child, not the youngest, it kind of shifted, it's not a problem. He really wanted to help the younger kids come into this world better. And when we were all growing up, we all got experience with him. We all got time with him, but the youngest kid just got a bit more."
Paedon also shared that Kody once tried to get TLC to contractually enforce a rule that would prevent the family from speaking negatively outside of the show. The network didn't agree.
Ysabel Brown, Kody and Christine's 20-year-old daughter, says that she's no longer as close to her father as she used to be. Their relationship took a turn when Kody refused to accompany her to her scoliosis surgery due to his concerns about COVID. Ysabel admits she was disappointed by her father's decisions.
"I think his priorities are a little screwed up," she said on the show at the time. "And l don't want to disrespect him because he is my dad and I understand, I do. I do understand why he's doing it, it's just really frustrating and really, really hard."
By the time that Ysabel headed off to college the following year, she admitted that she had grown distant from her dad, who also declined to travel with her to get set up at school.
"I'm gonna miss my mom more than I'm gonna miss him, I think -- because I don't actually think we're close at all. But I mean, he's still my dad," Ysabel said of her parents before leaving for college.
Mykelti Brown, one of Kody and Christine's daughters, says she was an advocate for her mom separating from her dad. When she heard that Christine was leaving the relationship, Mykelti admits she was "relieved."
"I was honestly relieved when I heard my mom was leaving my dad. They're not happy. They're not in love," she said on an episode of "Sister Wives," with her husband Tony adding, "I thought it was a little inevitable. I can't imagine any man being perfect enough to be able to handle four wives."