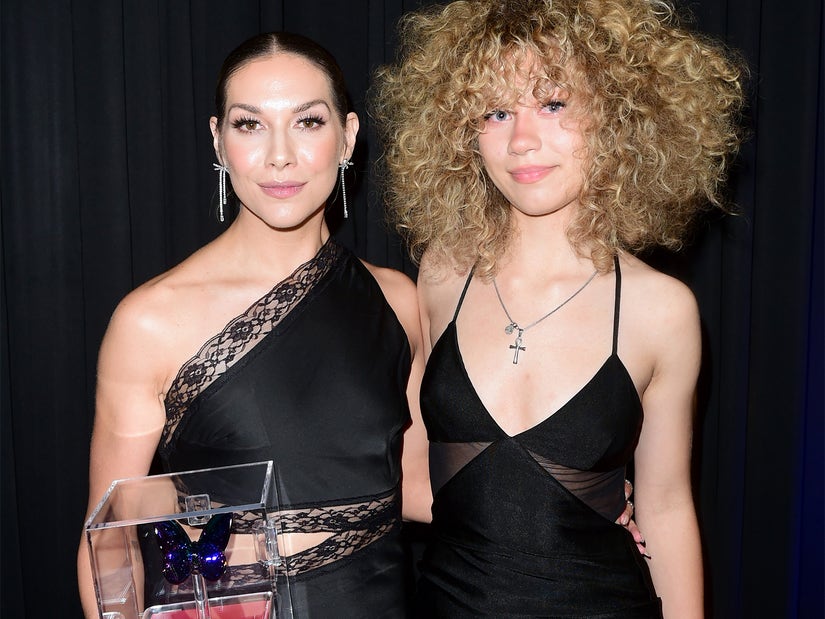 Getty
Stephen "tWitch" Boss' 14-year-old daughter Weslie Fowler makes her first public appearance since his tragic suicide alongside lookalike mom Allison Holker for the NAMI Westside Los Angeles Mental Health Gala 2023.
Five months after the tragic death of Stephen "tWitch" Boss, his wife, Allison Holker, and 14-year-old daughter, Weslie Fowler, were radiant together as they attended the National Alliance of Mental Illness (NAMI) Westside Los Angeles Gala 2023, where they received The Heart of a Champion Award.
Taking to her Instagram page, Allison thanked the organization for the award. "We are so grateful and looking forward to continuing with our hearts and minds program with the boys and girls club," she wrote. "And thank you to my beautiful friends for your endless support and love."
"And having my beautiful daughter standing strong at my side was wonderful I love you," she added. "Forever." The event marked Weslie's first public appearance and Allison's first since losing her husband to suicide. Both ladies were radiant in black, complementary gowns.
Waiting for your permission to load the Instagram Media.
Weslie also joined her mother on-stage for the award acceptance, standing a few steps back from the dais while still holding her mother's hand. The award was presented by "Dancing with the Stars" judge Derek Hough and his wife Jenna Dewan, friends from the dance community.
She thanked them for coming out to present the award "for our family and our beloved Stephen," before going on to thank NAMI West LA. "We promise to continue to move from love and joy forever and always, and to continue to inspire and lead and to teach and to grow," she said, per People.
"I want to say a special thank you to my friends for just being the most incredible people and supporting us at this special time and to all of you for opening your arms and while he was here and making us feel so safe," Allison added before turning to her daughter, "And Weslie, I'm so proud of you and I love you."
The organization announced that it would be partnering with the family's Move with Kindness Foundation to support mental health initiatives in tWitch's honor. Further, it will dedicate its own Hearts + Minds program to the Boss family.
The program is described on the organization's website as "a wellness, dance and movement program designed to educate and empower you to better manage your health — mentally and physically."
"We're excited to team up with something that's already doing so much, inspiring and teaching so many young children and adults how to get help with their mental health," said Holker.
Holker has been open about her struggles in the aftermath of tWitch's shocking suicide in December 2022. Just earlier this month, she shared with People, "No one had any inkling that he was low. He didn't want people to know. He just wanted to be everyone's Superman and protector."
"It's been really hard because I can't understand what was happening in that moment [he died]," she explained, adding that she's been dealing with a "complex" range of emotions in the months following her late husband's death.
"We always hear, 'Reach out to the strongest people,' and I believe in that. But I also want the messaging to be that if you're feeling low or depressed, it's okay to lean on someone else," Holker said of Move with Kindess Foundation, which "aims to carry on" his legacy and "spreading love and mental health awareness," per the organization's website. "Trust that people are still going to see you as that light even in your darkest moments."
Holker and Boss married in 2013, before the latter adopted Holker's daughter Weslie. The two went on to welcome Maddix and Zaia. Boss and Holker celebrated their 9-year wedding anniversary just a few days before the former's passing.
"I haven't danced yet. That's gonna be a big step for me," she shared, "but I know that I'll get there. He's guiding me on this path."
If you or someone you know is struggling with depression or has had thoughts of harming themselves or taking their own life, get help. The National Suicide Prevention Lifeline (1-800-273-8255) provides 24/7, free, confidential support for people in distress.