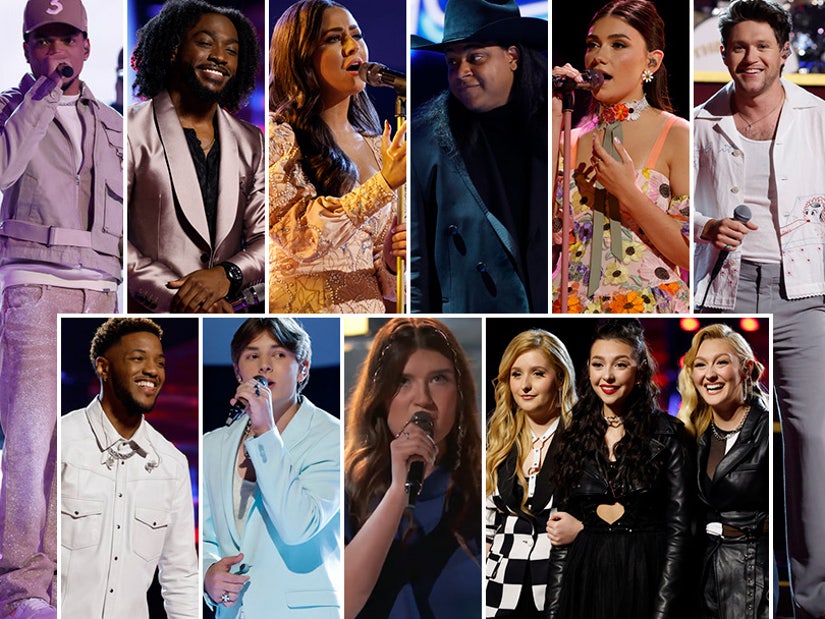 NBC
After serving as Mega-Mentor this season on "The Voice," Reba McEntire will replace the retiring Blake Shelton for this fall's Season 24; she'll be joined by returning Coaches Niall Horan, John Legend, and Gwen Stefani.
For the first time in its history, "The Voice" went live not just to perform but to deliver its results on the same night. It's something predecessor "American Idol" has been doing for a few years now, but "The Voice" is doing it a bit different.
As the Top 8 take the stage to battle it out for only five spots in next week's two-night finale, the voting lines did not open until after they had all performed. Add to that the fact lines only stayed open for five minutes and viewers could only vote for one artist to advance and it was a whole different methodology. Did it affect the results?
The contestants each took the stage just once on the night, with Niall Horan and Chance the Rapper rounding out the performance element of the show with a couple of their own songs. Chance shared the stage with the artists he lost in the last round, which was both generous and a showcase of their incredible talent.
This season's mega-mentor Reba McEntire, also showed up to start testing out Blake Shelton's chair. Announced earlier tonight, Reba is actually joining the show next season as a judge. She's the only all-new judge, but Niall is also the only returning judge from this season (not gonna lie, we're a little disappointed Kelly Clarkson won't be back).
Instead, after his own one-season hiatus, John Legend returns to the fold alongside Blake's better half, Gwen Stefani. That last one was a bit of a surprise for us, as we weren't sure she'd be back after he retired. We have a feeling this means we'll be seeing him again in the fall, too.
But before all of that, we've got this season to wrap up. Eight performances. Five spots in the finale. Who did enough? Who faltered and fell just short? There's only one way to find out!
Fair warning, since I'm safe at home, I'm probably going to be a little harsher than my colleagues Kelly Clarkson, Chance the Rapper, Niall Horan and Blake Shelton. But I might be nicer, too. Maybe.
And just for fun, I'm going to rank the performances from worst to first to see who my favorites are, and then see how they do as the season progresses.
("Meltdown," Niall Horan - 22, Meridian, MS) A pretty subdued performance from Niall, but a solidly consistent vocal on his new track. He proves that you don't need to overdo it to command the stage, nor do you need to overthink what you're doing physically. But it does help to allow yourself to move with the music, however it moves you, as it engages the audience and allows them in to see your connection to what you're singing.
Chance the Rapper (f. Jamar Langley, Manasseh Samone & Kala Banham)
("Same Drugs," Chance the Rapper - 19, Canton, MI) Chance beautifully incorporated three of his eliminated artists into this performance, giving each of them multiple chances to shine throughout the number. They also harmonized beautifully, while Chance was in perfect control of his orchestral accompaniment from behind the piano. It was a testament to how strong his team has been all season as they really shined bright on this, elevating the whole performance into a moment.
Ryley Tate Wilson [Team Niall]
("Vienna," Billy Joel - 15, Montgomery, AL) Ryley is definitely on his way to becoming a really special singer-songwriter, but he's definitely got to figure out what to do with his body when he steps out from the piano. This song was a little weighty for him and he got screechy with one note, but there were some nice falsetto moments and a lovely tone throughout most of it. What needed to happen, though, was some play with the audience to acknowledge that they're there and he's here for them. His nerves were on display a bit, as well, which is understandable at his tender age. His tone, though, is so lovely; we just didn't feel as strong of a connection to this song as we have in the past.
("CanYou Stand the Rain," New Edition - 25, Gary, IN) Silky smooth and effortless R&B throwback sound, but it left us a little worried if perhaps it was a little too smooth and effortless. Aside from that falsetto moment toward the end, he stayed in the same pocket throughout the performance. It sounded great, as always, but was it dynamic or exciting enough to get votes? We do agree with Chance he could cut a track and be on the radio right now, but that's not the same as slapping voters so hard they feel they have to vote for you. Did he do enough?
("'Til I Can Make It on My Own," Tammy Wynette - 19, Canton, MI) We really wanted her to come down those steps a little sooner to make the performance feel a little more immediate. Vocally, we were a little disappointed as we know she's right in her wheelhouse on a country classic like this one. It's not that she was bad -- and her opening few bars we'd even argue were flawless -- but it all got kind of a little bit same-same. Part of our disconnect could be that producers usually save the best for last and this definitely wasn't that. Grace is a solid country singer, but this wasn't the best or most emotionally resonant way to make a statement that demands votes.
("Rumor Has It," Reba McEntire - 23, Meridian, MS) Holly said this was her chance to show off her storytelling side, but it feels like that element got lost a bit behind showcasing all that she can do with her voice. It's an incredible instrument, but we expected to be more emotionally connected to her in this moment and that just didn't happen. Instead, we remained distantly respectful and appreciative of her incredible gifts, power and range. If she can marry all of that with the intimate ability to really sell the narrative, the sky will be the limit.
("All I Want," Kodaline - 19, Paxton, IL) It's amazing how far Gina has come as both a vocalist and a performer. Sure, she didn't do much physically on this one, but she still had total command of this performance, even from just taking the mic and standing by the stand. A lot of that was to do with the heartbreaking ache that permeated from her and filled the room. She nailed the emotional beats of this song from start to finish and really made us believe that she felt every line. Even better, we could hear those feelings in her voice in the most beautifully vulnerable way. If she can grow this much from audition to here, imagine her in a year's time.
("Thinking Out Loud," Ed Sheeran - 25 Birmingham, AL) Well, this was just a whole vibe. It was throwback R&B, contemporary singer-songwriter (as Kelly noted), playful, a little bluesy and even a little jazzy with the vocals. What it ultimately was, underneath all of that, was damned smooth (is that what the "D" stands for?). He's such an effortless performer and singer, we loved his choice of intimacy for the opening bars to draw us into this narrative before he started showing off a little bit more of what he can do vocally. It was a piece that had vision from how D.Smooth approached it to the staging and even the saxophone up front -- and all if it worked.
("Skyfall," Adele [from "Skyfall"] - 31, Hutto, TX) NOIVAS showed us another side of his talent and it was every bit as mesmerizing when he's putting on a whole damned high-energy concert on the stage. If anything, we had more time to appreciate all of the different vocal tricks he has -- and there are so many of them! This was an intimate performance at times, a powerhouse showcase at others, and it was never less than utterly transfixing. Even his physicality helped to draw us in as he was moved by the music to move, and that moved us. NOIVAS is a force in music who is so beyond ready for his chance.
("Fallin'," Alicia Keys - 15/20/21, Lexington, OH) Well that was master level harmonizing. We got some moments of groove, a little stank thrown in the mix and utterly gorgeous harmonies throughout. Once again, the sisters showcased their individual strengths as well, but it's their generosity as partners -- all parts serving the greatness of the whole -- that always makes what they do so special. This was an incredibly complex and intricate vocal arrangement, and yet they take to it like they just woke up singing it like this one day. They work so hard to put these things together and it's like each single song is a whole concert. We could not be more impressed.
Looking at our own rankings, we were interested to discover that we had one artist from each Coach in our personal Top 4, with Kelly's Holly Brand rounding out our Top 5. But does that mean Sorelle, NOIVAS, D.Smooth, Gina Miles and Holly are your Top 5? Not necessarily.
Grace West got the coveted last spot, meaning she was foremost on people's minds when they started voting. We're not sure how much that really matters but with a five-minute window to vote, every little element could matter. The only person in our Top 4 who performed in the first hour was NOIVAS, but we're pretty sure he's a lock to get in there.
We actually think that because Grace does have that classic country sound, America will vote her through. For Blake's last season, it stands to reason both of his artists would go through as he himself has a huge country fanbase that tunes in.
So our final guess for Top 5 going into the live results was Sorelle, NOIVAS, D.Smooth, Gina Miles, and Grace West.
And then we weren't confident in that at all because we wondered if D.Smooth and Ray Uriel would cannibalize one another's votes, being in a similar R&B lane, which could hurt both and help … Ryley Tate Wilson? We just can't imagine four women to one guy (NOIVAS) in the finals, and he's the only other one.
All of this boils down to we immediately started second-guessing our own better judgment, so better to just watch and find out along with everyone else. Otherwise, we could spiral like this all night.
The first artist to advance into next week's finale was Grace West, which possibly cements our original Top 5 theory as she was the most wild card element of them all (by our view). Next up was D.Smooth, followed by Gina Miles … and then a commercial break.
With only two spots left, it had to be NOIVAS and Sorelle, right? Anything else would be an upset. The first of them went to Sorelle, which absolutely felt right. They worked harder, in some ways, than anyone else. Perhaps the biggest shocker of the night was that we were one hundred percent right in our first prediction for who would advance as NOIVAS took the last slot.
We still think Blake himself was a bit of a boost for Grace, along with her position as the last singer. We're not knocking her talent, but can't help thinking she got a little assist from this being her beloved Coach's final season.
"The Voice" wraps up next Monday and Tuesday at 8 p.m. ET on NBC.