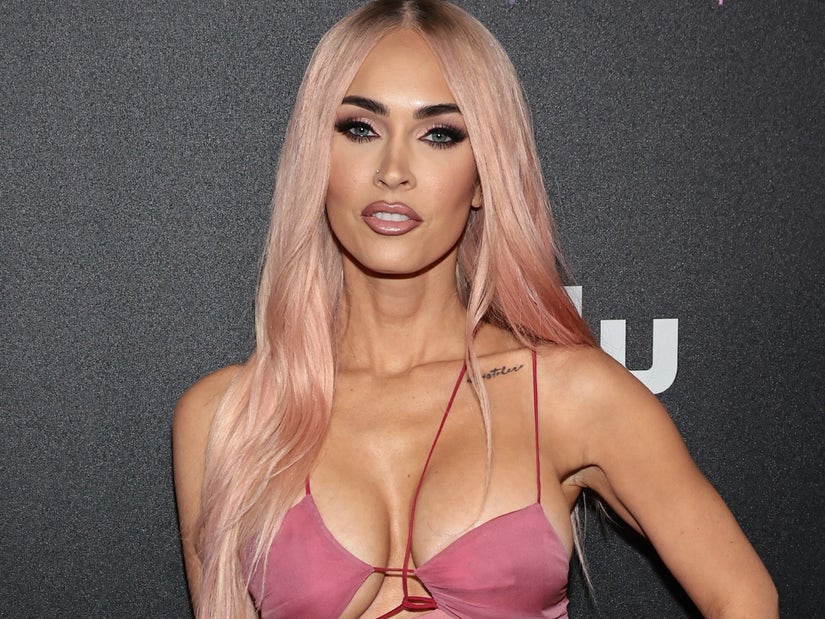 Getty
The Sports Illustrated Swimsuit Issue cover model opens up about her lifelong struggle with body dysmorphia in the accompanying interview -- she also discusses the media's obsession with her thumbs and which public interactions mean the most to her.
Megan Fox is stunning as one of this year's coveted Sports Illustrated Swimsuit Issue cover models, and even said that they are the best pictures she's ever taken. Reaching that point of appreciation, though, has not been an easy path.
In the accompanying interview for the magazine, the actress opened up about her lifelong struggle with body dysmorphia. "I don't ever see myself really the way other people see me," she confessed. "There is never a point in my life where I loved my body. Never, ever."
She recalled struggling with this all the way back to childhood. "When I was little that was an obsession I had of like, 'But I should look this way.' And why I had an awareness of my body that young I'm not sure."
It's particularly unusual for Fox, she explains, because she "grew up in a very religious environment where bodies weren't even like acknowledged."
Nevertheless, the young Fox was definitely paying attention to hers, even sharing that there were times she would go into the bathroom and "check to see if I had boobs yet."
"The journey of loving myself is going to be never-ending, I think," Fox shared. The "Jennifer's Body" actress first opened up about her struggles with body dysmorphia in an interview with British GQ in October 2021.
"We may look at somebody and think, 'That person's so beautiful. Their life must be so easy," she told the outlet then. "They most likely don't feel that way about themselves."
Even though she spent many years of her life hyper-fixated on her physical appearance, Fox wishes that people would notice something else about her instead. "I have a rainbow aura and it's special," she told SI.
"What I most want people to know is I'm a genuine soul who is hoping to actually belong to something and not always have to live as a misunderstood outcast," she said. "If they don't respect you, that drains you. And if you're doing that constantly in a cycle, that's going to wear down your self worth and self respect. I want all people, not just women, to have respect for their bodies and themselves."
Instead, she knows that throughout her career, the public and even the media has been perhaps a bit too focused on her physical appearance, and even seeking out flaws ... or at least fixating on one "flaw" in particular they couldn't seem to let go.
"I never thought that was a weird thing or an embarrassing thing," Fox said of her thumbs, which became an embarrassingly obsessive talking point for way too many years. "They're just kind of short. Is it really that crazy?"
She explained that they're actually referred to as "murderer's thumbs," because apparently the distance between the tip and first joint of the thumb is supposed to be indicative of one's temper. That would suggest Fox has a short one, but she says that's far from the case.
"It takes a lot to get me to lose my temper, I mean a lot. I have crazy patience," she said. "But when you do push me over the edge, you're on demon time and you better run for your life and it's scary as f---!"
As for the thumbs themselves, while that seems to be the thing that's been fixated on all these years, Fox herself said that she has "tons of other flaws" that she thinks are even "more interesting," though she wisely did not offer any of them up.
While there has been plenty of attention that she hasn't appreciated over the years, Fox did share what kind of attention she does enjoy. It came up while discussing the idea of what kind of legacy she wants to leave behind.
As it turns out, Fox is one of those people who isn't all that concerned about legacy because, as she put it, "When I'm dead what timeline am I gonna be in and will it matter? It won't matter."
Instead, she's more concerned with the impact she's having now while she's still here. And that's where she opened up about what kind of interactions are the most meaningful to her, the closest thing to a legacy -- such as it is -- that she would be happy about.
"I can't tell you how many girls specifically come up to me and say, 'You were the reason I realized I was gay.' Or, 'I realized I was bisexual.' Or, 'You gave me the courage to tell my parents that I was gay,'" she shared. "And that's so much more gratifying than somebody coming up to me and being like, 'I love your movies' or 'You're so talented.'"
"Having somebody tell me that I somehow had a part in giving them the courage to realize who they are is the best compliment I can imagine," she said.
During the shoot itself, Fox said that it took her a while to get into a good "groove" with the photographer, Greg Swales, as she felt "a lot of pressure" heading into it and even her own vision of what she was hoping to achieve. Once she settled in, though, and trusted the process, she was able to enjoy the experience.
Looking at the monitor during the shoot, she said the photos were some of the "best pictures I've ever taken," telling Swales they were "insane."
The issue hits newsstands May 18.