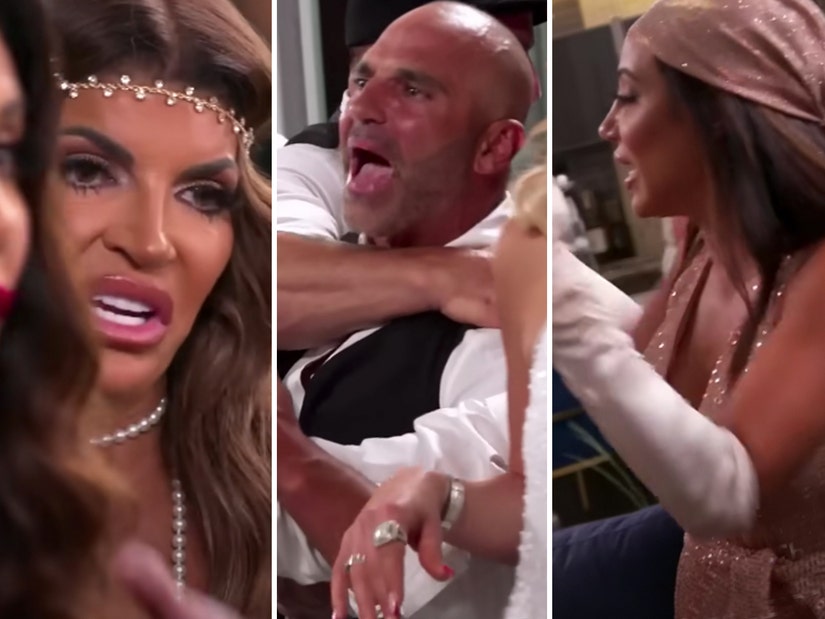 Bravo
Joe Gorga claims niece Gia told him "you can do better," Melissa accuses Teresa of trying to "destroy" her marriage ... and Louie reveals he has information on the whole cast thanks to a private eye.
While the four have been going at each other all season long, tensions came to a head during an "Irish Party" that doubled as a "Roaring '20s Party" thrown by Dolores Catania, after Danielle Cabral told Melissa she heard a rumor about Gorga being unfaithful to her husband.
Talking to Melissa, Cabral broke down the wild game of telephone behind the gossip. She found out about the cheating talk from Jennifer Aydin, who claimed to have heard it from a former friend of Margaret Josephs, whose own friend allegedly claimed he saw Melissa making out with another man in the back of a car. Melissa, however, had already heard about the rumors -- from her own husband.
"His sister called him over to her house secretly without me to tell him this story, behind my back. Pretty f---ed up sister-in-law I have, isn't it?" claimed Melissa, who added in a confessional that this happened six months ago and she'd been keeping it as a "big secret" ever since.
"I have been accused of being a stripper, I have been accused of doing stuff in parking lots before, she said [to Joe] multiple times, 'Your wife will meet you for a richer man.' She said multiple things we have let go in our life," a livid Gorga continued.
She went on to call out Teresa in a confessional, exclaiming, "How dare you tell my husband I would cheat on him?" Gorga was also shocked anyone would go to Joe with "a baseless rumor" started by someone who has an axe to grind with some of the cast. "Did she think he was going to pack his bags and leave? What the f--- are you doing?" she then asked.
Gorga claimed she never confronted Teresa about the meeting with Joe because her husband thought it was all "bulls---" and because they "wanted to let [Teresa] have a peaceful six months leading up to her wedding." She also believed the cheating rumors coming out on-camera was orchestrated by Giudice, saying she had "her minion make me look bad in front of everyone so everyone can hear the words, 'Melissa's a cheater.'"
She then confronted Teresa at the party, calling her a "loser" in front of the cast for letting Joe know what she'd heard. Giudice called her "disgusting" in return, as Melissa chased her around the room.
In her own confessional, Teresa said she wasn't even the one who called Joe -- Louie was. She explained that he wanted to tell Joe about the rumors so he could "get in front of it" and claimed she "never repeated it to anyone" after. Joe confirmed that much while speaking to the camera himself, saying Louie told him he had to come over "right away" to discuss something "very important," before telling him about the gossip. "I go, 'Guys, you got the wrong girl,'" he said he told Louie and Teresa at the time.
Louie then really started to get worked up, shouting, "Bo Dietl knows s--- about everyone in this room!" We'll circle back to Dietl -- a celebrity detective -- in a minute, but nobody had any idea what the hell Ruelas was talking about.
"Why are his eyes bugging like that? What's the matter?" asked Melissa, before Louie snapped back, "There's nothing wrong with me, sweetheart." That set off Joe, who started screaming at Ruelas to "back the f--- up" and stop talking to his wife in such a matter. Carbal's husband Nate started to pull Louie away from the group, while the other men then began to restrain Joe as well.
With that, everyone started to leave the party.
The next day, Jennifer and Dolores stopped by Teresa's to check in on her -- as Giudice said she was still "shaking" from the previous night's events. She went on to claim that she never brought up the cheating rumors again after bringing them to her brother's attention because she "was scared that they were going to ruin my wedding."
"I'm just so hurt. This is absurd and I feel horrible," she added, denying she orchestrated the gossip finally coming out to the rest of the group and pointing out she "had plenty of opportunities to bring it up," but kept quiet.
Louie reiterated that he was the one who called Joe, explaining that at the time he didn't believe Teresa's brother deserved "to have something blow up in his face." He then brought up Dietl again, calling him "one of the most famous private investigators in the country" and one of his own "best friends." Louie claimed Dietl "brought me information on each person in this group," before ominously adding, "there's so much more."
In confessionals, Teresa said she didn't "know anything," while Dolores said she had no idea what the info could be or why Louie was even talking to a PI about them in the first place. It was all very weird.
"They hate us, obviously. This has been going on 10 years. I dealt with it with my ex, I'm not going to deal with it in my new chapter of my life. I'm so done," Giudice then proclaimed, before being asked if she was officially cutting them out. "Like I did with my cousin [Kathy Wakile], I'm done. This is what Melissa's been trying to do for over 10 years. I know she's been wanting to get my brother away from me all this time. She got her wish."
Melissa, meanwhile, spoke with Dolores over the phone about the fight and the rumors.
"I've known it for six months. They were dying to tell him that this happened, that's why Joe has been like this. He's devastated that she does not stop. It has scum written all over it," she said.
Joe also claimed Teresa and Louie told him there were "multiple men" and were "telling me to basically leave Melissa." He then said his niece Gia, Teresa's daughter, called him and said, "I heard what happened. We just think you can do better. Mommy thinks so, we all do." The conversation, he added, left him wondering whether he was surrounding himself with people who "love me or people that want to hurt me."
Melissa vowed to cut their "toxic" relatives out of her life going forward and made it clear she had no intention of going to Teresa and Louie's wedding ... which was just days away.
"How can I go and celebrate someone else's marriage when they are the people constantly trying to destroy mine? I'm not doing it," she said, before Dolores said their relationship with Teresa would probably be "over over" if they were no shows. "It's been over," Melissa responded.
The episode concluded with the show's trademark season-ending slates. Gorga's read, "Melissa is planning a housewarming at their new house. Teresa and Louie will not be invited. Chosen family only."
As for Giudice's? "Teresa and Louie are prepping for their wedding. They lost 2 guests. But they're gaining 5 pounds ... of hair."
While the season is over, fans will get an inside look at the big day when the "Teresa Gets Married" special airs next week on Bravo.