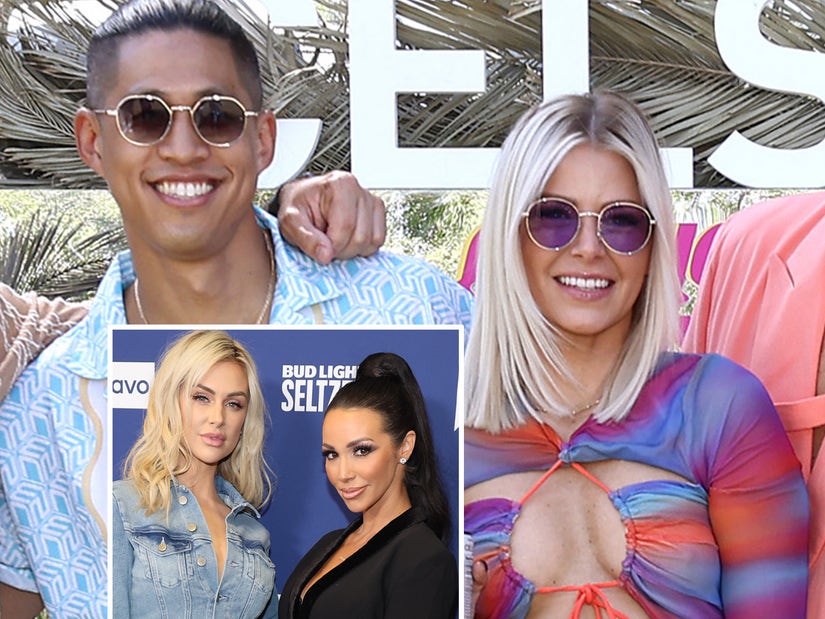 Getty
Shay has never "ever seen [Ariana] light up the way she does" around her new beau
Ariana Madix's "Vanderpump Rules" co-stars have some thoughts about her latest beau.
Following her dramatic split from Tom Sandoval, the reality star moved on with a New York City based fitness trainer named Daniel Wai at Coachella in April. In an interview with E! News, her friends Scheana Shay and Lala Kent got candid on whether or not they've given Wai their stamp of approval.
"The way that I witnessed him treat her, I've honestly—not even in the beginning of her relationship with Tom—ever seen her light up the way she does when he gets around her, when she talks about him," Scheana gushed, saying that Ariana "has the best energy" when Wai is around. "It's been really, really amazing to just see her so happy."
Though Lala has yet to meet Daniel in person, she confessed she's seen a noticeable change in her BFF since her nine-year relationship with Sandoval came to an end when his months-long affair with Raquel Leviss was exposed.
"Just the way that she talks about him, her energy is just completely different," Kent gushed. "I'm so happy for her, because as an outsider, I was watching her and her relationship, just really feeling for her."
The "Give Them Lala" podcast host claimed that she believes Ariana's relationship with Tom had been draining her energy far before the cheating scandal in March.
"This person that she's with, Sandoval, is sucking her dry, just depleting her of her energy, stifling her fire," she explained. "It was really sad for me to watch, and I think a huge reason why she and I—our friendship had declined somewhat was because I really just did not like her boyfriend. So to see her with this new guy, where she just seems light and excited about life, it's inspiring."
This isn't the first time Lala's given Madix props for moving on with her new man.
In an April episode of her podcast, the reality star was more than supportive of Ariana's newfound relationship with the fitness trainer.
"She's like, 'Heartbreak what? Like, I'm solid. I'm banging a fine-looking man,'" Kent said before sharing that Madix is "f--king thriving" in both her career and her love life.
"She's looking at it like, 'Look at my life. I'm happy,'" the Bravolebrity continued. "She said, 'Wow, I don't have anxiety anymore. This is strange.'"
Kent noted how happy she was now that fans finally "get to see Ariana the way that I've always looked at Ariana."