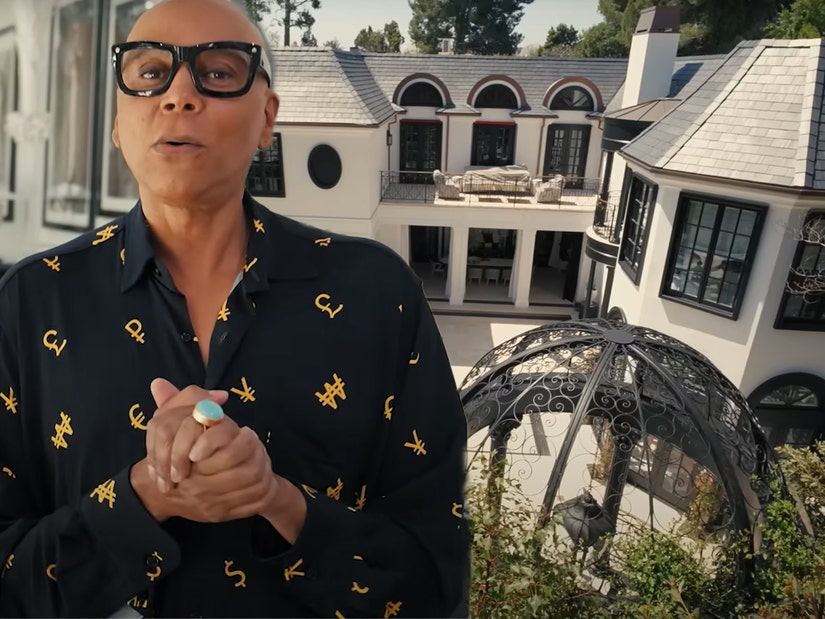 Architectural Digest / YouTube
The RuPaul's Drag Race star revealed he renovated two bedrooms into a closet and has a second space reserved solely for his drag costumes
RuPaul is giving fans an inside look into his luxurious mansion.
The 62-year-old "RuPaul's Drag Race" host opened the doors to the Beverly Hills property he shares with his husband Georges LeBar as a part of Architectural Digest's Open Door series. The home features maximalist touches inspired by the regency period of Hollywood.
Each room was curated to a specific theme -- including a disco room that was fixed with 26 silver and black mirror balls of all different shapes and sizes.
"We love music and we love to dance," RuPaul shared, explaining the inspiration behind the space, "and when I was coming up there was always a place that said cocktails, dancing, that doesn't happen anymore so we decided we needed a disco in our house and this is it."
Along with a "Hollywood Regency Dorothy Draper-inspired fireplace," the room was filled with portraits of some of both disco and music's most iconic faces.
"They are all beautiful and inspire us to dance and move around," he said, referring to the photos that included Billie Holliday, Grace Jones and Diana Ross.
As expected, RuPaul's home also featured a spacious walk-in closet that houses some of his most iconic looks. The drag superstar revealed that he renovated two bedrooms into a closet and has a second space reserved solely for his drag costumes.
The camera panned to walls that were fashioned with racks of clothing organized by color, as well as floor to ceiling display of handbags and shoes. The television personality also installed a huge crystal chandelier to add ambience to his expansive closet.
"We took two bedrooms and turned it into my closet and I've got everything in here," he recalled. "It's kind of like a historical artifact. Every shopping trip I've ever gone on—even Lil Jon's—are documented right here in this very room."
"I'm gonna say it, this is my favorite room," RuPaul said of his drag closet as he stood by his jewelry collection. "You know the kid in me has always loved color and shiny and outrageous and texture. That's what makes drag so important. That's what makes drag so fun to do."
Though his mansion is aptly fit to entertain, the "Someone Great" actor revealed he prefers to host small intimate gatherings opposed to lavish parties.
"I entertain on television, not at my house," he said. "When you live such a public life, you need boundaries."