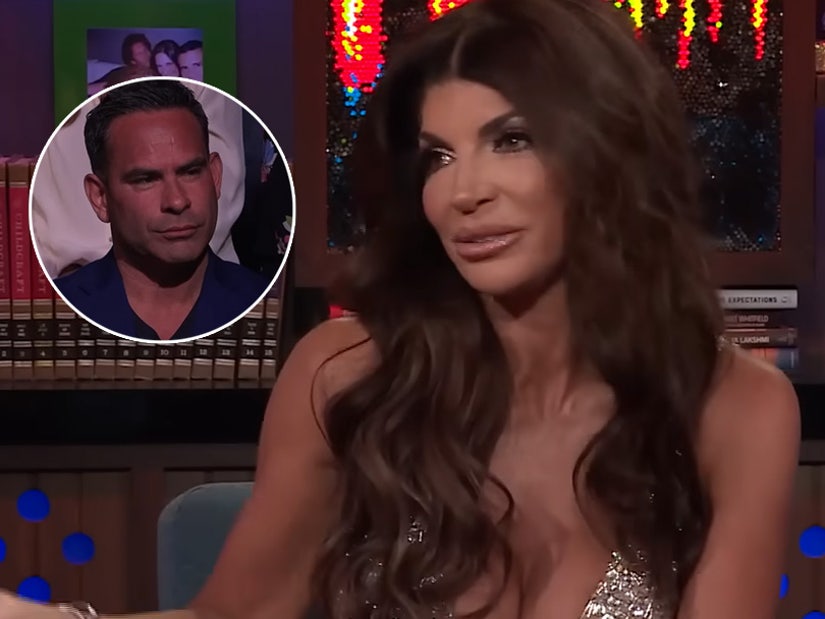 Bravo
Giudice was asked about his "snake pit" meltdown, the secret meeting over Melissa's alleged affair, wearing her dead father's pajamas and his claims he had a private eye "dig up dirt" on the cast.
To make things even more awkward, as Andy Cohen quickly pointed out, "Louie's right here, teen feet away." In case we had any fears of forgetting, the cameras kept cutting to him.
It made the moments a little more awkward when Andy asked Teresa a series of questions regarding things Louie has done on the show, asking if she can defend his actions. With him sitting right there? What's she supposed to do, call him a flipping idiot?
Actually, Teresa and Louie have been in lockstep with most of their decisions about how to handle the ongoing tension within Teresa's family, though there was one thing that she had some thoughts on -- and one she dropped some major shade on.
When Andy asked her if she could defend Louie calling a "secret meeting" to tell him about Melissa's alleged affair, Teresa said she told him "not to do that." She said Louie told her, "He wanted to, 'cause he said, 'I want him to get ahead of it because I don't want what happened to him last year to happen to my brother.' So that's why he told him."
Andy asked if there were any thoughts of inviting Melissa herself to said "secret meeting," but Teresa said that was all on Louie. "I didn't want to get involved with it because of what happened, like, when they first got on the show," she said. "You know, I got blamed for the whole 'strippergate' thing."
There were no follow-up questions for Louie about this topic, or any of the other questions ... except for one. Teresa said she could defend Louie choosing to wear her feather's pajamas to help her daughter's feel "safe."
"I was doing something endearing," Luis tried to explain, or at least that was his intent. Alas, "It didn't go over well."
As for that shade, when Andy asked if she could defend Louie saying he didn't want wedding guests to waste their flashes taking pictures of Joe and Melissa, she first replied, "I don't remember-- he said that?" before quickly adding, "But yes," she could defend it.
Actress Leslie Bibb was on the show alongside Teresa. As a superfan of all things Bravo -- as made evidenced by her wealth of knowledge across several shows -- she had some strong opinions of her own on the Gorga family drama.
She and Teresa weren't even always on the same page, with Leslie afraid to weigh in on Louie's assertion that Joe Gorga gaslights his sister. "I don't know, it's so upsetting," she said, but Teresa said it did happen. "I live it."
Another thing that came out in Tuesday's season finale was Louie's claim that he had dirt on everyone because he'd hired a private eye. When Andy asked Leslie if she believed he'd really hired one, she said, "I feel like you might've," but Teresa shut it down with a simple, "No." She said they would never "waste" their money paying someone to dig up dirt, with Louie chiming in to say he "was at the end of my rope" and just came up with on the spot out of nowhere.
Earlier, though, when Andy had asked Teresa if she could defend Louie hiring celebrity detective Bo Dietl to investigate the "RHONJ" group, she said, "Yes." So which is it?
When asked if she thought Teresa was replacing her own family with Louie's, Leslie thought maybe she has, but out of necessity, adding, "She needs a family."
Teresa denied it, though, saying that she hasn't replaced her family, but Louie's is "wonderful." Both women agreed that Teresa asking his family to be bridesmaids was not intended as shade to Melissa.
Also not shade to Melissa was something that came up in the Aftershow. Teresa had previously spoken about it on Access Hollywood's "Housewives Nightcap" back in March, but was happy to be able to discuss it again and explain why she used "chosen family" at her housewarming party.
It was Margaret Josephs who floated the question that there may be more to the phrase than nothing when she asked Melissa, "What's that about?" Considering the family tension, the question was if Melissa was dissing her family by talking about "chosen family."
As it turns out, the reason she chose that phrase was much simpler. She'd only recently heard it and she liked it. It was at her sister-in-law Veronica Ruelas' partner's child's Communion. If you followed all that this is the person who used the phrase.
"She said, there's a lot of family here, but everyone else is 'chosen family,'" Teresa explained. "Louie and I were there and I was just so taken back from her speech. I said, 'Oh my god, I love that.' I said, 'The next time I have to say a speech, I want to use that.'"
And she did. "So it was never a dig at my brother and Melissa," Teresa added. "That's Margaret starting her s---, but you know, whatever."
We have to note, though, that Margaret isn't the only one stirring that particular pot. At the close of Tuesday's season finale -- after Melissa declared they've no intention of going to Teresa's wedding -- her slate read, "Melissa is planning a housewarming at their new house. Teresa and Louie will not be invited. Chosen family only."
Along with a roundtable of questions about the larger Bravolebrity world, Andy asked Leslie if she thought Teresa should try to reconcile with her brother and sister-in-law. It was obviously a mixed bag, but Leslie was hopeful.
Turning to Teresa directly, she said, "You only have one brother, so I hope it happens, but I think this season-- this season was rough. It was rough."
"And I was getting married, my only family member doing this to me right before my wedding," Teresa replied. "It's so sad."
You can check out all the details of the aftermath of Louie's "secret meeting" with Joe Gorga about Melissa's alleged infidelity and the explosion that might just be the final nail in the coffin below.