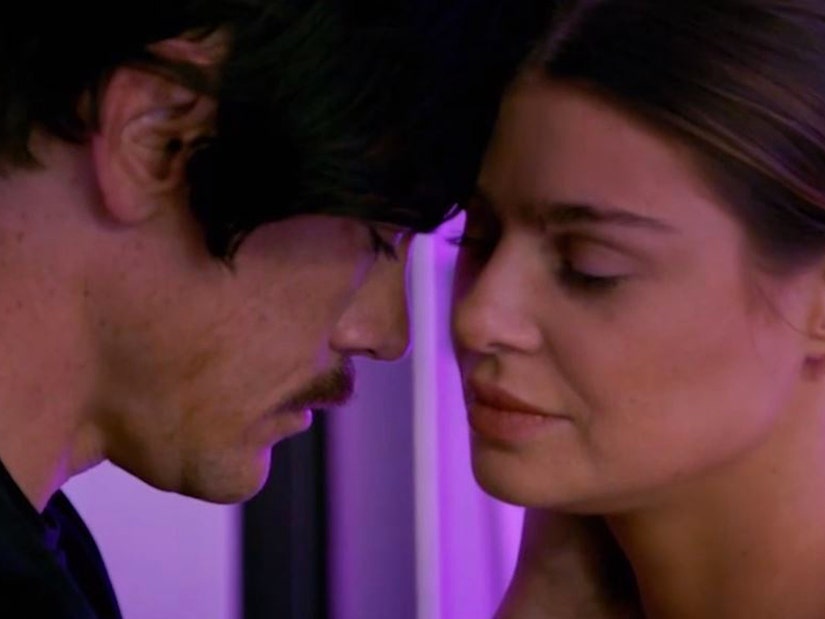 Bravo
The two share some PDA -- but refuse to kiss "on camera" -- as Leviss expresses her fears he'll cheat on her too, before she disappears on production "for weeks."
Appearing on-camera together for the first time as a maybe-couple after their affair was exposed, Tom visited Raquel's apartment, where they both commiserated over the fallout from all-things Scandoval.
After hugging and doing a cheers to "being in hell, where we belong," Leviss said it's "been rough" on her -- but didn't believe they deserved to burn in hell for their behavior. "I think we're two people who were friends and started having feelings for each other," she said.
Sandoval then pointed to him trying to set her up with Tom Schwartz as proof they didn't expect things to get serious ... but accidentally called Raquel "Ariana" in the process. It was awkward, but they moved past it quickly.
The two said they both had to tell their families about what happened, with Sandoval cracking that her mom must "f---ing hate me." When Tom said his family loves her, it sounded like he said, "I love you," prompting Raquel to say it right back. Again, awkward, but he then added, "I love you too."
As they got closer to one another, coming forehead to forehead, Leviss said their situation was "not ideal at all," as he called it the "stupidest thing." Though they came this close to sharing a smooch, Tom said, "I can't kiss you, there's cameras, I can't." She also thought it was "weird" to have their romance in the light, saying she couldn't do it either.
"I was just so curious to know what it was like to be physical with someone you love. I already knew I loved him as a friend and I've never had sex like that before," Leviss added in a confessional. "I should have completely removed myself from the situation, but I did not have the will power to not see him."
The two then sat down together, where Tom took a closer look at the cut above Raquel's eye she claims she got from Scheana Shay, who apparently confronted her after finding out about the affair. Though Shay said she just "shoved" Raquel -- and possibly hit her with one of her nails in the process -- both Tom and Raquel alleged Scheana admitted she "punched that bitch" after it happened.
"She definitely did and I took it like a champ. I'm like, is this my karma?" Raquel said, before sharing how scary it was to feel "so isolated" following the scandal. Leviss believed she could really only rely on her parents, her sister and Tom to have her "best interests at heart," but wasn't even totally sure about Sandoval.
"Even with you, it's questionable. It's like, am I really going to put my life on the line for someone that would cheat on someone that they love so much?" she asked, rather ironically. "That makes you think you would be capable of doing that to me. I don't want to be caught up in this whirlwind of a romance where I'm blind to these things."
After he said there was definitely "something here" between them, she admitted that everything "turned out so horribly wrong." She added, "We f---ed up," before calling the whole situation a learning experience.
"Who's to say, maybe things will work out with Raquel and I, maybe they won't," Tom said in a confessional. "When I kissed Raquel, I felt hope. I thought, wait a minute you're not washed up, your best days aren't behind you, maybe they're just beginning."
That was the only time we saw Raquel and Tom speak during the episode -- and the only time Leviss herself appeared on screen. After the scene, a slate came up reading, "After filming these scenes, Raquel turned off her phone and was not seen or heard from for weeks."
She'll, of course, appear in the reunion, which airs next week on Bravo.