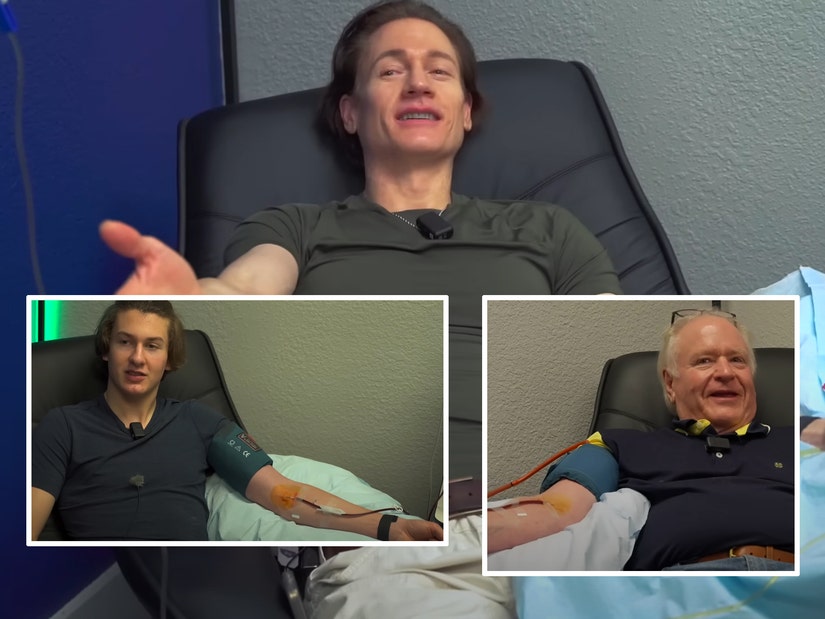 YouTube
Bryan Johnson, who spends $2 million a year on anti-aging efforts, shared a YouTube video detailing the experience of participating in what he calls "the world's first-ever multi-generational plasma exchange" with his 17-year-old son and 70-year-old father.
A multi-millionaire tech mogul has taken his years-long quest to find the secret of eternal youth to another level.
Last month, Bryan Johnson, who spends $2 million a year on anti-aging efforts, received a plasma transfusion from his 17-year-old son, Talmage, to explore if it would make him "younger."
As shown in a video posted to his YouTube channel on Monday, the 45-year-old, his son, and his father, Richard, 70, participated in what Bryan described as "the world's first-ever multi-generational plasma exchange." The three Johnson men visited Resurgence Wellness, a medical spa in Arlington, Texas.
According to the wellness center's owner, Chris Chapelle, plasma exchanges have been going on "for probably about the past eight to 10 years," but they've often been used for hair regeneration -- not for anti-aging efforts.
During the Johnson's men's multi-generational transfusion, Talmage went up first. The teen had a liter of his blood removed, which was then infused into Johnson, who similarly gave a liter of his plasma to his father.
While Talmage didn't receive a transfusion himself, he said he was thrilled to be a part of the journey, and donate plasma to his father and grandfather.
"I can be a part of a Blueprint therapy that would help reverse my age, and my dad's age, and my grandpa's age all at the same time, and so I was ecstatic to have that opportunity to be a part of that," he said.
Johnson noted that his son has been following Project Blueprint "for two years." According to his website, the initiative -- which he launched in 2021 -- "aims to combat entropy by maintaining perpetual youth" and "maximally slowing your pace of aging and reversing the aging that occurs."
Waiting for your permission to load the Instagram Media.
The tech entrepreneur -- who has been called the most measured man on Earth -- "routinely tak[es] hundreds of measurements of my body's 70+ organs, enabling my heart, liver, lungs and kidneys to speak for themselves what they need to be in their ideal state."
In Monday's YouTube video, Johnson claimed that he and his teenage son's blood work results are "almost indistinguishable."
The 15-minute video ended with Johnson reflecting on the experience, which he described as "emotional," "beautiful" and "sweet."
"This trip was remarkable. It honestly exceeded my expectations in every possible way," he said, claiming, "The multi-generational plasma [transfusion], it was [the] first in [the] world to ever be done."
"Also, it was an emotional experience for Talmage, my dad and I," Johnson added. "We were able to reconcile. We were divided by the mind, and we were unified by our biology. And it was sweet and caring and loving, and it was just one of the most beautiful experiences of my entire life."
Waiting for your permission to load the Instagram Media.
The U.S. Food and Drug Administration previously issued an advisory about the so-called "young blood" transfusions, writing that "there is no proven clinical benefit of the infusion of plasma from young donors in the prevention of conditions such as aging or memory loss, or for the treatment of such conditions as dementia, Parkinson's disease, multiple sclerosis, Alzheimer's disease, heart disease, or post-traumatic stress disorder."
Bloomberg first reported the news about Johnson and his family's tri-generational blood exchange.
Charles Brenner, a biochemist at the City of Hope National Medical Center in Los Angeles, spoke to the outlet, with the scientist saying that those who partake in the plasma infusions for anti-aging "basically have an anxiety problem."
"We have not learned enough to suggest this is a viable human treatment for anything," he added. "To me, it's gross, evidence-free and relatively dangerous."
Johnson earned his fortune from his mobile and online payment system Braintree, which acquired Venmo in 2012. PayPal purchased Venmo in 2012.
According to Fortune, Johnson's net worth is around $400 million.