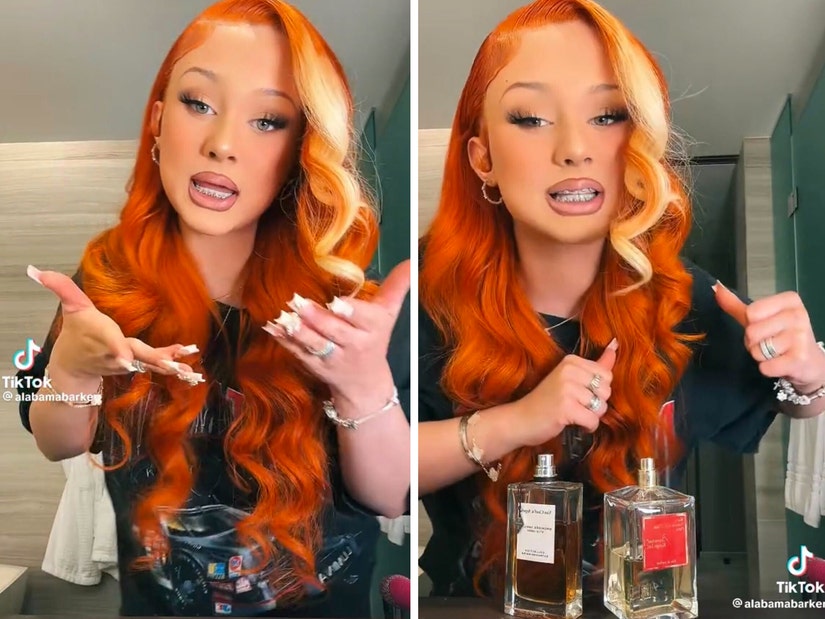 TikTok
"I've been influenced by rap my entire upbringing," said the 17-year-old, who is the daughter of Blink-182 rocker Travis Barker.
Earlier this month, the 17-year-old old -- who is the daughter of Travis Barker and ex Shanna Moakler -- posted a TikTok video, below, of herself lip-syncing to an original rap song. While many fans praised Alabama's talent, others appeared to mock and make fun of the teen.
In a recent, since-deleted TikTok video, per People, Alabama slammed the haters who claimed she doesn't "know anything" about the genre, and proceeded to detail her long history with rap music.
"I'm tired of people saying I don't know anything about rap music, I wasn't raised around rap music, I wasn't anything," she began in the video. "So, let's take a little field day into my life because you guys know it so well."
The internet personality then shared some receipts, showing a throwback shot of herself posing with Nicki Minaj as a child. The photo was from when Barker, Minaj and Rick Ross were among the opening acts of Lil Wayne's 2011 "I Am Music II Tour."
Alabama said she was five years old at the time, noting that she was "watching [Minaj's] set every day" and "knew every lyric."
She then showed an image of herself posing alongside Wayne, and a shot of the song cover for the 2019 track, "Gimme Brain," a single by Barker, Wayne and Ross.
"Another song I knew by heart when I was like 5 years old," she wrote. (However, she was a teenager when the song was released.)
The reality star continued to show "more proof" that she did, in fact, "grow up around rap music."
After sharing a shot of her dad and Wayne, Alabama showed a photo of Barker and Rihanna recording a remix of the latter's 2007 hit "Umbrella."
"I went to Rihanna's music video when she shot the 'Umbrella' song, I believe -- or one of her songs. So, another song I loved," she said, referencing the photo of her dad and Rihanna.
Alabama then revealed she went on another rap tour: Blink-182 and Lil Wayne's 2019 concert tour. "Every night I would watch the Wayne show when I was like 11 years old," she said. It's worth noting that she was about 13 at the time.
She continued to show more throwback photos of herself with rappers or attending rap concerts, including a shot of herself at a Wiz Khalifa concert, and a picture of herself with A$AP Ferg.
"This is us at dinner with Asap Ferg and my dad," she said of the image with the "Plain Jane" rapper. "I was also a huge fan of his music, and I knew every lyric to half of his songs."
After reacting to comments about her nails, she noted that rappers have performed at several of her birthday parties over the years.
"Since I could walk, I was in the music industry. I was watching my dad perform in punk bands, rock bands, in rap concerts, everything," Alabama said. "So, for the people that say, 'Oh, she doesn't know anything about rap music. She didn't grow up around rap music. Why is she doing this? Why is she doing that?' I've been influenced by rap my entire upbringing and punk rock."
"I know I am privileged, and I'm beyond grateful for that and blessed. It's not OK for people to make fun of or disrespect any culture at all," she concluded. "So, if me being a rapper bugs you, then you can just keep moving and stop commenting."