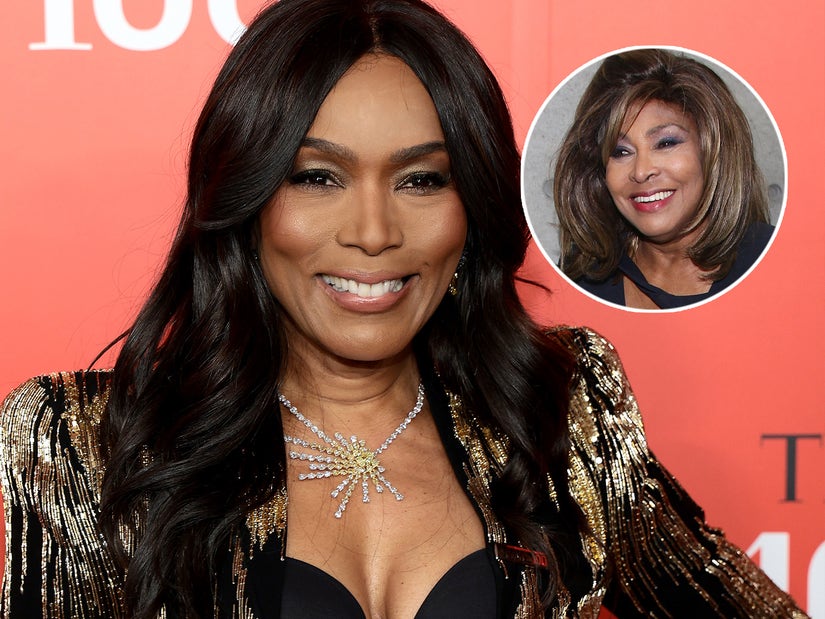 Getty
Angela Bassett, who starred as Tina Turner in the 1993 film "What's Love Got to Do With It" opposite Laurence Fishburne as abusive husband Ike Turner, pays tribute to the late music icon for her "courage," "commitment," and "determination."
Tina Turner was an icon who used her truth to reinvent herself, launching one of the best second acts in the history of entertainment An icon herself, Angela Bassett helped bring Tina's story to life in 1993.
Starring as Turner in "What's Love Got to Do With It," Bassett was lucky enough to not only portray one of music's most legendary artists and performers, she also got to know Turner personally. On Wednesday, she paid tribute to her late friend after Turner's death at 83 years old.
"How do we say farewell to a woman who owned her pain and trauma and used it as a means to help change the world?" Bassett wrote to her Instagram.
Waiting for your permission to load the Instagram Media.
"Through her courage in telling her story, her commitment to stay the course in her life, no matter the sacrifice, and her determination to carve out a space in rock and roll for herself and for others who look like her, Tina Turner showed others who lived in fear what a beautiful future filled with love, compassion, and freedom should look like."
Bassett then shared Turner's final words to her, which were about her Golden Globe winning and Oscar nominated performance in the film, which chronicled Turner's life through her tumultuous relationship with husband Ike Turner (Laurence Fishburne) through reinventing herself in the 1980s as a solo star.
"You never mimicked me. Instead, you reached deep into your soul, found your inner Tina, and showed her to the world," Turner told the actress, according to Bassett.
"I shall hold these words close to my heart for the rest of my days," Bassett continued in her post. "I am honored to have known Tina Turner. I am humbled to have helped show her to the world."
She concluded her message, writing, "So on today, while we mourn the loss of this iconic voice and presence, she gave us more than we could have ever asked. She gave us her whole self. And Tina Turner is a gift that that will always be "simply the best." Angels sing thee to thy rest…Queen."
Back in 2021, Bassett was invited to help induct Turner into the Rock & Roll Hall of Fame. There, she described Turner as "that woman, that queen –- Tina Turner," as reported by Ultimate Classic Rock.
She added, "People still regularly tell me how much Tina has meant to them. I know exactly what they mean, because she has meant that much and more to me. I too am one of those people, blessed by Tina's remarkable gift for inspiration."
Bassett acknowledged that Turner had already been inducted as part of a duo with Ike Turner. This new honor, though, was for her subsequent solo career, which was every bit as remarkable, if not more so. "What brings us here tonight is Tina's journey to independence" Bassett said. "For Tina, hope triumphed over hate, faith over fear and ambition eclipsed adversity."
A representative for Turner told Sky News earlier in the day, "Tina Turner, the 'Queen of Rock'n Roll' has died peacefully today at the age of 83 after a long illness in her home in Küsnacht near Zurich, Switzerland."
"With her, the world loses a music legend and a role model," the rep added.
The star's Instagram also announced the sad news Wednesday, writing: "It is with great sadness that we announce the passing of Tina Turner. With her music and her boundless passion for life, she enchanted millions of fans around the world and inspired the stars of tomorrow."
"Today we say goodbye to a dear friend who leaves us all her greatest work: her music. All our heartfelt compassion goes out to her family. Tina, we will miss you dearly," the message concluded.
Turner was born as Anna Mae Bullock in late 1939 in Nutbush, Tennessee. She went on to achieve fame in the late 1960s with the Ike & Tina Turner Revue.
Tina left Ike Turner following years of abuse. She defied the odds and launched an epic comeback -- considered one of the greatest in music history -- in the 1980s with giant hits such as the aforementioned "What's Love Got To Do With it," "Private Dancer" and of course "The Best."
Turner won 12 Grammy Awards in her illustrious career and sold more than 180 million albums. She also had maxed-out stadium tours across the globe. There was also a Broadway musical about her titled "Tina – The Tina Turner Musical."
You can see more reactions to Turner's passing from her fellow artists below: