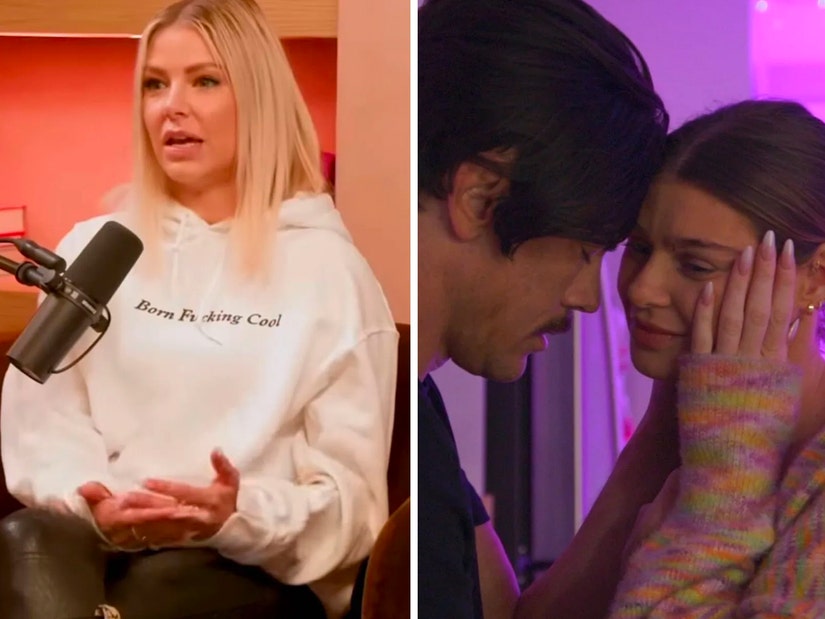 Call Her Daddy/Bravo
She says it was "hurtful" to see how Sandoval "weaponized any struggle I had with my mental health," before recalling how "painful" it was to listen to Leviss at the reunion.
"But you're, like, sleeping in my bed and buying me flowers, going on an anniversary dinner, going to couples therapy and all of that?" said Madix, who admitted that while they had what she called a "breakup conversation" after Valentine's Day, it wasn't a talk that ended with any finite decision. She also clarified what Sandoval apparently interpreted as suicidal ideation.
"Then, at the end of that conversation -- that was hours long -- the end of that conversation was like, alright, let's continue this conversation -- and he was saying things in that conversation, like, 'I think I'm having a mid-life crisis' and I'm like, 'Absolutely,'" she said. "And I said, 'If we break up, I'm probably going to quit the show. I will probably leave Los Angeles. I will probably deactivate my Instagram.' And he found that to be very offensive."
"I was never saying that I was going to kill myself. I was saying that my life, this life, will be over for me because I will go do something else," she continued. "I have been fantasizing about moving to like the French countryside since I was a f---ing child and, like, honestly, to be fair, I was quite tearful, it was definitely not, like, a positive conversation, but I'm not talking about physically harming myself."
Madix claimed that Sandoval was pretty clear "that's not what I was saying," before again denying the pair were broken up when the scandal broke.
"It was really a rough conversation, it ended with, let's keep talking about this. The next couple of days, we had more conversations," she added, saying she did eventually tell Sandoval that if he believed things were "over" between them, he had to be the "one to end it" because she was still "committed."
"I have dealt with suicidal ideation before, and I have been in very, very deep, dark places before. So to then be flippant about it, as if that's also something about me that makes me deserve to be treated poorly is pretty awful, I think," added Madix, who said his comments while speaking with Scheana did make her "angry." She also applauded Shay for how she reacted to his claim, wondering why he did "absolutely nothing to help at all" if he felt she was suicidal.
When asked later by Cooper to pinpoint the "most hurtful" thing Sandoval said amid the split drama, she responded, "I think it was the way that he weaponized any struggle I ever had with my mental health. That to me was the most hurtful."
During the podcast, Madix also reacted to seeing Tom's first scene with Raquel after the news broke, the first time fans saw any blatant PDA between the two after their affair came to light. During the awkward moment, they both expressed their love for one another, rather clumsily.
"That scene was very cringe on so many levels. And I think it was that scene and that conversation that I watched that made me -- when you asked me, 'Do they make sense to you?' -- I'm like, no," said Madix. As for the "I love you" professions, she said she "kind of knew that before watching," and figured that's "where they were at" with each other at the time.
Madix also said that after filming that scene, Tom came back to their shared home and "yelled at everybody" she had over for what was "essentially a funeral" mourning the Sandoval they all thought they knew. "And then eventually he left and there were paparazzi shots of him going back to her apartment after. So he came back to the house, yelled at everybody to, like, get out of his house and blah-blah-blah," she added.
Ariana also addressed the reunion, which begins airing tonight on Bravo. She said it was "painful" listening to Leviss during taping.
"And not painful in the sense of like she hurt my feelings. Painful in the sense that I really did not feel like she was connected to the moment or reality at all," she said, adding that she believes both Tom and Raquel didn't understand the "gravity of what they had done or were doing." Madix added that she was "angry" and "sad" throughout the taping, but also "felt numb in a way" at the same time.
As for whether the reunion offered her any closure, Madix said she "honestly felt like" she had that before going into that taping. She said the circumstances of the split and scandal made it "really easy for me to just not give a s---" about Sandoval after -- and made her realize that even if she did miss him, the version of Tom she was missing isn't who he actually is.
The "Vanderpump Rules" reunion kicks off tonight on Bravo.