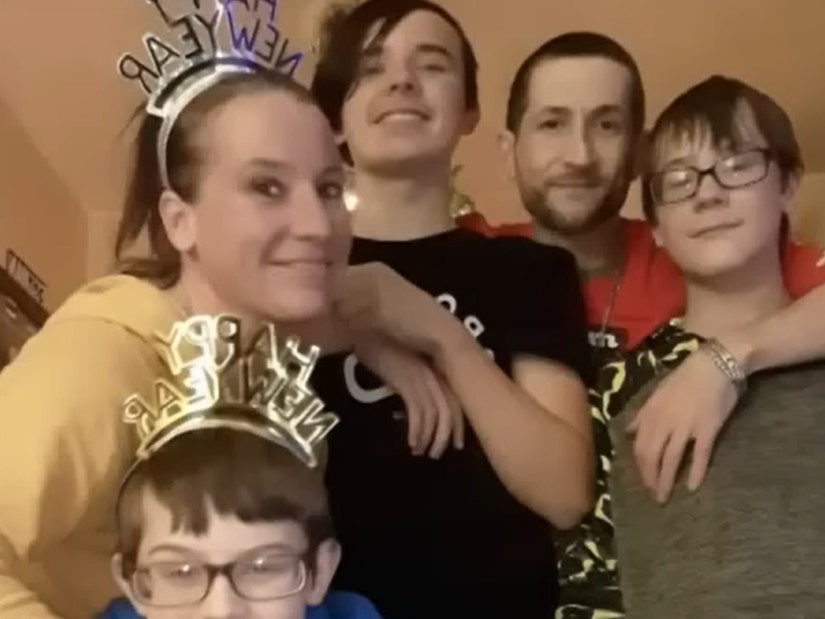 WJZ CBS News Baltimore
Security cameras captured the victim's 12-year-old son screaming "Daddy, daddy, daddy" as he was viciously beaten in front of his three children by five assailants who were looking to fight his teen son, says the victim's family
A Maryland father of three is said to have been killed protecting his family from a fight that began at one of his son's schools after he refused to let five assailants attack his child at their home.
43-year-old Christopher Michael Wright's family told local news his 14-year-old son was involved in a fight with another teen at Brooklyn Park Middle School, in Anne Arundel County, and the ongoing disagreement then landed at their doorstep.
Mr. Wright's fiancée, Tracy Karopchinsky, said three teens and two adults arrived at her family home looking for their 14-year-old son, but encountered the boy's father outside.
"Chris came out to tell them, like, he's not coming out here to fight, and they threatened at one point to come in and get him, and then they said, 'If he's not going to fight, then you're going to fight,'" Tracy told WBAL-TV 11.
All three of Mr. Wright's children were home at the time of the fatal beating, his fiancée said, per CBS News.
He was transported to Shock Trauma and died Saturday of a traumatic brain injury.
"Just looking at the damage that was done to him, that wasn't just punching that did that. Like, there's no way that punching did that. The damage was done before the ambulance ever took him away. I mean, he'd had a seizure. It was done. There was nothing that the hospital could do," Tracy told WBAL-TV 11.
The family of the victim said the incident was captured on their security cameras and that their neighbor also had footage of the vicious beating.
"I was at Shock Trauma, and initially, my dad and I tried to go onto the camera to look, and the first video that comes up is my 12-year-old son screaming, 'Daddy, daddy, daddy,' and running out of the house into the street to go help his dad." Tracy said. "And, I couldn't watch anymore after that. I just couldn't."
Brooklyn Park Middle School officials confirmed the altercation occurred at their school and are participating in the police investigation.
Anne Arundel County police told local news the investigation is active.
Police spokesperson Marc Limansky told WBAL-TV 11, "Anyone who assisted who abetted or was an accomplice of the main suspect or the primary suspect will be culpable."
"I'll never forget the sound, I'll never forget the noise my nephews made when we had to tell them he was gone," the victim's sister-in-law, Kristin Karopchinsky said.
"They didn't just ruin our lives. Their lives are going to be changed forever. Their parents' lives are going to be changed forever, and nobody thinks about that just from a fight," the victim's fiancée, Tracy, said. "It is everywhere, and somewhere, we as parents are failing these children as parents. It's not the school's responsibility. It's our responsibility."
Tracy said her longtime partner was a wonderful father who loved gardening and gazing at the stars. She said the father of her children was her best friend. A candlelit vigil will be held in his honor.
Police urge anyone with information about the incident to call 410-222-4731 or their Tip Line at 410-222-4700.