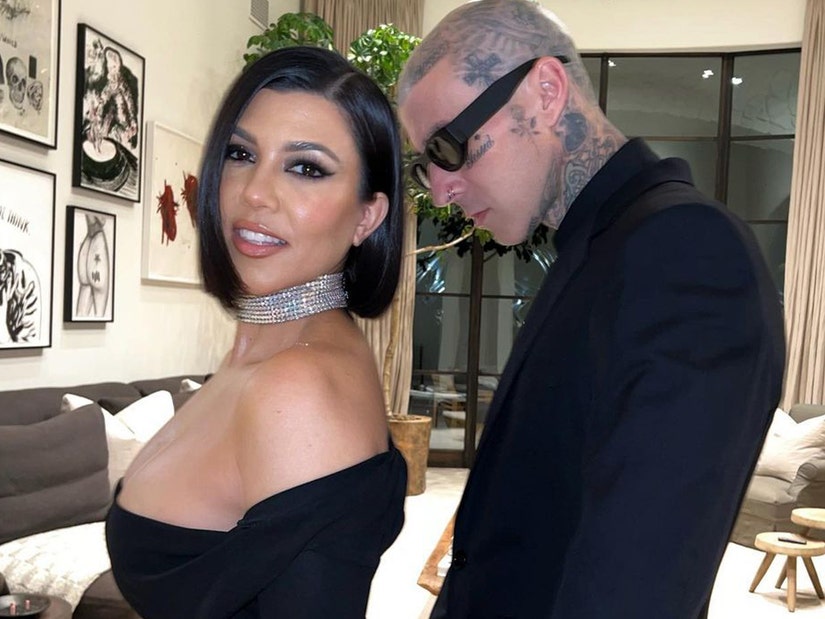 Instagram
"Do you mid if you give us five minutes to go do something really fast?" asks Kourtney, before Khloe times their quickie and explains why it's so "triggering" for her.
On Thursday's Season 3 premiere of "The Kardashians" on Hulu, the pair stepped away from production while filming with Khloe Kardashian for some intimate time together as they continue to try for a baby.
"I know that I'm already late for you, but I am ovulating. Do you mind if you give us five minutes to go do something really fast?" Kourtney asked her sister, before exclaiming in a confessional that "wife life is amazing" so far.
"Can Travis do it in 5?" asked Khloe, before Kourt insisted that he could. As the two took off their microphones and slipped away to somewhere private, Khloe pulled out her phone and started a timer, admitting the whole experience was a little "triggering" for her.
"One time I was under my parents' bed playing hide and seek and fell asleep and I woke up to my mom and Bruce having sex, so this is sort of triggering me," she explained. "I don't want to talk about it. My inner child won't allow me to."
15 minutes later, at least according to Khloe's timer, Kourtney returned ... and said that was actually quite short for the duo. "By the way, that's record time. It's usually like hours," said Kourtney, "I was laughing for the first five minutes so hard I was crying ... I was like, 'Get it together! Get it together!'"
After Khloe said the fact her sister and Travis were trying to have another child together "blows my mind," Kourtney said that the two were just putting their faith in "God's plan" for them and explained why they stopped IVF.
"We are officially done with IVF. We would love a baby more than anything but I just really believe in what God has in store for us. If that's a baby, then I believe it will happen," she said.
"I had 7 frozen eggs from years ago, before Travis ... everyone was pushing me to do that, but most of mine didn't survive the thaw. None of them made it to an embryo. The freezing of the egg isn't guaranteed, I think that's a misunderstanding, people do it thinking it's a safety net and it's not," she continued. "All the things that came along with IVF took a toll on me physically. My health is still impacted, because it's hormones. Also, mentally, it definitely took a toll. So I think just being happy is most important and being a good parent to my kids. We are embracing that whatever's meant to be will be."
Toward the end of their conversation, Kourtney took a big yawn and said she was "so tired." Quipped Khloe: "From probably having your 20-minute sex session downstairs!"
"Well, we had one this morning for like, an hour and a half, and I had one last night and the day before," added Kourtney, shocking her sister. "Who has enough time in the day to have sex for an hour and a half!?" asked Khloe, as Kourt simply said the newlyweds were "just living our best lives."
Kourtney already shares Mason, Penelope and Reign with ex Scott Disick, while Travis shares Alabama and Landon Barker with his ex-wife Shanna Moakler; he also helped raise her daughter with Oscar De La Hoya, Atiana.
New episodes of "The Kardashians" drop Thursdays on Hulu.