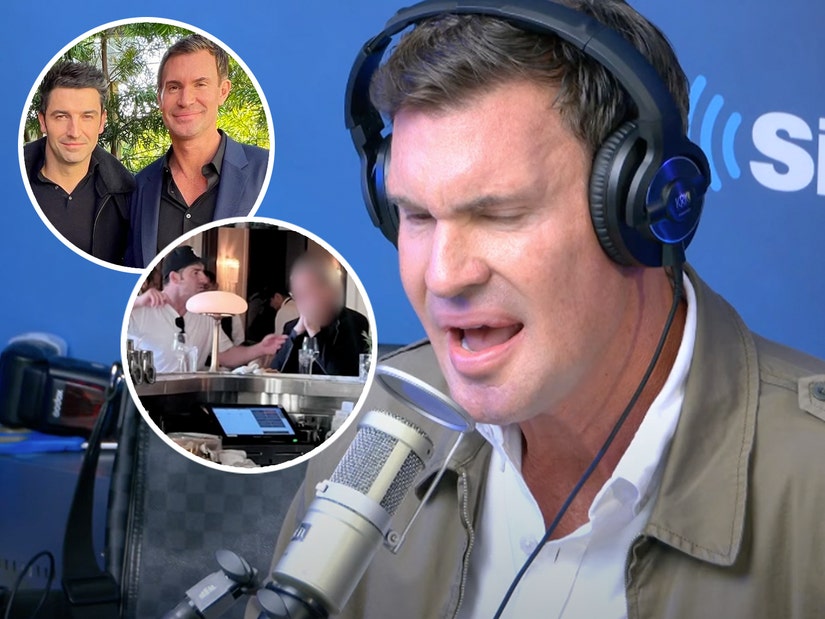 YouTube/Instagram
After receiving photos of Chef Stu with his ex -- who Jeff forbade him from seeing -- Lewis exposed both the pics and their drama on his radio show, before O'Keefe called in to tell his side of the story.
Jeff Lewis' own relationship woes were once again at the center of his Radio Andy show this week, after he called out his boyfriend Stuart O'Keefe on air for allegedly sneaking around with his ex-boyfriend behind Jeff's back.
On Wednesday's episode of his SiriusXM show, Lewis exclaimed that "Chef Stu" had "betrayed us once again," before opening up about the ongoing drama in their 15 months of dating. While their issues are apparently nothing new, Lewis explained Stuart has a bit of a history of shielding the truth from Jeff when it comes to his own relationship with his ex-boyfriend, Thomas.
First, said Lewis, Stu failed to inform Jeff that he'd be sharing a house with Thomas and some of their friends in Palm Springs once -- something which prompted a "huge fight." That incident led to Stuart saying he'd "distance himself" from his ex going forward, only for Lewis to claim the pair continued to talk multiple times a week. After yet another fight, their correspondences continued -- but Stuart allegedly changed Thomas' name in his phone to "Scam Likely" so Jeff wouldn't suspect anything.
"He and Thomas were talking very badly about me when I read them in the texts," said Jeff, who claimed one from Stuart to Thomas said, "He's mad because you made me happy and he doesn't."
Still, Lewis "elected to forgive him and move past it" -- before eventually forbidding Stuart from seeing his ex ever again after the three of them all showed up to the same party back in February and Thomas "was very disrespectful," speaking with numerous guests -- including Stu's boss -- about the chef's penis.
He said that, "since then, there has been no communication with Thomas" ... or so he thought.
According to Jeff, he was headed to New York on Sunday when he got sent a photo from a friend of him of Stu at The Ivy, a restaurant where "he and Thomas used to go when they were a couple." O'Keefe claimed he was with a female friend, but Lewis was skeptical. That skepticism was rewarded with more photos of Stuart later that day at another Los Angeles restaurant ... with Thomas also in the frame. Lewis then shared the photos with his radio cohosts, blurring showing the chef at the bar and his ex's face blurred out.
"I don't understand this, but why he chooses to disrespect me, disrespect the relationship, completely, I mean, he just seems boundary-less at this point," exclaimed Lewis, who said he then sent his partner photos and adding, "Please don't message me again."
While they hadn't spoken all week, Lewis said on Thursday's episode that O'Keefe called him that morning to discuss him airing their dirty laundry on air.
"We talked at length and I realize, he said, 'You know you have this platform, this huge platform and you get to create the narrative,'" said Lewis. "I'm like, I'm not trying to rewrite history or anything, I'm just telling it from my perspective. I think it is only fair that Stu has the platform to tell his side of the story. So guess what, he's on the line."
With that, O'Keefe hopped onto the show, as Lewis told him, "You've got the platform you have asked for, tell us your side of the story."
"First of all, I'm not cheating with my ex. I'm just not. We are friends, we've always been friends," he explained, saying that while he did agree to not contact Thomas, he pushed back against Jeff's "boundary" after they broke up earlier this month.
"We talked a week later, tried to figure it out, we still couldn't figure it out. As s--- as it is, I just was like, we're done, this is done. What I do when we're in a breakup or a pause, I will go back to all my friends and Thomas happens to be one of those friends," he continued. "It was his birthday on Sunday, we had lunch at The Ivy, we grabbed a drink at Cecconi's and that is it."
He got choked up as he said he had no intention to hurt Jeff, he simply thought they were "broken up." He then concluded, "I love you so much, he knows that, but I understand the issue with Thomas with ... that's my piece."
Lewis responded by telling Stuart that if he looked at their roller coaster of a relationship history, anytime they've fought in the past, "within 7-10 days we work things through" ... so this shouldn't have been any different.
"The way I looked at it was a pause. What that message said to me is, if you had any interest in working through our problems, that was probably a really. bad move," Lewis continued. "However, I'm going to own something Stu ... you were very honest with me this morning and you said, 'I can't do these pauses anymore.' I'm gonna own it, I am responsible for 99% of the pauses."
"I leave the relationship, I'm a f---ing runner because I get to a point where I don't feel like I'm being heard or understood. I get frustrated, I get angry and I run," he then admitted.
It seemed like the two were still hoping to work things out a bit going forward, with Stuart even joking about their on-and-off-again relationship on Instagram later in the day on Thursday.
After posting a photo of his dog, someone commented, "Hope you treat the dog better than you treated Jeff!!" That led to people discussing the latest drama, as one added, "all of this back n forth and they are back together. That's why we should just be entertained and not make comments." Stuart himself then joked, "we need an APP to keep track!"