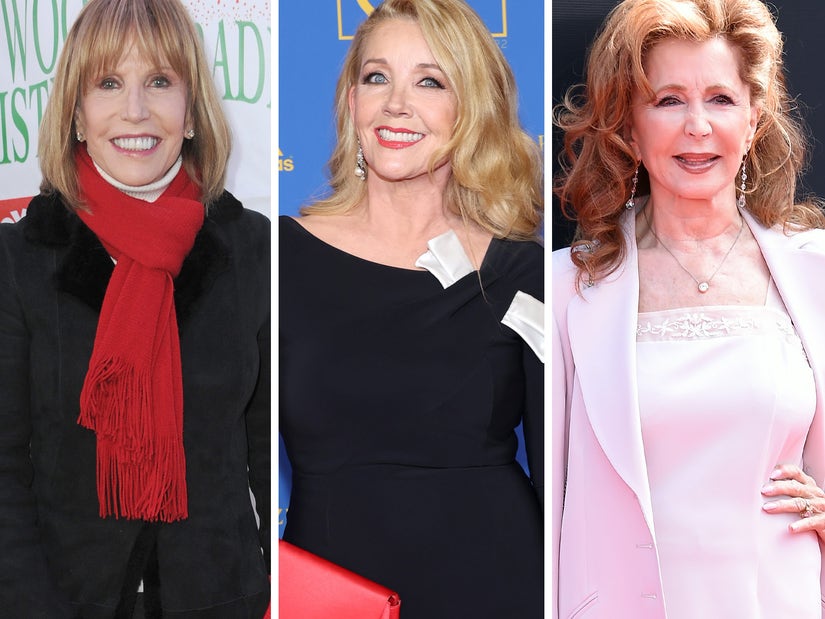 Getty
"I intend to stay as long as I can."
Soap operas have long been a staple of daytime television and while there aren't quite as many shows as there used to be, there are still a few iconic series that have stood the test of time.
With "General Hospital" about to celebrate 60 years on the air and "The Young and the Restless" recently marking its 50th anniversary, numerous actors have actually been around since the very beginning. These beloved soap stars have stuck with their show for decades — and plan to stay for as long as they can.
Find out which actors have been starring on soaps the longest…
10. Bill Hayes - 40 years
Since 1970, Bill Hayes has portrayed Doug Williams on "Days of Our Lives." Although there have been a few gaps in the years he's been featured on the soap, Doug has now been a part of the cast for a total of 40 years. He even married his co-star Susan Seaforth Hayes. Looking back, Bill says he had no idea what he was getting himself into when he joined the cast.
"At that point, I'd never seen a soap. I didn't know anything about soaps at all, and it took me two minutes to realize how fabulous they were. The actors on 'Days of Our Lives' were so incredible…They were so good, I just couldn't believe it! I thought maybe I could last a year and I've done just under 2,100 episodes," Bill said in 2017.
9. Kate Linder - 41 years
Kate Linder has played housekeeper Esther Valentine on the "Young and the Restless" for over four decades. When she originally appeared on the show in 1982, she was only supposed to have a small part in one episode -- and her character didn't even have a name. As they expanded her role, her co-star Jeanne Cooper began calling her Esther and it stuck. A nationwide contest was then held to help pick a last name. Since then, Kate has been a constant member of the cast and continues her role to this day.
"It's unbelievable to me, truly. I mean, gosh. To start out on this show and to be part of 'The Young and the Restless' for this long, it's incredible. And I love to say 40 years and counting… I absolutely love what I do, I love the show, and I am honored that I am able to bring Esther to life. It has provided me with so many ways to give back, and I am absolutely thrilled and honored," Kate told Soap Central.
8. Deidre Hall - 41 years
Over the course of the past 41 years, Deidre Hall has played Marlena Evans in thousands of episodes of "Days of Our Lives." Looking back, Deidre thought she had no chance of getting the role considering she had auditioned with many more famous actresses -- and when she got the part, she actually turned it down!
"I was so convinced that with all these recognizable faces that I had seen at the audition, they would have not chosen me. But in my logical mind I said, 'They must've gone through 10 actors who turned it down, there must be something wrong with it.' So I turned it down also and then she called me back two weeks later and said, 'What's wrong with this part?' I said 'I love this part. I just thought I wasn't somebody they especially thought of first.' She said, 'You were their first choice.' So I took it and it's been over 40 years," she told Closer Weekly.
7. Doug Davidson - 42 years
Doug Davidson has become one of the longest running cast members of "The Young and the Restless" after joining the show in 1978. Since then, he's portrayed Paul Williams in thousands of episodes and taken home the Daytime Emmy for Outstanding Lead Actor in a Drama Series.
In 2018, it was revealed that Doug's contract was not renewed and he would only be returning as a recurring character. Although he was still considered a cast member, there was drama behind the scenes and Doug hasn't appeared on the show in several years. He chose not to appear on the show's recent 50th anniversary episode and is hoping he can tell fans exactly what went down soon.
6. Eric Braeden - 43 years
Eric Braeden joined the cast of "The Young and the Restless" as Victor Newman in 1980 and has never left! While he admits he was at first unsure about his role, he was able to help writers give the character more depth and quickly began to love the job. Now at 81, Eric doesn't seem himself retiring anytime soon.
"I feel very loyal to 'The Young and the Restless,' very beholden to Victor and very beholden to the audience who has supported us for all those years," he told People. "I intend to stay as long as I can."
5. Jackie Zeman - 43 years
Jackie Zeman had been a part of the "General Hospital" cast since 1977 and actively appeared on the show for 43 of the years since portraying nurse Bobbie Spencer.
Zeman died in May 2023 at the age of 70, following a short battle with cancer
Reflecting on why her character had stood the test of time, Zeman previously said she believed it had to do with Bobbie's abilities to relate to so many people.
"So many of Bobbie's stories -- the abusive marriage that led to her hysterectomy, her daughter being killed by a drunk driver -- have had people stop me on the street and say, 'That happened to me too, and you really helped me get through it,'" Jackie told TV Insider. "Yeah, we're here mostly to entertain but we are also relevant. The people who watch 'GH' connect with us as if we are family, and I am so proud of that! What we do is important."
4. Melody Thomas Scott - 44 years
Melody Thomas Scott joined the cast of "The Young and the Restless" in 1979 as Nikki Reed -- who would later go on to become Nikki Newman. She's become one of the longest running members of the show, appearing in thousands of episodes. When she first signed on though, Melody says she had no idea the show would go on for over 50 years.
"I don't think any of us really stopped and thought, 'Well gee, can we get to 50?' That is never a part of our brains. We just don't think that way. And we're actors. What job for actors lasts a year? Very few. For it to last so long for all of us is truly a blessing," she said.
3. Susan Seaforth Hayes - 44 years
Susan Seaforth Hayes has played Julie Olson Williams on "Days of Our Lives" for an impressive 44 years. Since joining the cast, she's been nominated for six Daytime Emmys and in 2018, she and her husband Bill Hayes received the Lifetime Achievement Award.
"There aren't many actors who have been lucky enough to play the same role on that level for that long. At one point, there were 14 soaps on the air, and now there are four," Susan told Digital Journal. "I am probably the oldest person on the show right now screentime-wise. Bill joined a year and a half later, and that was a magic time, and the magic hasn't worn off. I think we got the 'Lifetime Achievement Award because the magic has not worn off."
2. Leslie Charleson - 45 years
"General Hospital" star Leslie Charleson has played Monica Quartermaine on the show for 45 years. Looking back, Leslie says she actually only signed on for three years on the show but it ended up turning into something way more. Thankfully, Leslie says she really enjoys playing Monica due to her versatility.
"Whenever I'm reminded about 45 years, I think they are talking about someone else, because I honestly don't know where it has gone. I only signed on for three [years initially], but I guess it's attributed to Monica and having fun playing her. I could never do the grueling schedule that they have if I didn't love what I do. So there you go. Thanks, Monica!" Leslie told Soap Opera Digest.
1. Suzanne Rogers - 48 years
Suzanne Rogers took on the role of Maggie Horton on "Days of Our Lives" in 1973 and hasn't looked back! Despite being killed off on the show, Suzanne made her return and over the past 48 years, she's continued to be the star of the show.
"Fans love the families on 'Days' and they've been so loyal for 55 years. I was in a Costco a few years ago and this good looking guy stopped me and said, 'I know who you are.' I said, 'You do?' He said 'Well, Station 51 watches you every day!' He was a fireman! That's why we have the most devoted fans. They all get invested. I think we need to get invested in something other than all the sadness in the world today," Suzanne Soap Hub.