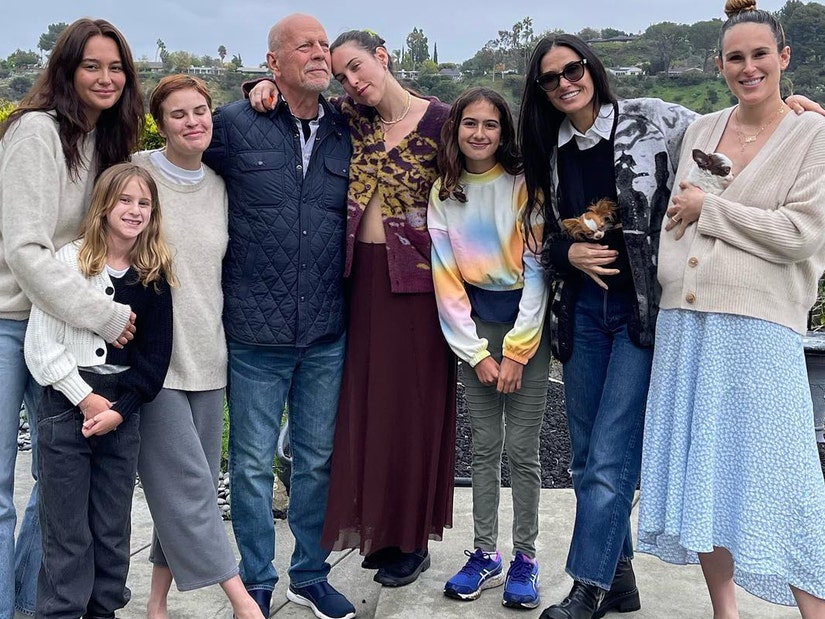 Instagram
The Die Hard star's wife and former spouse both shared touching Instagram tributes on Father's Day
Bruce's wife Emma Heming and his former spouse, Demi Moore, shared touching tributes to the star on Sunday.
"Father's Day is a time I get to reflect on my deep appreciation and respect I have for Bruce as I watch him father our little ones," Heming began her Instagram post, alongside a photo of her husband cuddling their daughter Mable (they also share another daughter, Evelyn).
Waiting for your permission to load the Instagram Media.
"What he's teaching them will span generations. Unconditional love, kindness, strength, compassion, patience, generosity, resilience."
"Happy Father's Day to the greatest dad I know, who will forever be the gift that keeps giving within our family," she concluded.
Demi, meanwhile, shared a throwback of Bruce with their three daughters (Rumer, Scout and Tallulah), writing: "Forever grateful to you BW for giving me these three beautiful girls. We love our #girldad. Happy Father's Day!"
Waiting for your permission to load the Instagram Media.
Bruce and Demi were married for 13 years and split in 2000. The Last Boy Scout star wed Hemming in 2009.
His daughters Scout and Rumer both shared tributes to Instagram as well.
"Seeing my father hold my daughter today was something I will treasure for the rest of my life. His sweetness and love for her was so pure and beautiful," new mom Rumer wrote. "Papa I'm so lucky to have you and so is Lou. Thank you for being the silliest, most loving, coolest Daddio a girl could ask for. Best Girl Dad in the game…."
Waiting for your permission to load the Instagram Media.
While Scout shared: "sending the blessing of this love out to everyone today. I feel so lucky to know the kind of tenderness that this man shares, the deep admiration, respect and reverence he has for his family. I feel so lucky that this incredible, vibrant, man is my father. Thinking of everyone for whom today has been challenging and I am loving you with the deepest depths of my heart! What patience, compassion and presence we learn through the greatest challenges in our lives."
Waiting for your permission to load the Instagram Media.
The tributes come amid a painful time for the blended family and are made all the more poignant.
Last year the family announced that Willis was battling a degenerative brain disease.
While the Hollywood star was initially diagnosed with aphasia in March 2022, his family revealed in February 2023 that he had since been diagnosed with frontotemporal dementia -- a condition they called a "cruel disease" with no treatments.