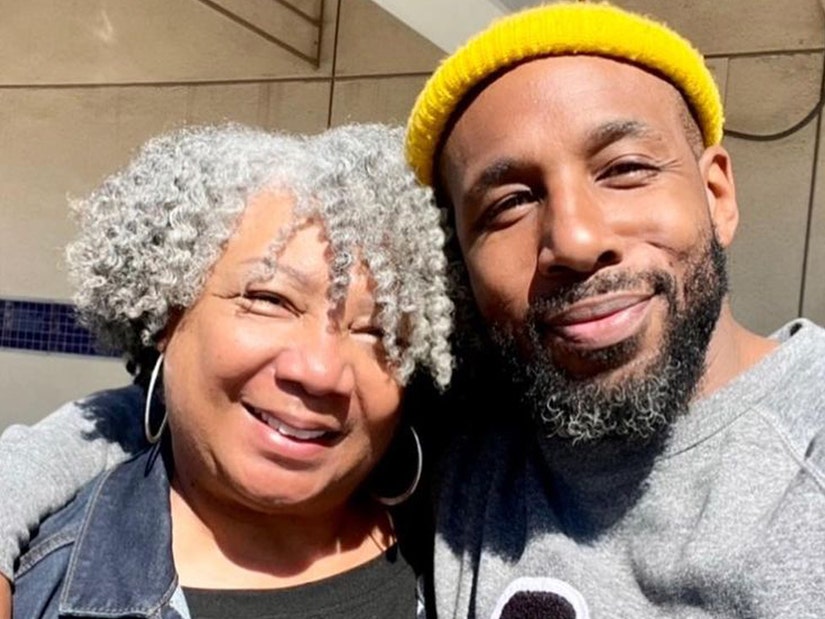 Instagram
Speaking out in her first interview since her son's death last December, Connie Boss recalls how she found about about his death -- saying suicide "was not my first thought, that it had been his hand."
Connie Alexander Boss, the mother of Stephen "tWitch" Boss, is opening up about her son's death, months after the dancer died by suicide in December.
Connie spoke to People about how she's been coping since the loss of her son, who was a father of three and known to most thanks to his DJing gig on The Ellen DeGeneres Show. "Sometimes it feels like it was just yesterday, and then other times it feels like it's been so long since I've seen him," shared Connie.
"When I think about him, I try not to dwell on how he left this earth," she added. "This is not totally the end. That is where my peace comes from."
Reflecting on the last time they spoke, Boss said that tWitch last checked in with her to see how she was doing after an illness.
"I'd been sick, so he texted to ask how I was feeling," said Connie. "That was the last time we talked. To the extent that Stephen may have been in a Black depression — no, not Stephen. He was so in tune with analyzing and trying to make himself better, reading self-help books, so this came as a complete shock."
Connie also added that even after she heard he'd died, suicide "was not my first thought — that it had been his hand. I really thought something had happened to him."
Recalling the moments before she learned of his death, she said she "knew something was wrong" and could just feel it "in the pit of my stomach." Having the worst confirmed was a devastating blow, as Boss said, "I remember screaming or falling to my knees. The rest of the day is more of a blur."
In the months since his passing, Connie said she's found herself doing "a lot of introspection" and reanalyzing the past.
"Did I miss something? Did he mean something when he said this?" said Connie. "At this point, I'm in realization, I guess. When I wake up in the morning, it does hit me that, oh my God, he really is not physically here. But then in my head I can hear him say, 'Hey, Mom. I'm OK.'"
Connie also revealed her touching last text message with her son, which highlighted the bond between them. "He started that last text with, "I love you, Mom,'" she says, "And I responded, 'I love you more.'"
If you or someone you know needs help with mental health text "STRENGTH" to the Crisis Text Line at 741-741 to be connected to a certified crisis counselor.
If you or someone you know is struggling with depression or has had thoughts of harming themselves or taking their own life, get help. The National Suicide Prevention Lifeline (1-800-273-8255) provides 24/7, free, confidential support for people in distress.