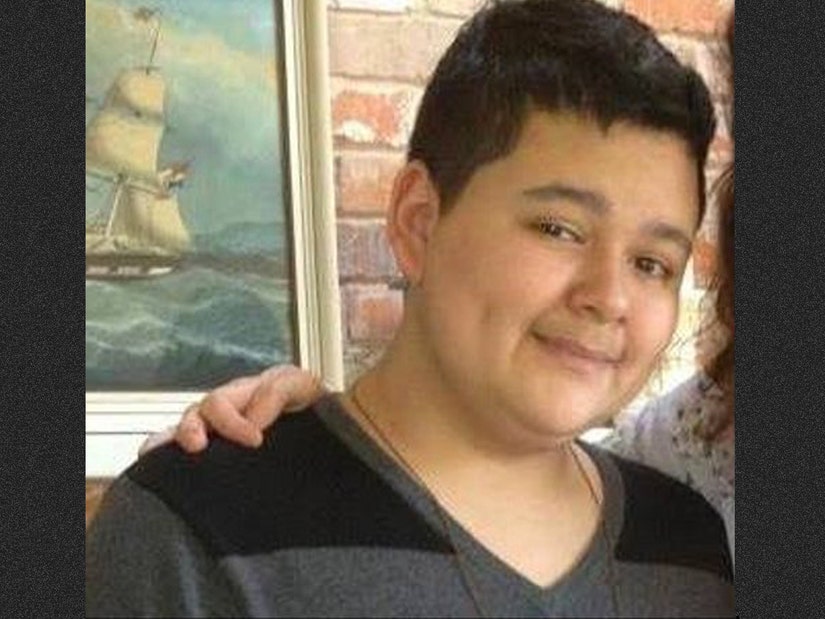 Twitter
After Rudy Farias' mother claimed he disappeared without a trace eight years ago, police said he was never missing after the now-25-year-old resurfaced this month. Now, he compares his situation to having Stockholm syndrome and addresses claims of sexual abuse.
Rudolph "Rudy" Farias just spoke out for the first time since his bizarre case became national news.
Farias, now 25, was just 17 when his mother Janie Santana reported him missing in Houston, Texas. He was found alive outside a church earlier this month -- but the good news took a wild turn after police claimed he never actually disappeared and had instead been living with his mother for eight years.
According to police, he was missing for only one day, before returning home. Authorities claimed that in the years since his so-called "disappearance" both he and his mother spoke with police, but allegedly "gave fictitious names" while "misleading officers" into believing he had vanished.
In a lengthy interview conducted by FOX 26, Farias got emotional as he opened up about what he allegedly endured during those missing years -- addressing claims he was sexually abused by his mother and also explaining why he never tried to escape, despite not being physically restrained.
Comparing his situation to "Stockholm syndrome," he said he was "just held against my will mentally, not physically."
"She never locked me in or handcuffed me or anything like that. I had free will to leave, but it felt like brainwashing, she kept confusing me," he explained. "The way she would manipulate me into saying, 'You're going to get arrested because you had a speeding ticket.'"
He said he would have to stay in his bedroom, in silence, with the door locked whenever people would visit their home -- including family members. Farias got choked up as he recalled having to listen to some of his family members through the walls -- saying it hurt to hear them "be happy and cheerful on the other side of my f---ing door."
"She was bombarding me with negative thoughts. Every time I'd come around her, it's like little triggers pop up," he continued. "I'd been trying to get away from my mom, and I'll hear a random noise and it would be like a little reminder in my head, 'Don't do that. Don't say this.' Just little things, like she's putting ideas and thoughts into my head."
Crying again, he said it felt like he "lived in prison."
"I wanted to be free, I wanted my own job, I just wanted to live my life. I just wanted to just love somebody and have somebody else who would love me. I wasn't sure what love was," said Farias. "I struggled understanding my emotions ... the only way I was understanding how to communicate with people was online."
Farias explained that he struggled with mental health issues before the presumed disappearance, stemming in part from his brother's death. After his brother died, Rudy struggled with suicidal ideation and attempts, explaining that his late family member used to "take care of me" and was the "glue" of the family.
"After he passed away, I wasn't able to love myself or anything anymore. I wasn't able to have a father figure. He was my brother, but I never had a dad," he said. Of his mother, he added, "She was my only parent, she was the only person I really had besides my brother. When I lost my brother, I didn't have anybody to teach me how to live."
He claimed the decision to keep him hidden from the public was made after he got "a f---ing speeding ticket," but never really got a full understanding of his mother's alleged motivations. "When it comes to the real small details like that, I don't remember, like she's blocking it out for me," he continued.
Though he believes he was "heavily" taken advantage of, he was adamant that nothing sexual ever happened between them.
"I used to have to sleep in her bed sometimes, next to her. It wouldn't be anything sexual or anything like that ... I never said anything bad about her in that regard," he said, after a local activist made claims to the contrary after he was found. "Just boundaries she would push or make me uncomfortable and I would say, 'Stop,' and she would say, 'Why, what did I do?'"
"I didn't say anything like intercourse," he added, saying that while he "felt like" he was playing the role of his mother's husband, he meant it in a non-sexual way.
"She didn't force herself on me or anything like that. It wouldn't be anything where I would have to go get a rape kit or go file a police report," he continued. "It would never be anything like that. Just stuff that really made me uncomfortable and I didn't have any references or other people to bounce off of to understand if it's a healthy thing that she does or not. Maybe it's just me not understanding how people work."
According to Farias, the day he was found he "wanted to get away" and just began "walking around" an area where the family used to live. "I kept trying to find back home, something that felt familiar," he added.
He added that he doesn't want any contact with his mother going forward, but claimed she "keeps trying to come around."
"I just want to live my life away from her. She can do whatever she wants, I don't care. I just want to live my life. I want to have a family, a car, a house, I just want to live my life and be happy," he said, again getting choked up. "I just want to be happy. I don't want to keep going back to those negative thoughts she has on me. I'm so tired of those thoughts, just constant negativity around that house and I hate it."
When asked what he'd say to her if she were watching his interview, he said, "Just leave me alone. Just let me live my life. I just want to be happy and I'm happy now. I'm working on it."
Adding that he was "at peace now" and felt "a lot of relief," Farias said he was also staying with "very good people" now.
As for his final message to viewers, he said this: "Spread positivity. Spread wild flower, not wild fire, because we need more colors and beauty in this world. We don't need any more hatred or burning things down."
The police investigation remains ongoing. Rudy's mother -- who has not been charged with any crimes -- has not responded to his claims.