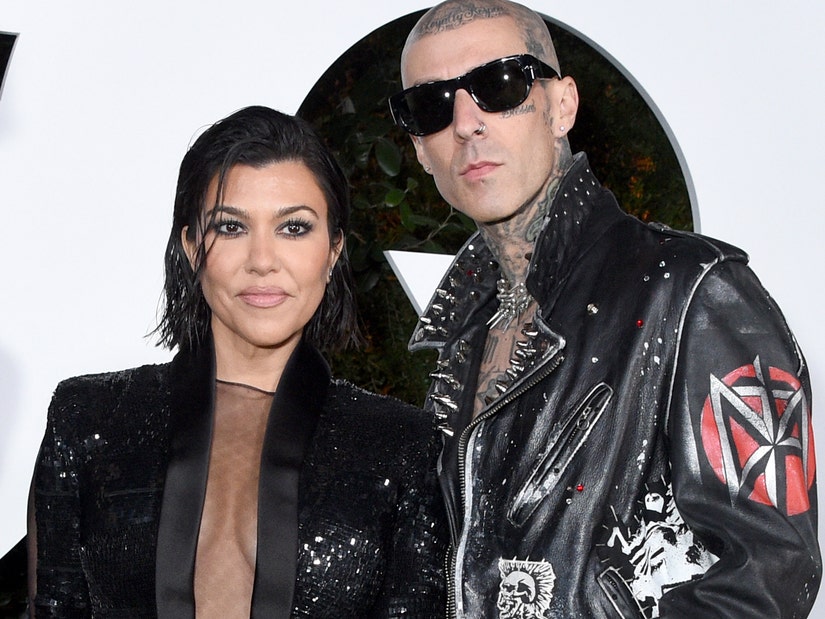 Getty
The Blink-182 drummer survived a 2008 plane crash that claimed four lives
The Blink-182 drummer took to Threads to highlight his 30th flight since surviving a 2008 plane crash that took four lives – thanking his wife in the process for helping him overcome his fear of flying.
"Just flew for the 30th time since my crash," Barker shared. "Wouldn't be able to tour or enjoy my life again the way I do without the healing love of my amazing wife. I love you."
Kardashian was quick to repost the shoutout to her Instagram Stories, praising her husband as well, writing, "so proud of my husband."
Barker, his assistant, Chris Baker, security guard, Charles "Che" Still and friend, Adam "DJ AM" Goldstein were flying back to Los Angeles from South Carolina in September 2008.
Still and Baker both died in the crash as well as the two pilots. Goldstein, meanwhile, survived the accident but died from a prescription drug overdose a year later.
Barker underwent 27 surgeries after over half of his body was covered in third-degree burns.
In an interview with The Real, Barker revealed that "everything felt wrong" on the day of his infamous flight.
"I called my pop from outside the plane like: 'This plane is really small, I have a horrible feeling. If anything happens, make sure my kids are ok,'" the musician said.
For over a decade, the drummer had refused to fly following the crash – that is until Kardashian entered his life as a romantic partner. With the Lemme mogul's support, Barker managed to fly again in 2021.
Now, Barker and Kardashian are in the process of growing their family after revealing in a surprise announcement at a Blink-182 concert that they are expecting their first child together. The pair have openly spoken about their journey in conceiving, with Kardashian noting in an Instagram post her excitement for their child's arrival after struggling with IVF.
"Overwhelmed with gratitude and joy for God's blessing and plan," Kardashian shared.