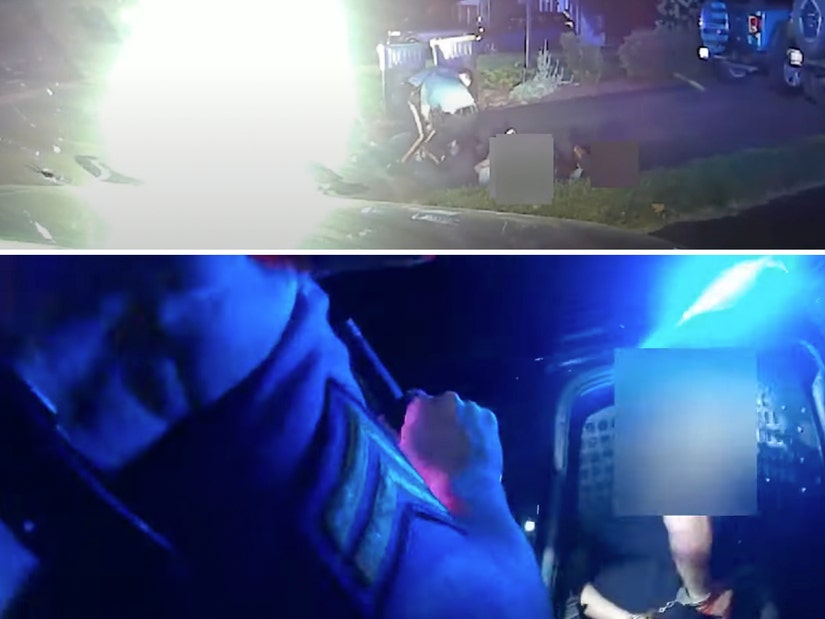 Delaware Department of Justice
Officials say the suspect turned off his body camera during the alleged assault, but because of how it was programmed, video continued to record.
A Delaware State Trooper is facing numerous felony charges after "brutally assaulting" a teenager in response to an apparent prank, according to the Attorney General's Office.
This week, Trooper Dempsey Walters, 29, was indicted by a grand jury on charges on deprivation of civil rights, felony assault, two counts of misdemeanor assault and two counts of misdemeanor official misconduct, following an incident in August.
According to a press release from the Department of Justice, Walters first got into a "verbal altercation" with a 17-year-old -- who they've dubbed Victim One -- on August 17 while returning home from work. He contacted police, who took the minor home and turned him over to his mother without arrest. Walters is accused of then looking up the teen on the state's law enforcement database the next day.
A few days later, on August 21, Walters was on duty when a 15-year-old and three of his friends -- none of whom were Victim One -- "decided to play a prank" on the suspect's home. The 15-year-old, who the AG refers to as Victim Two -- kicked Walters' front door and ran off, as seen in doorbell video released publicly. Walters' girlfriend then allegedly called him, giving a description of Victim Two and his friends, before the trooper called for backup.
Upon learning the teens were spotted on the same street where Victim One lived, Walters is accused of then showing up to that teen's home with local police. "Walters forcibly pulled Victim One out of the doorway and forced him onto the ground, causing injuries. Victim One was handcuffed and detained, but never formally arrested," said officials.
Walters' bodycam footage of that moment is below, followed by video from another angle via police. All the videos connected with this case are age restricted, so they need to be viewed on YouTube.com.
In the video, one of the teens can be heard saying they had been home "all day."
As this was happening, Victim Two and his friends were found and detained by other authorities nearby. Per the AG release, Walters then drove to their location and, "almost immediately upon arriving, Walters dropped his knee onto the back of Victim Two's neck/head, causing injury and causing Victim Two to scream in "distress."
The teen can be heard screaming and crying for his "mommy" in the video, before claiming he can't breathe and exclaiming, "I don't have anything!"
The video below is from the POV of one of the patrol cars, showing Walters' arrival on the scene.
After Victim Two was placed into a police vehicle, where he was handcuffed and detained, Walters is accused of turning off his body camera before walking toward the SUV. As the release explained, Delaware law enforcement body cameras are programmed to capture 30 seconds of buffer video when activated; since Walters' was turned off for less than 30 seconds, it continued to capture everything that happened after he allegedly thought he disabled it.
"Walters punched him in the face, fracturing his right eye socket," claimed officials, saying he then went around the vehicle before he "turned his body-worn camera back on."
The two videos below are from Walters' body camera, first showing his arrival on the scene and then the alleged assault.
The incident was immediately referred to the Division of Civil Rights & Public Trust and Walters was suspended without pay.
"As a mother and grandmother, the footage in this case is hard to watch. As a prosecutor, the constitutional violations are stunning," said Attorney General Kathy Jennings. "Over the course of the evening, the Defendant chose to extract his own form of personal justice by embarking on a violent rampage, assaulting two defenseless minors, and attempting to conceal his misconduct. He will now face criminal consequences for his actions."
"Delaware State Troopers are sworn to uphold the highest standards of justice and integrity," said Superintendent of the Delaware State Police, Colonel Melissa A. Zebley. "At the Delaware State Police (DSP), we take this responsibility seriously, not only through our policies for handling and investigating all complaints of misconduct, but through our extensive training."
"This indictment is a stark reminder that all citizens of this great state will be held accountable for their actions," added Zebley. "Ensuring public safety and continuing to rebuild trust are our top priorities, and we are committed to achieving them no matter how long it takes. As a valued member of our community, I want to assure you that the DSP will always strive to honor our oath, no matter the circumstances."
Per the victims' lawyers, via ABC, Walters is free on bond, but still suspended without pay.