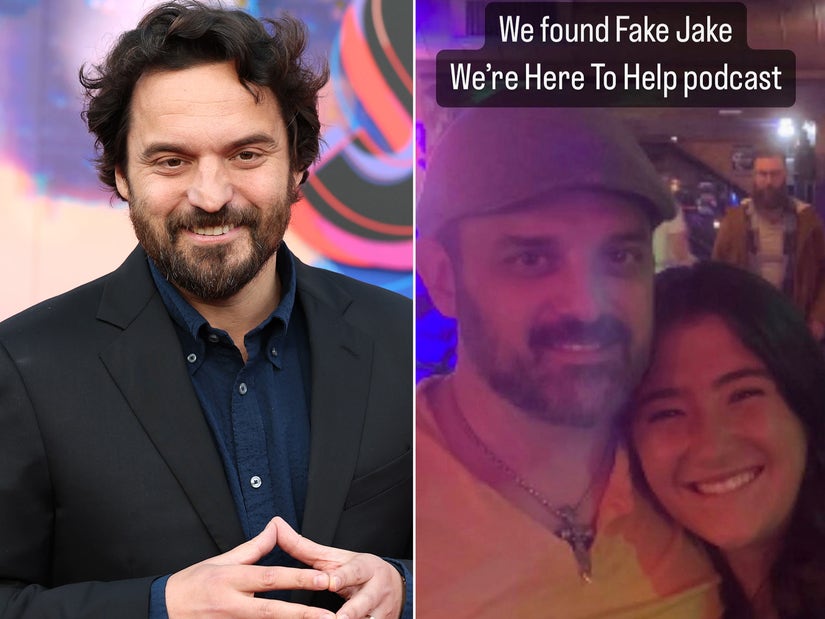 Getty/Instagram
The man, who he called Fake Jake, read romantic poems and told a woman he had slept with "500 supermodels" while pretending to be the actor at a bar.
Jake Johnson came face-to-face with his doppelganger on his podcast, after the man impersonated him -- and even met fans -- while out drinking in Scotland. And the imposter's story might be one of the funniest celebrity impersonation anecdotes of all time.
On Thursday's episode of his Here to Help podcast, Johnson interviewed the man -- AKA "Fake Jake" -- after a fan messaged him to thank him for their sweet encounter, which never happened. The New Girl star, 45, first recalled how he first learned about "Fake Jake" and detailed what went down in the previous episode of the podcast, which he hosts with comedian Garteth Reynolds.
During the prior episode, the two spoke with people who met "Fake Jake," including a woman named Iona, who believed she met Johnson at a bar in Edinburgh. Iona had DMed Johnson on Instagram to say it was "so nice meeting" him -- but he had no idea what she was talking about.
He shared screenshots of the DMs on Instagram, below.
Waiting for your permission to load the Instagram Media.
Iona then sent Johnson a photo of herself with "Jake," who was actually the imposter. In the shot, the man wore a gray newsboy cap and a silver necklace with a sword pendant.
"She sent the photo, and it was you with that same cap, the same shirt kind of, and the same necklace," Johnson said, jokingly adding, "We might have similar faces, my guy, but we do not have similar style."
The Minx star relayed how Iona said "Fake Jake" told her he was an "actor," and said he was in New Girl and Spider-Verse.
After catching everyone up, Johnson gave the floor to "Fake Jake" to share his recollection of events.
"We were trying to go out. We're drinking all night," the imposter said. "We're trying to go to some nightclubs, and we can't get in because one of the guys with me is wearing joggers."
"We try four different nightclubs, and we can't get in anywhere," he continued, adding that they eventually landed at a restaurant still serving alcohol.
Waiting for your permission to load the Instagram Media.
Johnson's double said he met a guy named James in the bathroom, and the two "share[d] a laugh." He then ran into James at the bar, and offered to pay for his beer.
"Hey, very classy Jake move," Johnson said. "I'm liking this!"
"Fake Jake" continued, sharing that a man sitting next to his group said he looked "familiar." Wanting to mess with "Fake Jake," the imposter's friend told the stranger, "Yeah, he's famous."
"It's always kind of this joke, because [my friend's] kids like to take pictures of me and send them to his friends and say, 'I'm with Jake Johnson," Johnson's twin said, noting that his friends jokingly set him up in public to pretend to be Johnson "quite often."
The next night, "Fake Jake" and his friends then hung out with James and his pals, including Iona.
"So it started up with some drinks and talking," the imposter recalled, telling Johnson that he had to "look [him] up on Wikipedia" to gather details about his personal life, such as whether he had a wife and kids.
Johnson -- who continuously cracked up with laughter throughout the interview -- brought up a very specific -- and absolutely hilarious -- detail Iona remembered.
"Here's where I got a question. You had a lot of facts, man. You were coming [in] hot," Johnson told his imposter, laughing, "but then you tell this woman we slept with 500 supermodels."
"See, I don't remember saying that whatsoever!" "Fake Jake" said. According to Johnson, per Iona, the imposter told her that he was "happily married, but there a period when you first started that you were sleeping with supermodels around the world."
"If we do it again, lead out that!" Johnson joked. "'Let me buy you a beer. I've had sex with 500 supermodels all over the world. They love what we got cookin'. Good in bed.'"
If the story wasn't funny enough, "Fake Jake" also brought out poetry while impersonating Johnson. According to the man, he was trying to help James, as he and Iona "used to be a thing." The imposter noted that his "drunk brain" wanted to assist James in possibly getting Iona back.
Reynolds asked if "Fake Jake" remembered the poem, sharing that James and Iona were "genuinely touched" by it. The imposter said he writes lots of them, but was reluctant to share one of his poems on the podcast. After encouragement from Johnson, he read a heartfelt poem he wrote for his wife on their anniversary.
When he finished, Johnson told him, "First of all, I gotta say, you're not Jake Johnson. You're Nick Miller," referring to his New Girl character, who is an author. "You're a writer, goddammit!"
Reynolds jokingly suggested that Johnson borrow "Fake Jake's" poem to read it to his wife, Erin Payne, on their anniversary. "The ultimate twist is you pretending to be him," he said.
Johnson said he and his wife had "a really good laugh" about the "Fake Jake" saga, and he showed her the photo of the imposter with Iona.
"I showed it to my wife, and she goes, 'I mean, the eyes are the same,'" Johnson recalled.