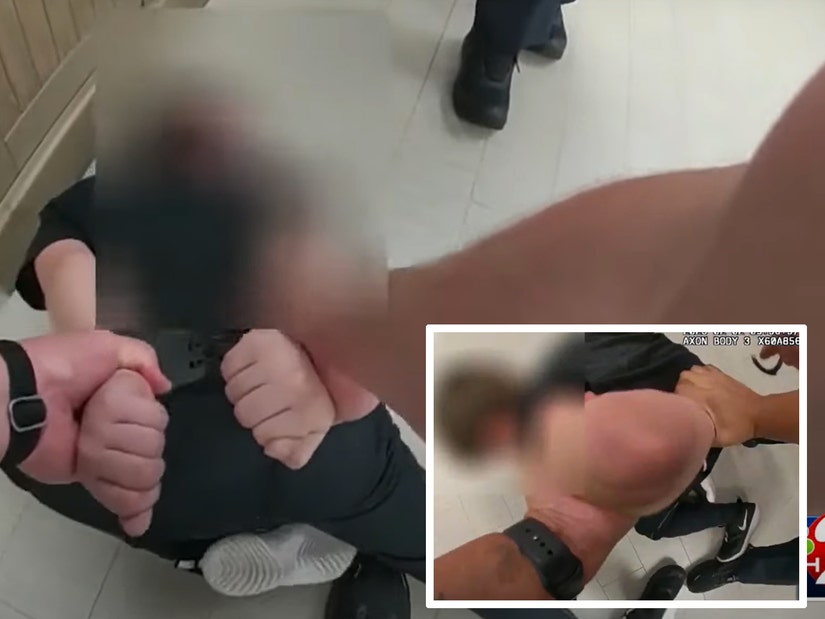 WESH 2 News
Footage of the tantrum inside the school's mailroom shows staff using "blocking pads" before two officers arrive and forcibly handcuff the 4th grader, who curses, pleads, and cries amid apparent threats of going to jail
Earlier this year a fourth-grader was handcuffed at a Seminole County, Florida school and footage from the incident has recently been released.
The tantrum and subsequent forced-restraint of the 9-year-old occurred on February 2 at Stenstrom Elementary School.
Staff reported the child had been throwing things, kicking and screaming, as they attempted to de-escalate, per local police.
However, according to parents of the child, who filed a lawsuit, the student was on an Individual Educational Plan and Behavior Intervention Plan; per the suit "physical aggression" was listed in the plan as a behavioral issue with guidelines for intervention.
In the footage recently released of the incident, staff are seen using what appear to be blocking pads provided for the child when such an outburst occurs.
Warning: Disturbing Footage
The video then show officers arrive on the scene and handcuff the student, urging him to calm down.
The lawsuit, filed by the parents, claims that the Behavior Intervention Plan for their child states that when dealing with his aggression they should "not engage in any conversation other than having him complete the task"; it also states they should avoid giving him attention directly when possible during one of these episodes.
Per WESH 2 News, the boy was restrained for roughly 13 minutes.
The family ended up suing the City of Oviedo and the officers shown in the video. They claim the incident caused extreme harm and aggravated their child's existing issues.
"Nine-year-old children should not be handcuffed by police officers at school. The City of Oviedo has failed to reach out to the family to make any effort to address this unfortunate situation. It was not my clients' preference to initiate litigation, but the city's failure to investigate this incident and the officers involved left them no alternative," an attorney for the family said, according to WESH.
The boy's family has not sued the school district.
While the Oviedo police department said they will not comment on the incident due to the pending litigation.