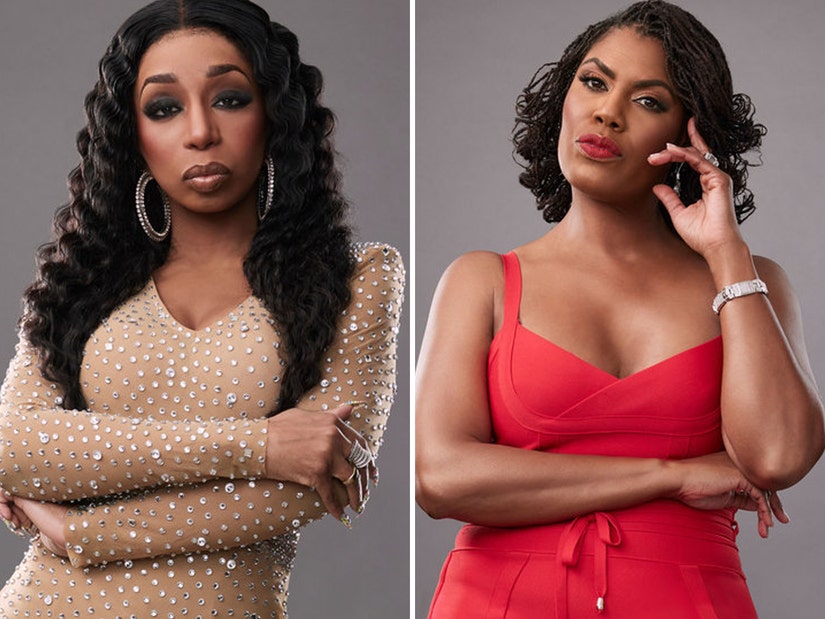 E!
"I didn't even want to see her f--king face," exclaimed another costar as the cast sounds off on what it was really like sharing a house with The Apprentice alum.
Omarosa Manigault Newman told TooFab she didn't sign onto House of Villains to change anyone's perception of her ... and after talking to a few of her costars, it seems she lived up to her reputation.
The reality veteran and former political aide to former U.S. president Donald Trump is one of the many TV baddies sharing a house for E!'s new competition series.
Competing alongside her are 90 Day Fiancee's Anfisa Arkhipchenko, The Challenge vet Johnny Bananas, Love Is Blind star Shake Chatterjee, Survivor icon Jonny Fairplay, Love & Hip Hop: Miami's Bobby Lytes, Corinne Olympios from Bachelor Nation, Vanderpump Rules alum Jax Taylor, Bad Girls Club's Tanisha Thomas and the legendary Tiffany "New York" Pollard.
"When you're in those moments, you have to strike when the iron is hot. You're literally on the chopping block, you're gonna have to lay it all out on the line and that's what I did," Pollard told TooFab of the fiery exchange. "Pretty much, I just let her know how I felt. She was testing me and trying me in the moment and I just had to remind her who the HBIC is and she came for me."
"I'm never gonna start anything, I'm just a finisher," she added.
And Pollard isn't the only one who butt heads with the Apprentice alum, as Olympios and Omarosa got off on the wrong foot with each other almost immediately.
"I think she knew, 'This small blonde fireball is going to come for me and I need to put her in her place,' and it didn't work," said Corinne. "You guys will see how the relationship plays out, it gets a little spicy. Who doesn't love a little spice?"
After she Corinne was informed Omarosa told TooFab she wouldn't want to ever share a house with Olympios again, she then went off.
"Who cares?! I stayed out of her way. I didn't even want to see her f--king face. I'm sorry. I'm sorry she's so f--king hung up on me, I'm such a threat to her, it's honestly really flattering," she exclaimed. "Girl, you gotta get a grip. Nobody cares that much about you. I'm not thinking that much about you. Let her hate all day, it's just bringing more attention to me. What did I even do to her?!"
While Corinne certainly felt a certain type of way about being in Omarosa's crosshairs, Bobby Lytes said seeing her in the home truly made it feel like a House of Villains. Tanisha, meanwhile, said that even though she tried to keep her distance, that didn't stop tensions from erupting between them.
"Omarosa, I stayed away. I stayed in the kitchen with my wings because I knew about her. She came and found me and it's very interesting to see our time together in the house, that's all I can tell you," she teased. "It gets very intense with everyone, but particularly with me and a few other people."
For Anfisa, however, it was smooth sailing with Omarosa -- who she didn't fear because she wasn't familiar with her before entering the house.
"I didn't know any of the cast members when I entered the house, because I didn't watch any of their reality shows," she shared. "When Omarosa walked into the house, everybody acted like they were scared, I didn't understand why so I went and introduced myself and she's not scary."
See the fireworks explode when House of Villains kicks off Thursday, October 12 on E!