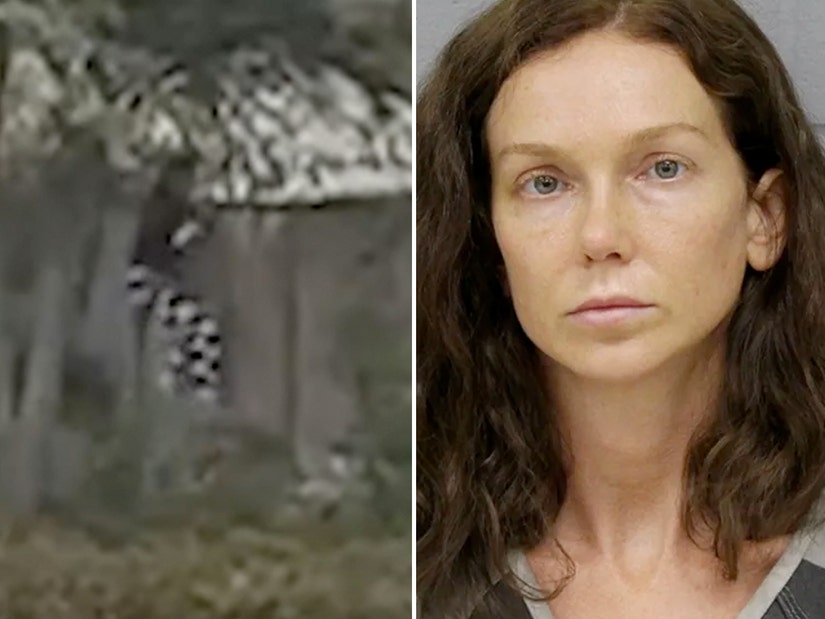 KXAN/Austin Police Department
Kaitlin Armstrong -- who was apprehended in Costa Rica for the murder of Anna Moriah "Mo" Wilson -- made a run for it again while being escorted to a doctor appointment.
Cell phone video from KXAN appears to show Armstrong -- wearing striped pants and a black top -- running from an officer, who trips during the chase. Armstrong then attempts to scale a fence, when the brief footage stops.
According to the sheriff's office, she made the escape attempt while officers escorted her to a doctor's appointment on Wednesday. Armstrong allegedly made a run for it as she was being taken back to a patrol vehicle after the appointment.
Per Travis County Sheriff spokeswoman Kristen Dark (via AP), Armstrong "ran" for about a block into a nearby neighborhood, but never left deputies' sight.
She was apprehended following a 10-minute chase without firearms being drawn, said Dark, though no other details about her capture were revealed. Two officers and Armstrong were reportedly taken to a hospital for examination, before she was brought back to jail.
Per KXAN, inmate records showed Armstrong will face a new charge of escape causing bodily injury, with the sheriff's office confirming one of their deputies was injured during the chase.
In July 2022, Armstrong pled not guilty to first-degree murder charges stemming from the death of Anna Moriah "Mo" Wilson, after being apprehended in Costa Rica in June.
Wilson had been staying at friend's home in the city after traveling from San Francisco for a local race and was found bleeding and unconscious in the residence on May 11. She was pronounced dead on the scene.
After Wilson's death was ruled a homicide, Armstrong was briefly detained by police -- before being released due to an invalid warrant. The next day, she reportedly sold her Jeep Grand Cherokee for 12,200 dollars, before hopping onto a flight to the East Coast. Per the US Marshals, she then used a fraudulent passport to catch another plane from Newark to San Jose, Costa Rica on May 18 -- the day after Austin PD issued a homicide warrant for her arrest.
On June 29, she was apprehended at a hostel in Santa Teresa Beach in Provincia de Puntarenas, before being returned to the States.
The case was dubbed a "love triangle" after it was discovered Wilson briefly dated Armstrong's boyfriend, 35-year-old professional cyclist Colin Strickland, while the two were on a break.
He told the Austin American-Statesman that he got back together with Armstrong after their fling, claiming that his relationship with Wilson then became a platonic one. Per the arrest affidavit, he said he did go swimming and grabbed dinner with Wilson the night of her murder -- and hid it from Armstrong. He also told authorities he had changed Wilson's name in his phone because Armstrong had blocked it and said he deleted texts with Wilson so she wouldn't find them.
Wilson's family later released a statement saying they felt it was "important to clarify that at the time of her death, those closest to her clearly understood, directly from Moriah, that she was not in a romantic relationship with anyone."