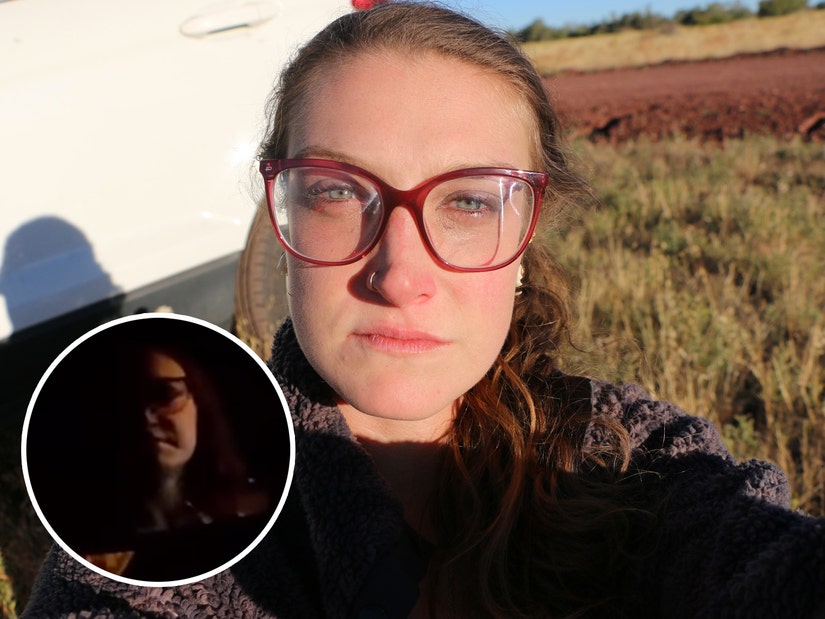 Coconino County Sheriff's Office
Chelsea Grimm -- who has an ivy tattoo on her left arm and was traveling with her pet bearded dragon -- was last seen on September 30 in an area near Ashfork, Arizona, before hunters found her car, which had two flat tires, on October 5, just one day after her family reported her missing.
A 32-year-old missing San Diego woman was seen talking to a police officer via bodycam footage just days before her last reported sighting.
As shown in newly-released body cam footage, on September 28, Chelsea Grimm had a conversation with a police officer in Williams, Arizona, after authorities received a phone call for suspicious activity near a war memorial, as reported by Law&Crime and Phoenix news station Arizona Family.
She was last seen two days later. That was over two weeks ago.
In the body camera video, Grimm -- who was reportedly working on a photography project about "the lost and the forgotten people of this country" at the time -- was seemingly upset while talking to the officer.
"Hello, how are you doing?" the officer asked, to which Grimm replied, "I'm okay. How are you?"
He then followed up by asking if she was "alright." Grimm responded, "I just was doing a photo shoot of the lost soldiers and got a little emotional, so I was crying before I got back on the road."
Grimm -- who has an ivy tattoo on her left arm and was traveling with her pet bearded dragon -- went on to tell the officer, "Yeah, if it's okay with you if I hang out here for another like 15 or 20 and then head on the road, that would be my plan I think."
The two then discussed where Grimm planned to stay for the night. After she said she didn't have hotel reservations, Grimm noted that she planned to camp, admitting she "didn't plan to be here until sunset."
The officer recommended she stay at a truck stop. "I don't know if you can see, like, the yellow lights up there, the Loves?" he said. "It's the trucker stop. In the gas station area, you can just sleep there. Nobody will bother you."
"Awesome, yeah, love that," Grimm replied.
According to the Coconino County Sheriff's Office, Grimm was last seen two days later, on September 30, by a woodcutter in an area near Ashfork, Arizona. The sheriff's office said the woodcutter saw her camping in her car, a white Ford SUV, and spoke to Grimm, who said she was alright.
Grimm's family reported her missing on October 4.
The next day, hunters in the Kaibab National Forest, just northeast of Ash Fork, found her car, which had two flat tires on the right side.
According to Arizona Family, several of her belongings were found inside. Per Law&Crime, her wallet, driver's license, clothes, sleeping bag, and dragon were all missing. However, Grimm's camera was in her car.
"The car was locked," Grimm's mother, Janet, told Law&Crime. "It was neat. So there were no visual signs of a struggle. And, it's possible that she just decided that she was going to proceed with her camping."
Coconino County Sheriff's Office does not suspect foul play at this time.
Grimm's parents, Janet and Stephen Grimm, spoke to Law&Crime about the days leading up to their daughter's disappearance.
According to her family, Grimm was driving cross-country to a wedding in Connecticut, choosing to drive instead of fly so she could bring her bearded dragon. A few days later, she made it to Arizona before realizing she was no longer going to be able to attend the wedding.
Per Law&Crime, she met up with a friend in Phoenix on September 27, making plans to see her friend for lunch the next day, but later canceled. While her family said it wasn't unusual for their daughter to change plans, her father said Grimm "seemed pretty uneven that last day or two," noting that their daughter was upset about her love life during their last conversation before her disappearance.
"She was upset with a boy she was dating; she was scared of him," Stephen said. "We feel like she was running away from him. And I think overall, that was affecting a lot of her mindset."
Grimm's family hired a private investigator over the weekend, and Grimm's father told Law&Crime that the Coconino County Sheriff's Office has already spent about 500 hours searching for his daughter.
"I feel like we've got real professionals who are really trying the very best to find her and we're grateful for that," he told Law&Crime. "And yet there are not that many new clues. So understandably, it goes to a slightly different level of immediacy for them, and it just seemed like it couldn't hurt."
Stephen added that authorities searched a 3-mile radius near where her car was found, noting that the family is "kind of hoping" she "got a ride out of there" by hunters or loggers.
The family -- who described Grimm as an "incredibly vivacious and talented young lady" with "a heart of gold" -- asked anyone who has any information about their daughter's disappearance to contact the Coconino County Sheriff's Office at (928) 774-4523 or private investigator Kelly Townsend at (480) 251-7373.