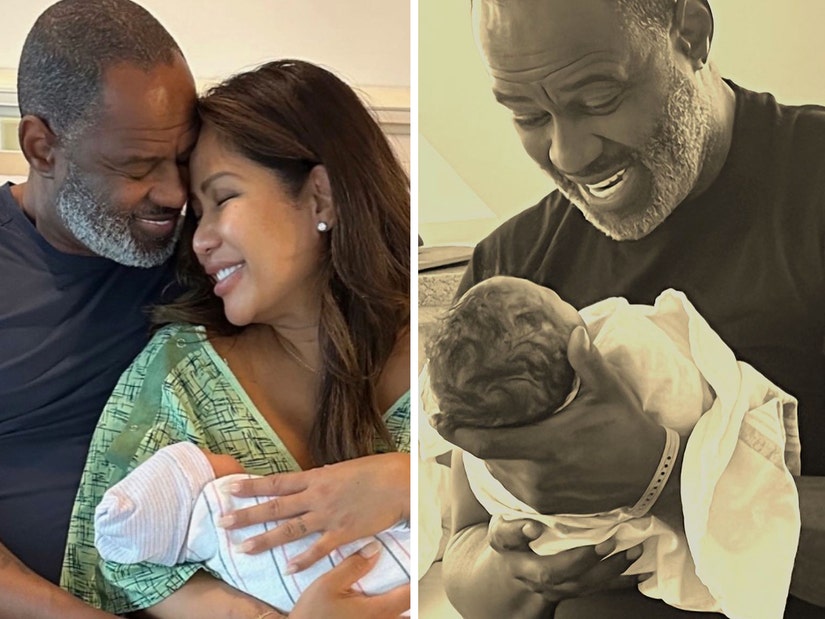 Instagram
The name change sparked backlash as the R&B singer's eldest son is also named Brian McKnight Jr., who spoke out after learning he shares a name with his little brother.
Brian McKnight is carrying on his "legacy."
Over the weekend, the R&B singer took to Instagram to share that he "legally changed" his name to "Brian Kainoa Makoa McKnight Sr." to "exactly match" his 9-month-old son's.
McKnight announced the news by sharing a photo of the cover of his latest album, McKnighttime Lullabies, which includes a shot of his baby son, whom he shares with wife Leilani Mendoza.
"🤍🤍🤍 So proud to introduce our son🤍BRIAN KAINOA MAKOA JR. 🤍 to the world with the release of my new album lovingly created for him," he captioned the post. "JR. because I am also proud to officially announce that I have legally changed my name to exactly match my legacy's. My legal name is now BRIAN KAINOA MAKOA MCKNIGHT SR."
"MCKNIGHTtime LULLABIES" the songs of a father to his namesake available now!" he added.
McKnight, 54, and Mendoza revealed in January that they had welcomed a baby boy.
"'For this child we have prayed and the Lord has granted us the desires of our hearts' 1 Samuel 1:27," the couple captioned a joint Instagram post. "God's greatest gift, our son is here!!! 🤍 Brian Kainoa Makoa McKnight 🤍 We are so in love!!!! ♥️♥️♥️♥️♥️."
McKnight is also dad to sons Brian Jr. and Niko from his marriage to ex-wife Julia McKnight, in addition to daughter Briana and son Clyde from previous relationships. He is also a stepfather to Mendoza's children from a previous relationship: son Jack and daughter Julia.
In his Instagram bio, the 17-time Grammy nominee says he's father to "Julia, Jack, Kekoa Matteo and Brian Kainoa Makoa."
Waiting for your permission to load the Instagram Media.
It's well-known that McKnight has a strained relationship with his eldest children: McKnight Jr., Niko, Clyde, and Briana.
After he shared that he had legally changed his name to match his baby boy, McKnight was hit with backlash online as he was already Brian McKnight Sr. because his eldest son is named Brian McKnight Jr.
McKnight Jr. addressed the criticism on his Instagram Stories on Saturday, responding to a fan who wrote that they'd "change my f--kin name" if they were in his shoes.
"I feel so bad and if I was @brianmcknightjr I'd change my f--kin name," a user commented, per Page Six. "What a corny old ass man smfh. I'd be so upset to at all be attached."
McKnight Jr. shared a lengthy comment in reply, writing, "I'm not ashamed of the name my ancestors had. I'll never change the name my own son now has. We are witnessing an obscene level of self hate, that has reached mental illness status at this point."
"All we can do is pray for that man, and my new little brother who we will all welcome with open arms one day, once he realizes who his real family is," he continued, before concluding, "Legacy isn't in the name. It's in the character of the people. It will all be quite clear soon, just who's on the right side of all this, because there's no escaping what's coming."