Summer's just around the corner!
One of the easiest ways to change up your style (and protect your eyes) is with a new pair of sunglasses!
So which sunglasses suit you the best? toofab breaks down the most common face shapes -- round, square, oval and heart-shaped -- and recommends styles to flatter to your face.
Round faces
Description: You have fuller cheeks, a rounder chin, and few angles.
Celebrities with round faces:
Kelly Clarkson
,
Elijah Wood
,
Kristen Dunst
,
Kanye West
Recommended style: Rectangular frames will add angles to your face, and make your face appear longer and thinner. Round frames are a no-no, they'll only emphasize the roundness of your face.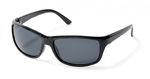 Simple and solid
is the way to go. If you want something a little less angular, try a
soft square frame
. If you're feeling a little sportier, try
this style
.
Square faces
Description: You have a broad forehead, square jaw and square chin
Celebrities with square faces:
Lea Michele
,
Tom Cruise
,
Olivia Wilde
,
Demi Moore
Recommended styles:
For men, the soft square (see above) work, but the rounder the better.
Oval bottoms
are flattering, as are
round ones
.
For women, there are a couple of options.
Giant sunglasses
are a celebrity favorite.
Try these
if you want to go glam but not so giant.
Oval faces
Description: Your proportions are balanced.
Celebrities with oval faces:
Angelina Jolie
,
Channing Tatum
,
Zoe Saldana
,
Liv Tyler
Recommended style: You're lucky. Any style will work with your face.
Men can choose the classic aviator, but why not experiment with some trendier styles?
We like the
modern hipster
and
sleek sport
style.
Women can accessorize anyway they choose.
Feminine takes
on men's styles and
bold colors
are totally in.
Heart-shaped faces
Description: You have a broad forehead, narrower jawline, and narrow chin.
Celerities with heart-shaped faces:
Zac Efron
,
Hayden Panettiere
,
Leonardo DiCaprio
,
Halle Berry
Recommended style:
For men, a bottom heavy frame -- like the classic aviator -- help balance out the broadness of the forehead.
You can't go wrong with an
aviator
or this
bestseller
.
Women can get away with a cat-eye style, which complements your face shape.
We love this
modern take
on the classic cat-eye. There's a chic, slightly more
rounded version
too.