Halloween is only days away -- and if you don't have a costume by now, you better get cracking!
Still looking for some last-minute inspiration? We've pulled together our favorite celebrity getups in four different categories -- Spooky, Cute, Funny and Creative -- giving you plenty to choose from before this year's festivities.
These guys all look like they came straight out of a haunted house!
Neil Patrick Harris, David Burtka, and their twins Gideon and Harper looked frighteningly picture perfect as the classic Universal monsters -- with the parents dressing as Dracula and Frankenstein and the kids taking on the Bride and Wolfman.
Demi Lovato was almost unrecognizable as a zombie. If you're going for creepy this season, take your costume to the next level like Lovato with some colored contacts!
And Fergie and husband Josh Duhamel went with a Day of the Dead-inspired look with crazy skeleton makeup and relatively simple costumes. This one is all about the face paint!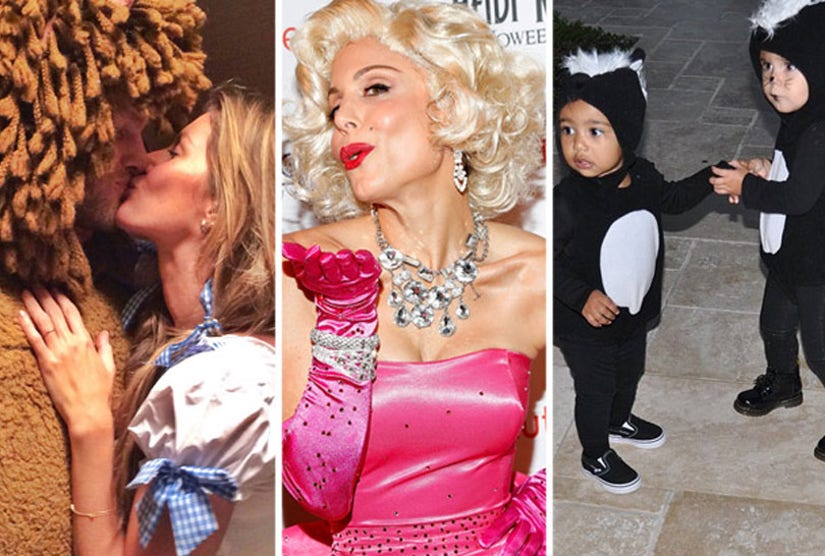 Instagram/Getty
If scary isn't you're thing, then take a walk on the sweet side like these celebs!
Tom Brady and Gisele Bundchen made a perfect Cowardly Lion and Dorothy from "The Wizard of Oz," while Bethenny Frankel kept it PG with a bubble gum pink Marilyn Monroe ensemble.
And when it comes to kids -- they all look adorable as animals. Penelope Disick and North West were totally aww-worthy in these baby skunk costumes. Little stinkers!
Halloween can also be a time to step outside of the box and come up with something truly clever.
Kim Kardashian went all out for her Poison Ivy costume, sporting one picture-perfect red wig, leaf-covered mini and eyelashes straight out of "Batman & Robin." Uma Thurman would be proud!
Iggy Azalea put her own unique spin on the meanie from "101 Dalmations," giving us a fashion-forward Cruella de Vil Costume and even using a dog as her accessory.
And then there was Adam Lambert, who showed off his personality (and some skin) as a blue genie.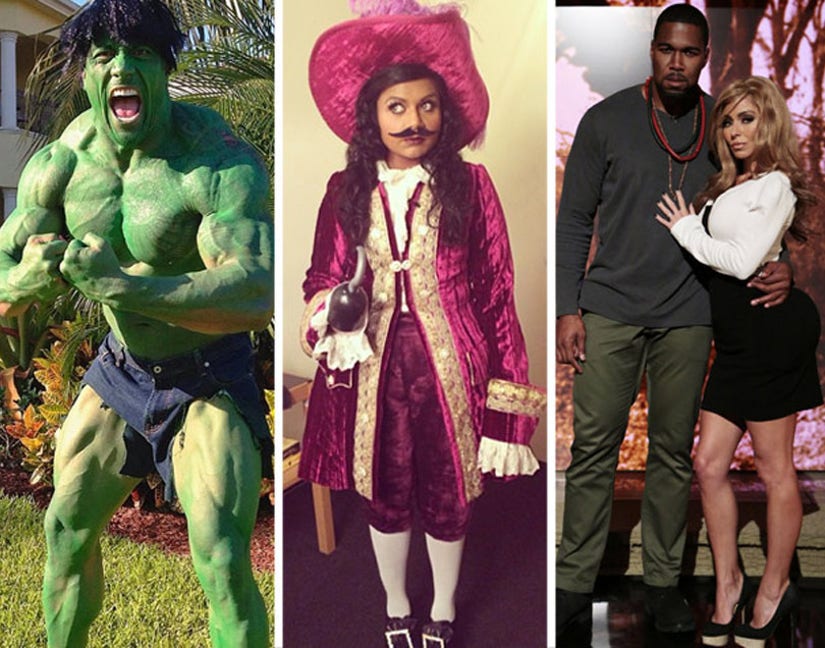 Instagram
If you love making people laugh, then go the comedic route like these stars.
The Rock showed off his chiseled physique and sense of humor by dressing up as the Incredible Hulk. Talk about going green!
Mindy Kaling brought Captain Hook to life, mustache and all.
And Kelly Ripa and Michael Strahan poked fun at the easiest targets of them all: Kim and Kanye West. Plump those lips, pad that booty and you're good to go!
With her annual Halloween parties and crazy costumes, she's always pushing the limit with her looks. Our favorites definitely have to be her old lady look from 2013, her bloody corpse number and the chimp costume she sported with then-husband Seal.
We can't wait to see what she might wear this year. Any guesses?