Britney Spears is shutting down her haters by showing off her bikini bod from every angle!
In the new set of pics, the "Toxic" singer is flaunting her killer curves in a tiny turqouise bikini. Her abs look rock hard as she strikes a pose in front of a stunning backdrop of palm trees in Hawaii.
The front and back photos may be her response to critics who accused Spears of Photoshopping another pic she shared last week, where her fit physique was on display in a yellow bikini by the pool.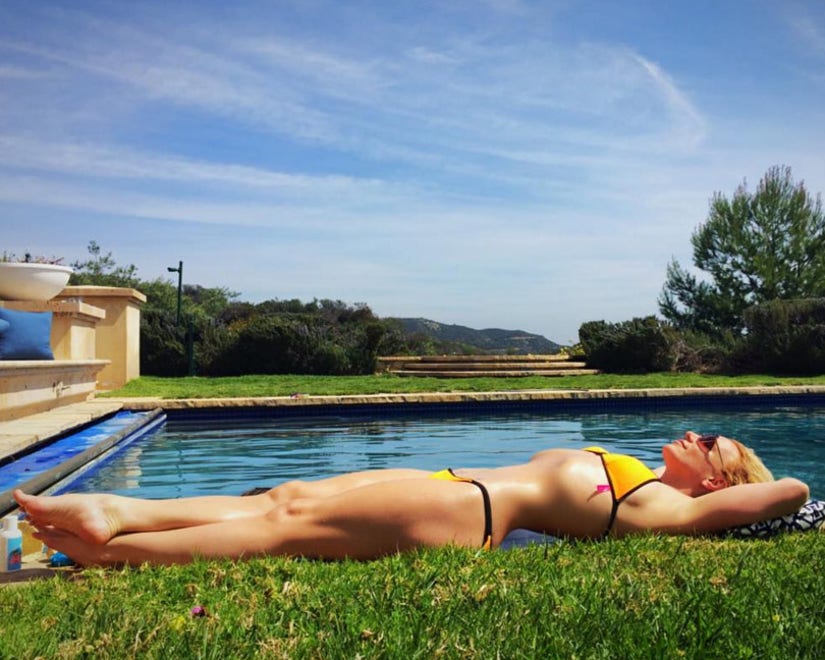 Instagram
Followers quickly pointed out that a part of the pool seemed to be missing in the picture, suggesting that Brit had altered the image.
"Photoshop at its worst. You have a great body Britney, you don't need that," one hater commented. "The gap in your back should be stone, not water. Bad photoshop," another wrote.
The mother-of-two clearly isn't letting the Photoshop rumors ruin her family vacation. She even shared a video of her sons, Sean Preston, 10 and Jayden James, 9, playing the waves.
Waiting for your permission to load the Instagram Media.
One thing's for sure -- Spears has never looked happier or more fit!
Those dance-filled "Piece of Me" shows in Las Vegas are definitely keeping her in shape.
"Dancing is a great cardio workout — tough and fun at the same time," she told Women's Health last year. "After I had Jayden, it was real easy for me to get back in shape. But five years later, I started noticing changes in my body. My hips are a bit wider because I've had kids. So it was crucial for me to be continuous with my exercise. Consistency is key."
Whatever she's doing, it's working!
For more of today's hottest headlines, check out the video below: