Olivia Wilde is already passing on her beliefs to her son, Otis.
In a new interview with Yahoo! Beauty, the actress admits that her 2-year-old tot is "already a little feminist."
"He's a really good guy. I want to promote the idea that the definition of feminism is equality and it's something that's not difficult to teach children because they are born with that sensibility," she tells the outlet. "They are only taught to separate people and value them differently once they get older. Luckily, I'm just embracing the perspective he was born with."
The "Vinyl" star is also teaching her little one to be confident in who he chooses to be.
"I hope to raise a child who values people for what's within them and yet I hope he experiments with his own identity and who he wants to be," she admits. "I look forward to helping him feel that type of confidence I felt when growing up. On a superficial level, I just experimented with every hair color underneath the sun, every type of makeup look. I'm grateful now that my parents let me go through my own process of self-discovery and I think you can't restrict kids in that way. They have to make mistakes, play, and then figure it out in the end."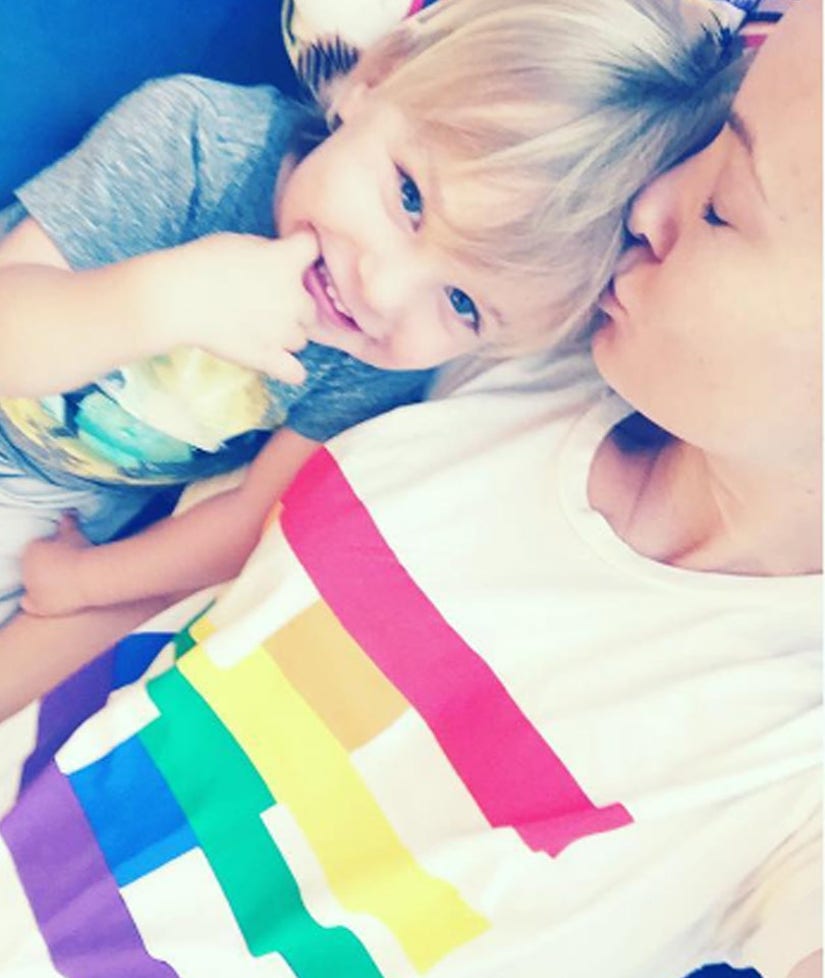 Instagram
The former "O.C." star has largely avoided bad buzz in the press, but she got a lot of flack for breastfeeding Otis in her Glamour magazine spread in 2014. So, was she surprised by the backlash?
"I've learned a lot about that debate since that photo shoot and certainly since becoming a mother. One thing that is very clear to me is that it should be every individual woman's choice what she wants to do," Wilde declares. "But once she makes that choice, she should be publicly permitted to do that in whatever way she needs to. Certainly there should be no pressure on women to breastfeed, or they are made to seem like they are terrible mothers. I think that's really unfair."
"It was an interesting experience because that photo shoot came out of a very organic moment of having to feed my son because it was just my choice to breastfeed. But I did not in any way intend to shame women who had chosen not to breastfeed for whatever reason," she adds. "It's a complex issue, but the one thing that's not complex is that people should be allowed to breastfeed wherever they want, whenever they want."
Olivia is set on her stance on breastfeeding, but she's much more relaxed about her lifestyle, now that she's expecting baby no. 2.
"I think it's a little harder to stay healthy," she admits. "You're feeding your first kid chicken nuggets and mac and cheese, and it all looks so irresistible. I'm pretty active just running after my son and hanging out with him. I try also as a pregnant person to stay limber and relax. Honestly, I've been pretty lazy this time around. You have to be forgiving of yourself and realize you are doing something and working hard building a little human. Most of the time, I focus on eating well."
So, what's her one guilty pleasure? "One of my weaknesses is that I love Coca-Cola. A terrible thing that I love, but that's something that I'll cut out. I'm making baby steps towards a healthy lifestyle this time around."