Original "America's Next Top Model" winner Adrianne Curry is hoping to fetch top dollar for her 2006 wedding dress.
The former reality TV star just listed the gorgeous gown -- from her wedding to her "Surreal Life" costar and "Brady Bunch" alum Christopher Knight -- on eBay in an attempt to make some extra cash and help someone else have the dream marriage she never had.
In the listing, Curry says the gorgeous, custom made Alvina Valenta gown was upgraded from a $3K dress to a $20K dress with the addition of "fine Italian cloth" and lace, so it would "look fantastic on TV."
"Worn only once, professionally dry cleaned and vacuum sealed along with the veil. This dress had a lot of work put into it and I want someone to be happier than it made me," she writes in the post.
"Someone suggested I burn it, but that would be an insult to the designer and her team that worked so hard on it," she continued. "I was a 34b chest, 27 waist and 27 hip. I am very tall , 5'11.....so if you're tall, it will fit...and if you're small, you can take in the bottom!"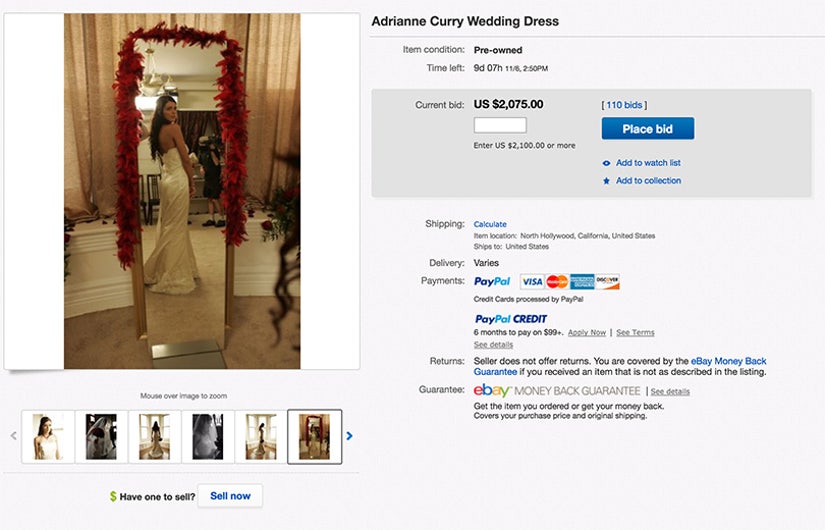 eBay
"The veil was expensive as hell, probably 1500 or more? I dont care what this sells for...I just want someone to have a nice dress for their special day," she continues. "I'll use the money to go see my family for Christmas, get my boyfriend a present, or a bottle of champagne to celebrate this being out of my life!!"
At the time of publishing, the dress currently has 110 bids and is currently going for $2,075.
Curry and Knight met while filming the fourth season of "The Surreal Life" in 2004, and had their relationship chronicled on the spin-off show, "My Fair Brady," where he popped the question.
The two announced their split on what would have been their fifth wedding anniversary in May 2011, with Knight filing for divorce in August. Their divorce was officially finalized in 2013.
These days, Curry is in a much happier place and is currently dating hottie Matthew Rhode.