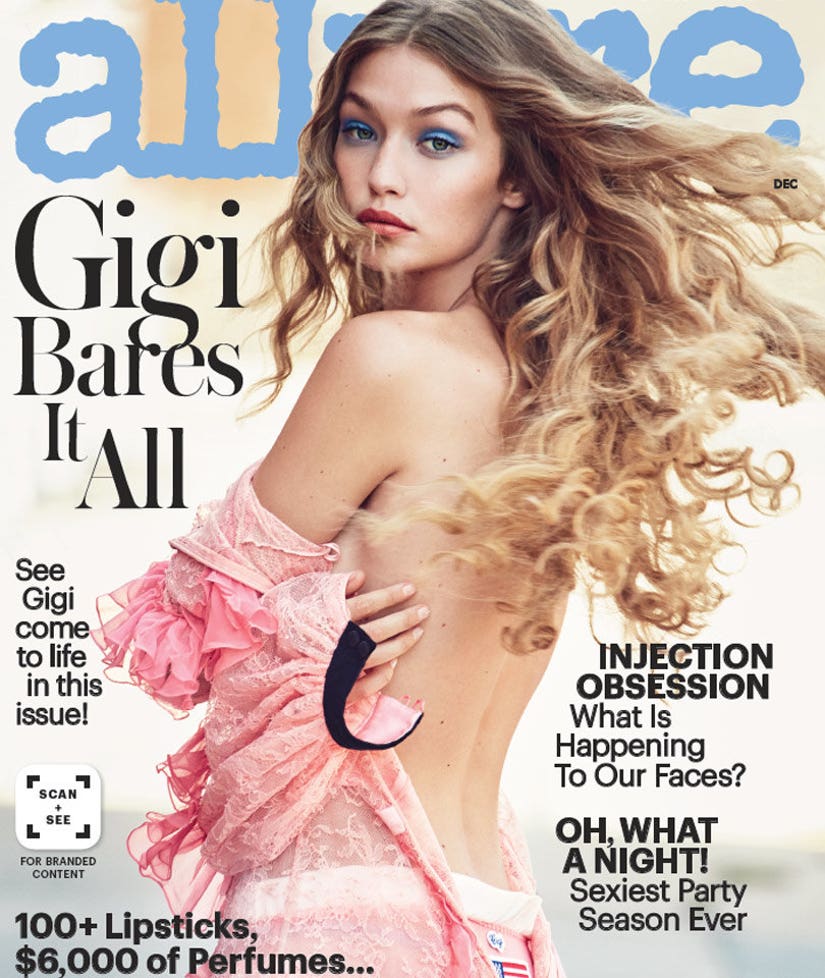 Patrick Demarchelier
Gigi Hadid is bringing sexy back.
The gorgeous model shows some skin on the December cover of Allure, baring her backside in a sheer pink lace Gucci dress and custom-made briefs with an American flag on the derriere. In another shot, (below) she goes completely topless while reclining on a horse ... wearing nothing by a nude thong.
Inside the mag, the 21-year-old stunner opens up about her boyfriend Zayn Malik, her longtime love of modeling and, yes, even her desire to someday act.
While Hadid is the one baring all for this shoot, her BF often shares shirtless photos of himself on social media ... something she's more than O.K. with.
"Yeah, that's not hard to look at," his chill girlfriend tells Allure. "I'll never complain about that."
Hadid herself has amassed an amazing social media following as well, with over 25 million followers on Instagram alone.
"I wish I had a strategy to [social media]. I could write a book and make millions," she explains. "But I never feel like I'm working when I'm doing social media. I guess I succeeded at it because it came naturally."
Waiting for your permission to load the Instagram Media.
She says her love of the fashion and modeling world started when she was just a child, not too surprising considering her mama is model Yolanda Hadid.
"I was obsessed with photographers and where models were supposed to fit in. Obviously, I'm not taking iconic pictures as a six-year-old, but I studied models as part of an image, not just as a model, if that makes sense," explains Gigi. "I first got inspiration for energy in a photo looking at those Tommy Hilfiger family-picture ads, where there were so many people and it looked like so much fun."
These days, she models for Tommy and even collaborated with the designer for a collection. She's come a long way!
With all the attention surrounding Gigi -- who will walk in the Victoria's Secret runway show in Paris later this month -- comes some criticism.
"I guess I saw what a lot of people don't see in models, which is that it's hard work, and you're not just another object in the photo," Hadid says of her unconventional profession.
"I always want to prove myself and to let people know I'm a good person," she adds. "A lot of people don't realize they're typing this stuff, and that's a lot of negative energy -- regardless of whether we see it or not. People just don't realize the power of their judgment."
And while all her focus is on modeling right now, she does admit she has a bit of an acting bug -- and has already turned down "dumb-model roles" in the past.
"I think I'll only do one or two movies in my life, so I want them to be good," she adds.
Think she's got what it takes? Sound off below!
For more of today's hottest headlines, check out the video below!