It's been 15 years since Milla Jovovich starred in the first "Resident Evil" film and, looking back now, she can safely say "I've never had a film change my personal life quite this much, ever."
With "Resident Evil: The Final Chapter" hitting theaters January 27, Jovovich reflected on what the franchise means to her in a candid conversation with TooFab's Brian Particelli.
Milla first slipped into Alice's zombie whoopin' shoes in 2002, and then struck up a relationship with the film's director, Paul W.S. Anderson. They welcomed a daughter just after the third film, "Resident Evil: Extinction," was released and got married before the fourth. Their first daughter, Ever, actually stars in the final film of the franchise, which was shot right after Milla gave birth to the couple's second baby girl, Dashiel.
So, yes, the last 15 years of Milla's life are very much tied to this franchise.
"It's funny because my little brother, who was 13 at the time, he introduced me to the game and we became addicted and we would play together and that's why I wanted to do the movie," said Milla when asked if she ever thinks about what her life would be like if she hadn't done the first film.
"I joke around with him saying if it wasn't for you bringing 'Resident Evil' to my house this one day, I would never met my husband, had my beautiful girls," she added.
"We definitely did not see it coming," she continued of the franchise's long legs. "I like to say this is a movie made by fans for the fans and we had so much fun making the first one so we're really happy it resonated with so many people. Definitely couldn't imaging sitting here 15 years later, still playing Alice."
And with her daughter Ever joining the franchise as the Red Queen this time around, Milla was one proud mama on set. While the 9 year old was originally only supposed to film her scenes on a green screen, she impressed everyone so much, she quickly started filming with the rest of the cast.
"Her first day, it was all on a stage against a green screen. It was good because she got a chance to get comfortable and she was on her own," explained Jovovich. "But Ever was so amazing and did such a great job and memorized her lines so well that we started bringing her to set because, just so the other actors could see what the Red Queen was gonna look like and she did so great."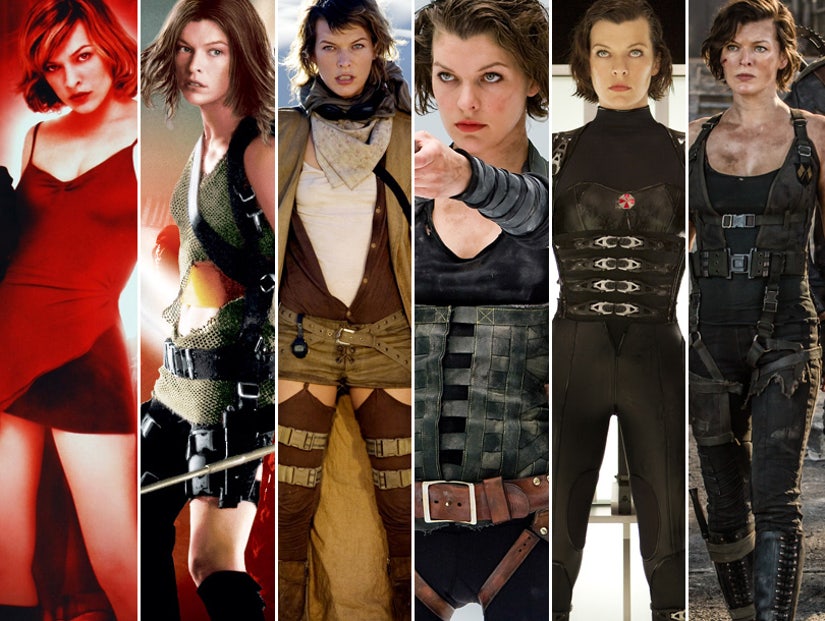 Everett Collection
For Jovovich, a decade and a half of these films has meant many a makeover for Alice. Looking back over the entire series, she's worn everything from slinky red dresses to post-apocalyptic armor -- but which ensemble has been her favorite so far?
"I guess my favorite costume would have to be in number three ["Extinction"]. The duster, the shorts with the star on the back," she revealed. "My least favorite, I guess maybe in the last one, the tight black Umbrella suit was very, very uncomfortable and really annoying to have to put on and take off."
The occasional uncomfortable outfit aside, Jovovich said she's "sad" to leave Alice behind after "The Final Chapter."
"I love playing Alice so much and she's such a big part of my life," Milla lamented. "She's changed everything for me and it's not every day you can go into the 'Resident Evil' world. It's all there, the zombies, the post apocalyptic landscapes, the amazing sets, the amazing stunts, it's just so much fun and I'm going to miss this world."
"Resident Evil: The Final Chapter" hits theaters January 27.