The celebrated "Hairspray" remake debuted in theaters 10 years ago today, and even though Nikki Blonsky shined as Tracy Turnblad in 2007, she was not invited to appear in NBC's live TV musical last year.
"They never reached out to me. I think they kind of forgot me, which is fine. We all have our moment in the sun," the 28-year-old actress told TooFab in an interview. "I was so happy for [the other two women who played Tracy]. I think they did a great job. It was an interesting thing to sit back and watch it. I was most excited for the people who have never seen it before to be able to just turn it on the TV. It was definitely bittersweet for me, but after I watched it, I felt really good about it."
Blonsky has only fond memories of her time on the set of the critically acclaimed movie, which combined elements from John Waters' 1988 original movie of the same name, as well as the 2002 Broadway musical, to tell the story of a teenager pursuing stardom as a dancer on a local TV show while rallying against racial segregation. The movie earned Blonsky a Golden Globe nomination, and raked in over $202.5 million around the globe.
"It feels like it was just yesterday that we were making the movie and having the greatest time of our lives," Blonsky said. "Here it is 10 years later, and it surely doesn't feel like 10 years. Time flies when you're having fun, right?"
What was it like working alongside some of Hollywood's biggest names?
When I was getting ready to meet all these amazing actors, I said to myself, 'Well, you could be really, really nervous and petrified and totally just taken over by the whole thing, or you can go out there and do it,' as [my high school teacher] Dr. Levy would say. They were so cool and so down to Earth and they were just the nicest people in the world.'
Who were you most star struck to work with?
What was it like working with Zac Efron?
It's funny because he was really just famous for 'High School Musical' back then. And the first day we met, I accidentally walked into his singing rehearsal, and we hadn't met yet, and I just looked at him and I was like, 'Sorry!' And I shut the door really fast. And then I just hear, 'No, come back!' And I went back, and he said to me, 'Hey, we're in this together. We have to make this ship sail.' And we became the best of friends. Every time I'm in L.A., we try and get lunch or hang out or do something fun.
Do you still keep in touch with any of the cast members?
The one person in my phone that I can tell you I can text at any moment that just always has my back and is always there for me is John [Travolta]. He is the greatest. We literally became like mother and daughter. He's the greatest man in the entire world, I can say that. I love him like a parent. There is nothing I wouldn't do for him. It's the best relationship I've been blessed to make in my career. Meeting him was like meeting a guardian angel that I always needed to have.
Who from the cast was always late?
Zac. Always late. 'I lost my keys, I lost my phone, I lost my wallet.' And I would be on the phone trying to find his license or trying to find his wallet or track it down through taxi companies. I can't tell you how many times. That's what you do for someone you love, right?
Who from the cast was the prankster?
Elijah [Kelley]. Always. I was recording one of my songs and I just started seeing pencils go over my head. And then one hit me, and I was like, 'What is going on?!' And he was just dying laughing.
Who from the cast was quickest to break character?
I'd say Amanda Bynes. She was so much like Penny that sometimes I couldn't tell the difference. They're both fun and quirky and really lively, and sometimes I'd just be like, 'Oh, is that one of your lines?'
Do you still talk to Amanda Bynes?
Yeah, she's so cool. She's such a great friend. Another beautiful relationship I got from the movie. She's doing well. She's getting ready to start acting. She was one of my favorite actors growing up, and I just can't wait to see her on the screen again.
Your character defied the norm and ended up setting the tone for more diversity and acceptance during a time where segregation was all anyone knew. How do you think integration and acceptance of other cultures, races, sizes, etc. has changed from the 1960s (when the movie took place) to 2007 (when the movie was shot) to now?
2007 I feel like was the perfect time [for the movie] to come out because we had come so far, but we really did have a long way to go. And I feel like in 2017 we almost backtracked, and it's not good. We're supposed to be progressing as a country. Since 2007, we've backtracked in racism, sexism, ageism, mostly I think feminism. We've got a long way to go with feminism with people letting women take the reins. I thought for sure we would've had a woman president. Unfortunately, we don't. Women have so much to offer. Just as good as men, and hopefully in the next decade, in the future, women really show their strength to the world and rise to the top because we are just as good as men, if not better.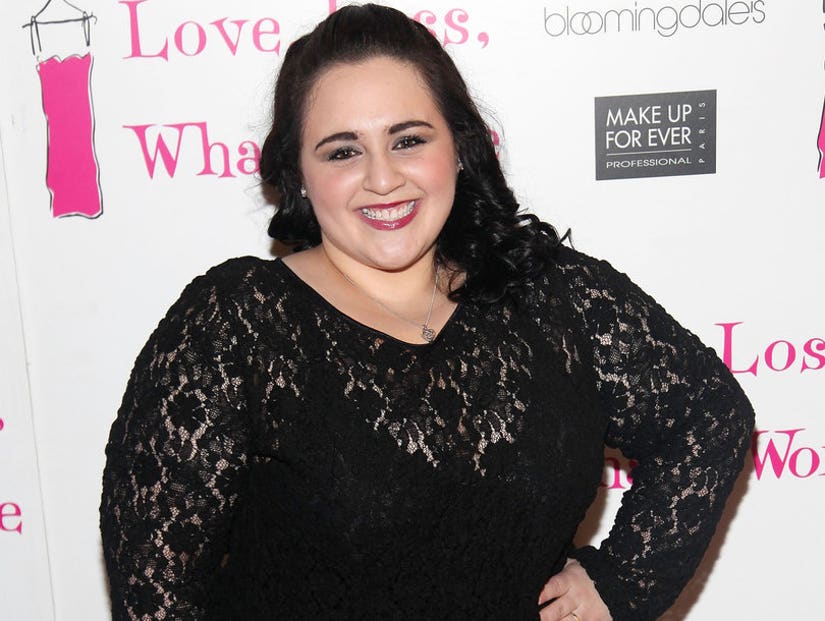 Getty
Do you think beauty standards have become more accepting and inclusive?
Everybody was really accepting of me and of people like Rebel Wilson. To think now it's kind of reached a plateau almost... I just think we need to get a little higher and move on up and just keep getting those great roles not based on our weight, or getting those great positions at work, not based on what we look like, but based on what our talents are.
Tell me about your role in 'Dog Years.'
'Dog Years' was an awesome movie I filmed a summer ago down in Tennessee with Burt Reynolds and Ariel Winter, and they're brilliant in it. They both make me cry in it. Their performances are just so beautiful. I'm kind of like the comedic relief because it's a movie that really hits you at your core, at your heart. And my character is just really bubbly and really excited to meet Burt Reynolds' character.
Ariel Winter has been under some heavy criticism by body shamers for her wardrobe choices lately. What are your thoughts on that?
She's so young and she's so beautiful and so talented and she's got a great body, and she should be able to wear what she wants. Granted, yes, there are children in the world, so cover up a little bit, but she works hard for her body. If she goes to the beach, and if she wants to wear a bikini and take a picture of it, I think because she's on a very famous show, people think they can say whatever they want. And it's gotta be very hard for her, but she's a strong chick and I love her. I actually think she's gonna be an awesome role model for girls who wanna live in their body and have fun.
Celebrities are constantly getting harassed on social media. Do haters pop up on your feed? How do you handle it?
I get it on a daily basis. Like if I'm doing a live feed and I'm just trying to talk to my fans and they're asking questions and then people pop up with stupid remarks and I block them. You don't realize what you're doing to people. I'm very confident in myself and my work and my life, but other people aren't fortunate enough to be that confident and it can really affect them, so I urge people, when you're writing those comments, just think, would you want to see that in your inbox? Probably not. My grandma always taught me, "If you don't have anything nice to say, don't say anything at all."