In a genre dominated by names like Michael Myers, Freddy Krueger and Jason Voorhees, Jennifer Tilly's bitchin' blonde killer doll Tiffany Valentine has become one of the few female horror villains with a franchise.
And there's no sign of it ending any time soon with beloved evil icon Chucky anchoring it.
First introduced almost 20 years ago in the 1998 movie "Bride of Chucky," the fourth film in the "Child's Play" series, Valentine is now just as popular as her red-headed hubby. The character has since appeared in "Seed of Chucky," made a cameo in "Curse of Chucky" and pops up again in the just-released "Cult of Chucky," which boasts an 82 percent approval rating on Rotten Tomatoes. She's been permanently inked on bodies, inspired fan art online and even found a fan in Blondie legend Debbie Harry, who dressed up as her for Halloween in 2015.
According to Tilly though, it was a role that almost never happened for her. She can now look back and thank actress Gina Gershon, her co-star in 1996 crime drama "Bound," for encouraging her to take on the part in the first place.
"I honestly thought it was a one-shot," she told TooFab. "And Gina Gershon told me -- cause I was sort of on the fence about whether I wanted to do the movie or not -- she was like, 'Oh my god, you should do it, you would have a franchise!' She said 'I would do anything to have a franchise!'"
"I was like, 'Well, I turn into a doll in this movie, I can't really imagine there's going to be more than one,'" she added. "This is my fourth Chucky movie, I'm pretty sure I'm going to be in every Chucky movie until the end of time as long as Don Mancini is at the helm, because he sees me as sort of his lucky charm."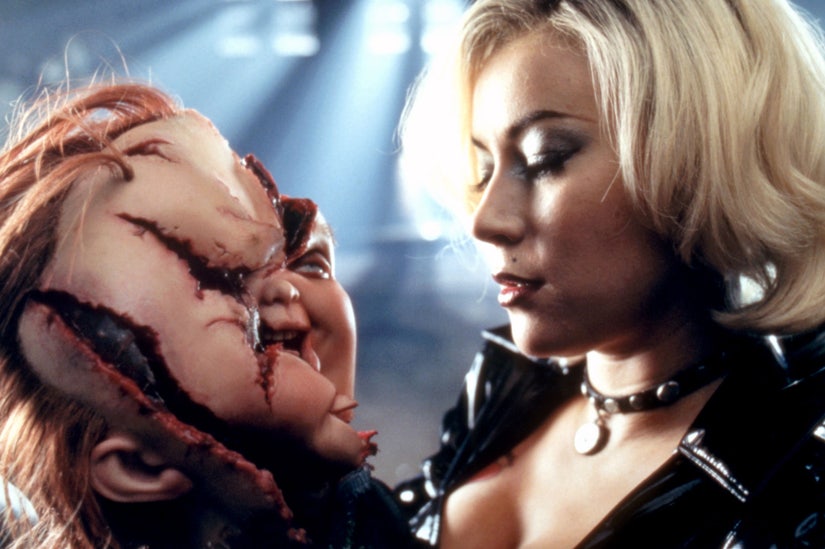 Everett Collection
Mancini is the man behind the "Child's Play" franchise, credited with not only creating the character of Chucky but writing every movie in the series. He's also directed the last three installments, the latest of which ends in a cliffhanger just begging for more. He told TooFab he created the character of Tiff for Tilly to play, before ever meeting her.
"I was a big fan in the wake of 'Bound' and 'Bullets Over Broadway' and I knew for that character I needed someone who could embody that sexy vixen archetype, but also needed to be someone who had a very distinctive voice because the character becomes and doll and a vocal performance," Manicini revealed. "Who besides Jennifer Tilly would be the perfect person to do that? I never in a million years dreamed she would say yes, but she did, which was like a dream come true."
As for being his "lucky charm," Mancini said the two quickly bonded during "Bride" and when it came time for him to make his directorial debut in the franchise with "Seed," he couldn't imagine doing it without her.
"When you enter into something like that, you want your actor to be a partner with you and I knew she would be because we're friends. In that sense, she was a lucky charm, but also maybe a little bit of a security blanket," he explained. "It turned out really well and we just really love working together, we like being together and I think that she's become such an indelible part of the franchise that it would feel a little disappointing for her to be gone completely."
Tilly agreed. "I think 20 years from now, Chucky will be chasing me around in my walker," she said with a laugh. "The idea of there being a Chucky movie without me now -- like maybe 10 years ago I would have been like, I'm fine with that -- but now I feel like I have to be in every single Chucky movie, and luckily Don thinks the same thing."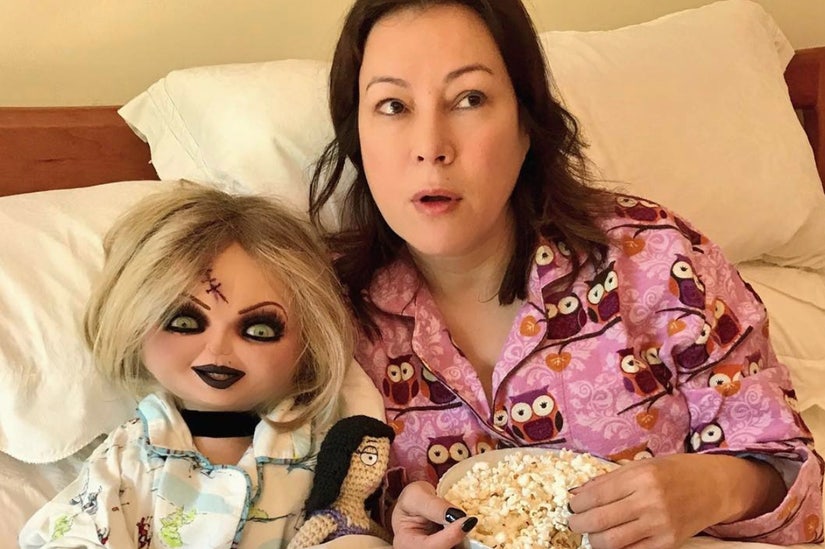 Instagram
The 59-year-old actress said she really started to see her character's popularity in recent years, thanks to social media. "It's only in the last, I guess, 5 years -- like I just got on Twitter and Instagram a few years ago —- is when I realized what a huge, obsessive, cult following Tiffany and Chucky have. I really think the fans of the Chucky movies are like the most obsessive fans I have."
She also believes horror has universal appeal and witnessed the proof herself. While playing poker in countries she "didn't even know existed," fans have come at her screaming one thing: "Chucky! Chucky!"
"He's genuinely a horror icon and Tiffany also," she told TooFab. "Like, last year, Debbie Harry dressed up as Tiffany for Halloween. I was very impressed by that because, you know, Debbie Harry is the ultimate blonde and for her to dress up like Tiffany, who is the other ultimate blonde is a big compliment."
As for why she's so popular, Mancini said the character is just "a really fun spin on the femme fatale archetype, but with a very specific fizz provided by Jennifer. I don't think we've ever seen a femme fatale quite like that. There's a slight parodistic aspect to it that I think makes it extra fun."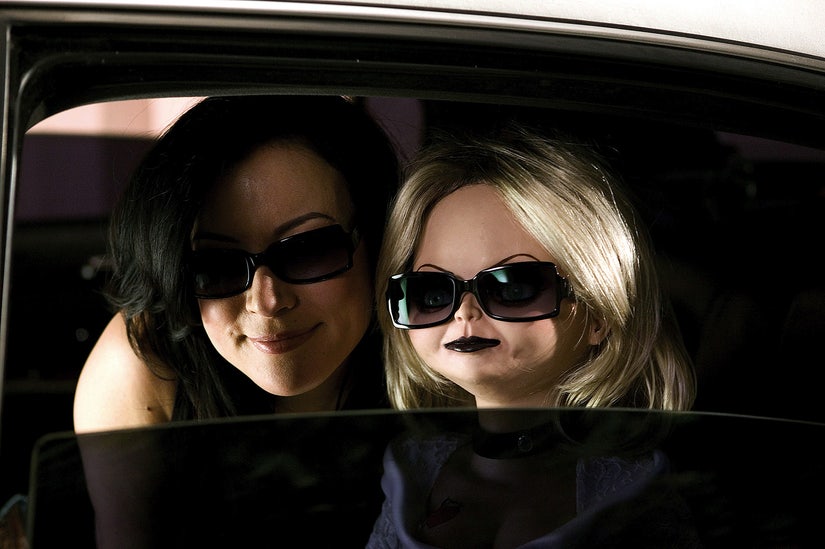 Everett Collection
When asked what she thinks about horror movies showing love to strong women, Tilly said she's happy to be among the genre's leading ladies.
"Before I did the Chucky movies, I was not really familiar with the horror film genre. But yes, I think the people get a vicarious satisfaction in a woman that's supposedly being victimized by evil forces and that she turns that assumption on its head and manages to be like the strong sort of mega woman," she said. "Look at how they're revamping [the new "Halloween"] with Jamie Lee Curtis. A lot of movies that I can think of, it is always the woman that becomes strong and triumphs and surviving at the end."
In closing, she added, "It's a great thing to be a woman in horror films these days."
"Cult of Chucky" is available now on Netflix, Blu-Ray and VOD.