The God of Thunder returns for his third semi-solo outing in "Thor: Ragnarok," out November 2, and the first reviews are in.
While most of the top critics agree the movie is not only the strongest of the "Thor" films, but also one of Marvel's funniest movies to date, most also criticized the project for leaning into the comedy at the expense of drama and narrative.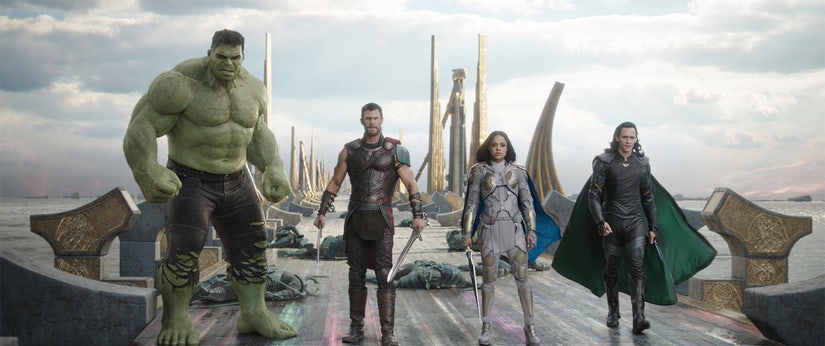 Marvel
Here's what the critics are saying so far:
"With the exception of Deadpool and the Guardians of the Galaxy films, Ragnarok may be the only Marvel-hero movie that feels like it's first and foremost a comedy. And on those terms — and those terms only — it's a triumph."
"What neither Hemsworth nor his director can overcome, though, is Ragnarok's meandering and narcoleptic story. It's the sort of rote, paint-by-numbers slog (occasionally broken up by numbing, pro forma smashy-smashy smackdowns) that makes so many Marvel movies feel like Xeroxes of other Marvel movies."
Critic Chris Nashawaty also says "Tessa Thompson is going to be a star. And while Ragnarok's story is an aimless mess, you won't stop laughing. In other words, it's a… B"
"The relatively laidback angle on all the murderous spree-ing gives Chris Hemsworth a chance to find the comic groove beneath the title character's beefcake godliness. He does it expertly, and the self-mocking humor is all the more welcome given Thor's essential blandness."
"Like Thor's two previous solo outings, this one is pretty much skippable, although it's not without its pleasures — most notably, the fact that Thor's not so solo this time around."
"And while it's not saying much, 'Thor: Ragnarok' is easily the best of the three Thor movies — or maybe I just think so because its screenwriters and I finally seem to agree on one thing: The Thor movies are preposterous."
"Back in the day, audiences had to wait a few weeks for Mad magazine to skewer the latest self-important Hollywood blockbuster. These days, Marvel movies arrive as parodies of themselves."
"It's zany to a fault, though: The adventure leans hard into the campy Flash Gordon vibe and slapstick humor, so much so that when the third act save-the-world stuff comes, it doesn't feel completely earned."
"Ragnarok is also the closest The House That Iron Man Built has come to a pure comedy. The Guardians of the Galaxy movies, Spider-Man: Homecoming and even Ant-Man struck an enjoyable balance between the absurd and the serious that Ragnarok just doesn't quite nail."
"Thompson is the rookie standout as Valkyrie, who definitely needs to be around the next time Avengers assemble."
"Directed by Taika Waititi ('Hunt for the Wilderpeople,' 'What We Do in the Shadows') with tongue firmly in cheek, this latest outing for the thunder god plays more to the giddy 'Guardians of the Galaxy' crowd than to those who prefer their superheroes to be grim and gritty."
"Blanchett walks away with the movie; verbally, she plays like Dame Diana Rigg channeling both Joan Crawford and Eve Arden."
"There's little pomp and even less circumstance, but its goofy pleasures are more than enough."
"Undoubtedly the best of the character's three films, it's more confident than the others, more kaleidoscopically colourful, and more eye-catching in its design."
"In [Waititi's] hands, Thor: Ragnarok is so knowingly daft that it almost qualifies as a parody."
"Thor: Ragnarok is the wittiest and most straightforwardly enjoyable of Marvel's blockbusters. The only snag is that it's all so bubbly and inconsequential that it can feel as if you're watching a hugely expensive sitcom episode."
"There is a certain 'Hmm, that didn't go as I intended' or 'That big moment fell flat!' wit that permeates Taika Waititi's occasionally delightful and always entertaining fantasy comic book threequel. It's paper-thin, but it's good fun."
"In fact, its core flaw is that the film is so in-on-the-joke witty that it often forgets to acknowledge its own drama."
"Thompson especially all but steals the picture, as Valkyrie is a delight. She's pissy, and funny alcoholic in what is a fine subversion of the 'strong female character' trope."
"It does also suffer from a lack of drama and a tone so light and jolly that it threatens to become flippant."
"Thor: Ragnarok" hits theaters November 2.