9 years and 16 movies after 2008's "Iron Man" launched one of the most successful film franchises ever, some major changes are in store heading into "Avengers: Infinity War" and 2019's still-untitled "Avengers 4."
President of Marvel Studios Kevin Feige and the actors playing Earth's Mightiest Heroes addressed the future of the MCU in December's Vanity Fair cover story, teasing a few transitions to come. The article noted that contracts with Robert Downey Jr., Chris Evans, Mark Ruffalo, Scarlett Johansson, Jeremy Renner and Chris Hemsworth are all coming to an end, meaning the stars playing Iron Man, Captain America, The Hulk, Black Widow, Hawkeye and Thor will either renegotiate or exit the series altogether.
"I feel a lot of joy for the next generation," Jonhansson told the publication. "It's a bittersweet feeling, but a positive one."
Hemsworth also addressed a moment from the set of "Avengers 4" where most of the cast was just hanging out playing Words with Friends on their phones between takes. "I thought, Could somebody take a photo of this? We're all aware that this is going to be the last time we get to hang out like this," Hemsworth explained.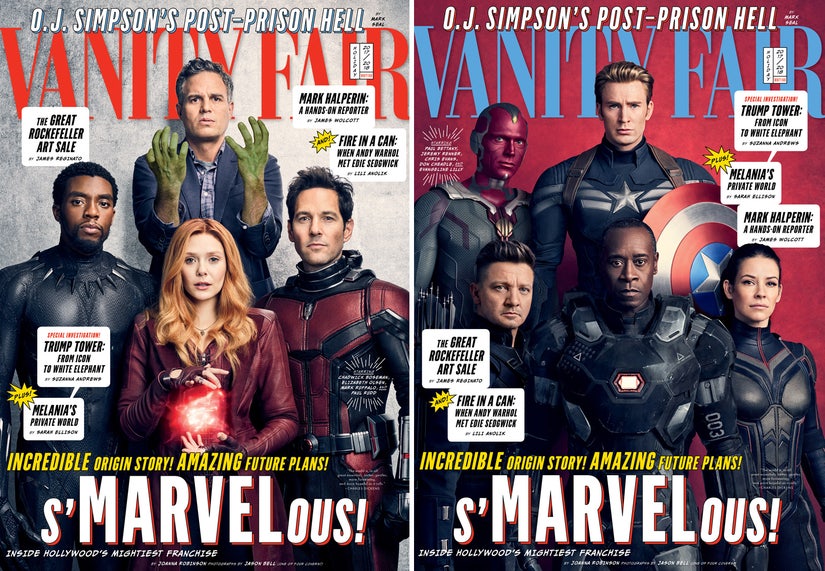 Jason Bell for Vanity Fair
While no one's giving specifics on who's in and who's out going forward, Feige did say he considers the fourth team-up movie a "finale."
The movie, according to him, will "bring things you've never seen in superhero films: a finale." He added, "There will be two distinct periods. Everything before Avengers 4 and everything after. I know it will not be in ways people are expecting."
"We've got another 20 movies on the docket that are completely different from anything that's come before - intentionally," he continued, with the article mentioning possible "Guardians of the Galaxy" spinoffs from James Gunn as well. "We're looking for worlds that are completely separate -- geographically or in time -- from the worlds that we've already visited," added Disney CEO Bob Iger.
Up next: "Black Panther" in February 2018, followed by "Infinity War" in May and "Ant-Man and the Wasp" in July. "Captain Marvel" with Brie Larson is due out March 2019, with the fourth "Avengers" movie in May that same year and a "Spider-Man" sequel two months later. A third "Guardians of the Galaxy" movie is also planned for 2020.