With two Academy Award nominations for her work as a costume designer in films like "Amistad" and "Malcolm X," as well as "Selma," "Marshall" and "What's Love Got to Do with It," Ruth E. Carter has said she's feels like she's been making superhero movies for years. And while she looked at director Ryan Coogler's project the same as she would a historical biopic, taking on a Marvel movie was still a totally different beast.
"The similarity is, you have to study the world around them and you have to create the world around them," Carter told TooFab. "So that part of it I was exercised in and so I looked at the Black Panther and the world with which he lived in, because that is our story and we have a little bit more freedom to decide what our world was going to look like and where we were going to draw our inspiration from."
"I didn't have like visuals of a photograph to look at [for reference]," she continued. "What I looked at for Wakanda was the ancient African tribes. We sectioned each part of Wakanda by what tribe inspired that particular area's look. So that kind of informed me. Then, in pop culture right now, there is a movement called Afropunk. And Afropunk really celebrates dark skin, creative expression. Even MAC right now is doing yellow lipstick and green lipstick and doing these bold colors that are non-conventional. So Afropunk was a source of inspiration as well."
Carter was also drawn to the work of Japanese designers like Issey Miyake and Mitsuhiro Matsuda and their "different take on silhouettes than the Western world."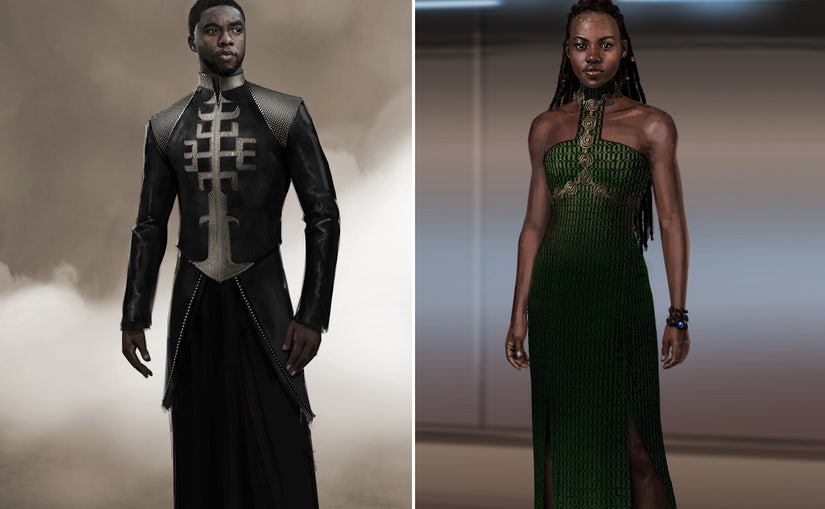 Ruth E. Carter
One major difference with this film was the collaboration with Marvel, who she described as being "very hands on" through the creative process. According to Carter, she still operated with a lot of freedom, "until I had to do a show and tell."
"I presented illustrations, they presented illustrations from their in-house visual development team led by Ryan Meinerding and there was so much to do," she said. "They had a core that they cared the most about that they wanted to see, like Nakia's [Lupita Nyong'o] costume or the Dora, obviously the Black Panther [Chadwick Boseman] and Killmonger [Michael B. Jordan]. Those are the things that they wanted to see, so I did lots of presentations. I just had to keep moving and when they asked for show and tell, I was like, OK, open the door. Let them in. Let them see what you're doing. And then when they're done looking and they give you a nod of approval, close the door, get back, keep it moving."
And those collaborations really seem to have paid off. The film hasn't even hit theaters yet, but there's already been talk of Oscar nominations for Carter's work. That being said, the accolades aren't something the designer necessarily pays all that much attention to.
"I feel like if I did I wouldn't do a good job. It's just going to screw the whole thing up," she said. "A long time ago when I worked for Spike Lee and he called me and said 'We're going to make a movie about the life of Malcolm X.' He said, 'But I don't want you to think about an Oscar. Just do the work. Just do a good job.' And I never forgot that."
"Someone asking you to do a movie like 'Black Panther' or 'Malcolm X,' it's intimidating," she admitted. "You go 'Wow, this is like major.' You know like, you just feel like you're starting out in the business. Not that you've got 30 years of experience. So hearing Spike say that to me back when he said it, it kind of calmed me down. So I thought that way on this too."
And while the entire process required an insane amount of work, Carter and her team were game for one additional -- and hilarious -- challenge: creating "Coming to America" costumes for star Lupita Nyong'o birthday party.
"I kept saying, 'Go away. Go away,'" Carter joked. "But my staff was so excited about going to a party, I guess we had worked so hard they were like, 'Well, we're invited to Lupita's party. What do they need?' So everybody participated in creating the 'Coming to America' costumes for her."
Waiting for your permission to load the Instagram Media.
For the bash, Nyong'o dressed as the "Lady-in-Waiting," while Danai Gurira went as Imani Izzi. Both women, in Carter's eyes, "really looked cute." And she's not wrong.
TooFab will have more with Carter all week long, as she reveals which look was the hardest in the film to perfect, the story behind bad guy Killmonger's costume, and what she hopes to see from fans once the movie hits theaters.
"Black Panther" hits theaters this Friday.