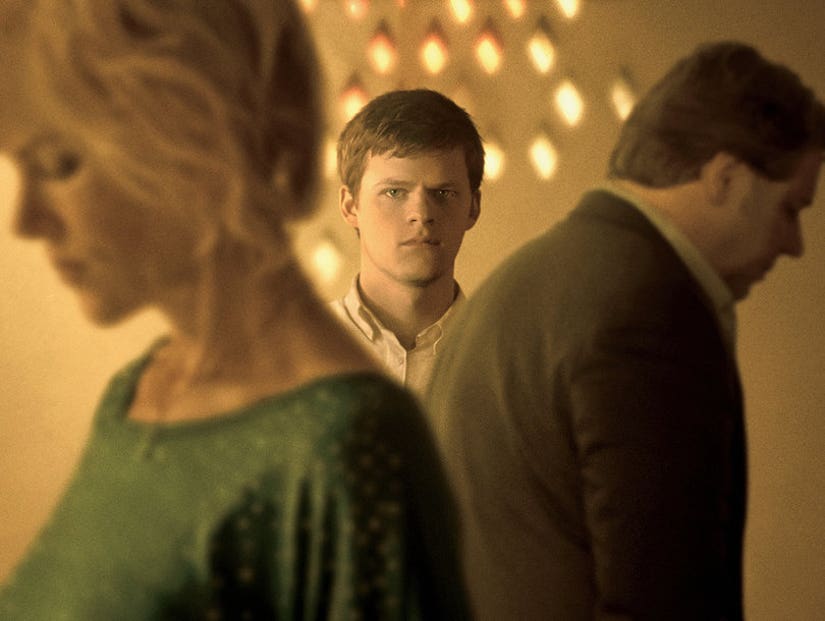 Focus Features
The creators behind the film reveal the "low bar" they hope to clear with the release of the movie.
With strong reviews, a big name cast and a topical issue at the heart of it, "Boy Erased" is the type of movie that should inspire change. But how do you get those who oppose its message -- the ones who really need to see it -- to set foot inside a movie theater?
That's the big question facing star/director/writer Joel Edgerton and Garrard Conley, who wrote the memoir and lived through the story on which the movie is based.
The movie stars Lucas Hedges as the son of Baptist pastor who is placed into conversion therapy after being outed to his parents (Nicole Kidman and Russell Crowe) as gay. What follows is a journey of self-discovery while going through a process Conley describes as "torture."
At a time where only 14 states have bans on conversion therapy for minors, the film faces an uphill battle with its message, one Conley and Edgerton hope reaches across to the other side of the aisle.
"We're not saying bad things about God or religion, we're talking about something that's very important in a very open minded, open hearted way that sees all points of view," Edgerton told TooFab when we spoke to the two before the film's release on Friday.
"How you get other people to see it, apart from kidnapping people and getting their eyes open," he continued.
"I think that we intentionally set out to not attack religion or anything like that," added Conley. "Also, Joel populated the film with A-list stars to get people to look at it."
"But beyond that, I think when you tell the truth, there's a way that it gets out there," he continued, saying the message at the core of the film should just be common sense. "I think human rights, no matter where you sit on the political spectrum or the religious spectrum, they're not up for debate. Human identity, not up for debate. I don't know why that's so controversial, why it continues to be so controversial, but we certainly exist within a world that -- right now, especially -- is trying to erase people's identity."
Conley's comment comes after the New York Times reported that the Trump administration plans to define gender to correlate only to a person's genitalia at birth, rolling back recognition and rights of the transgender community.
"Trans people's identities, there's an attempt to erase them and that is conversion therapy writ large," Conley continued. "I don't know if we'll be able to help reach the right people that can stop this from happening and vote correctly, but I think when you tell the truth something happens."
"Our low bar is getting people, no matter where they sit politically, to say I think this is torture," said Conley, regarding conversion therapy. "Hopefully people will change their minds about LGBTQ people, but we've gotta get them to agree that is torture, stop doing that, you'd think that wouldn't be such a high bar."
Edgerton pointed to The Trevor Project's "50 Bills 50 States" initiative as one way to make change. According to the organization's website, the campaign's goal is to "protect LGBTQ youth from conversion therapy in every state of the nation and countries around the world. Every day, we engage in legislation, litigation and public education to end these dangerous and discredited practices."
"You need to educate people," added Garrard, who also encouraged people listen to the new podcast UnErased and visit StopErasing.com for more information.
"Boy Erased" is in select theaters now.