With 'Dumbo,' Burton has assembled an all-star cast and crew of familiar faces -- here's why they were all thrilled to return to the director's weird world.
The world of Tim Burton is unlike any other out there, one populated with mischievous demons, scissor-handed creations and martians on a mission to conquer earth. And while making these films over the past 35 years, he's assembled his own little troupe of collaborators both in front of and behind the camera.
With his new live-action adaptation of "Dumbo," Burton finds himself once again working with Disney, a fruitful partnership that resulted in his most successful movie ever, "Alice In Wonderland." And while tackling another classic from the Mouse House's vault, he called on a few familiar names from his high-profile rolodex to help him fill the screen.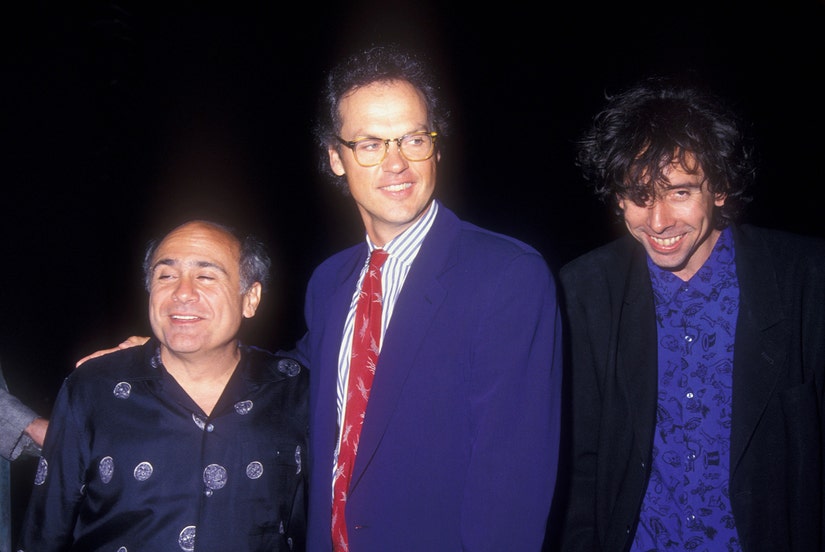 DeVito, Keaton and Burton in 1992/Getty
Joining the director this time around are Batman and The Penguin themselves, as Michael Keaton and Danny DeVito team up in the film for the first time since "Batman Returns." Those two, of course, have worked with Burton on a number of projects, including "Beetlejuice," "Big Fish" and "Mars Attacks."
For these actors, they were not only thrilled to be working together again, but doing it in a reversal of roles from their "Batman" days. In the film, DeVito plays a gruff, but lovable ringleader while Keaton's character is more sinister in nature.
"It was great. It was really terrific," DeVito recalled of the reunion at a recent press day for the film. "When Tim called a year ago or whenever it was, and said he was making the movie, I was really thrilled to be able to be part of it. And then the joy factor went up through the roof when I heard that Michael was in it with me."
"The joy factor was the first thing he reminded me was, [Danny] got to be the hero and I got to be the bad guy," added Keaton. "He was just thrilled with that."
"You know, once in a while, how does it feel to be the bad guy? Him in the mask and the whole Batman thing, it's just getting too much for me," joked Danny. "And me always being the gross penguin grunting and groaning and stuff. It was really so nice to be with him in the movie and everybody who is in the movie with us all together. Like Tim says, this great family that he creates. And we're all the weirdos. But there is one really weird daddy down in the end. He's like pulling all the strings. And so we were really thrilled to be together."
Burton's response: "Welcome to the island of misfit toys."
Though the director wasn't too comfortable to hear such praise from his actors, DeVito and Keaton didn't let up. Danny called Burton "brilliant," "a genius" and "one of a kind," while Keaton kept him squirming by adding, "it's a rare thing to work with an original."
While we're all thrilled to see this trio together again, there are some returning faces behind the scenes who are just as important when it comes to bringing Burton's vision to life. Also returning for "Dumbo" are production designer Rick Heinrichs, famed costume designer Colleen Atwood and legendary composer Danny Elfman.
Atwood said this was her 11th project with Burton, as the two previously collaborated on films including "Ed Wood," "Mars Attacks," "Sweeney Todd" and "Dark Shadows." And when it comes to their shared aesthetic, Colleen joked that they both "like a stripe."
"There's always going to be a couple stripes. We both have a graphic sensibility that binds us together in the design world," she said, after someone noted a similarity between one of Keaton's outfits in "Dumbo" and his Beetlejuice costume. "That just happenstance that Michael was the worthy wearer of the stripe in this one."
Heinrichs also talked a bit about the "shared visual shorthand" he has with Burton now, after previously working together on projects like "Sleepy Hollow," "Dark Shadows" and "Planet of the Apes."
"Every movie I've worked with Tim on with -- and I've known Tim for almost 40 years now -- has been an adventure unto itself," he explained. "What I would say is that there is a shared visual shorthand and I'm sure that all of his collaborators would say the same. The the exciting thing about working with Tim is in many aspect you dig deep into the history and the period and all of the things that one normally does to bring all the toys to play with on the table. And then Tim sweeps all that aside and you sort of put it back together as a 'Tim Burton' film."
"It's always a blank canvas to start with," he continued. "It feels dangerous and exciting and challenging and 'Dumbo' is certainly no different from any other time."
As for Elfman, who has now done a whopping 17 films with the director, he said he still never "knows what to expect from Tim at all," adding that he has no such shorthand with Burton after all this time.
Their relationship dates back to the 1985 classic, "Pee-wee's Big Adventure," with Elfman going on to score all but three of Burton's films. They also collaborated on "Nightmare Before Christmas," which Burton produced but didn't direct.
"Working with Tim is a lot less simple than a lot of other directors," Elfman admitted. "His mind is strange and interesting and I learned many years ago never to take for granted what I think he's going to want."
Of his over 100 movies, Elfman noted "most" of his favorite scores are the ones he's done with Burton. "But I won't say that many of those weren't without great challenges," he said, adding that it's always "a real interesting process musically getting to wherever we're going to get."
"But I don't care," added Elfman. "If I like the result, whether it was like a slam dunk easy thing or it really took a long process to find, it becomes irrelevant to me. It's only the end product that matters really. It's all you remember later anyhow."
"Dumbo" soars into theaters Friday, March 29.