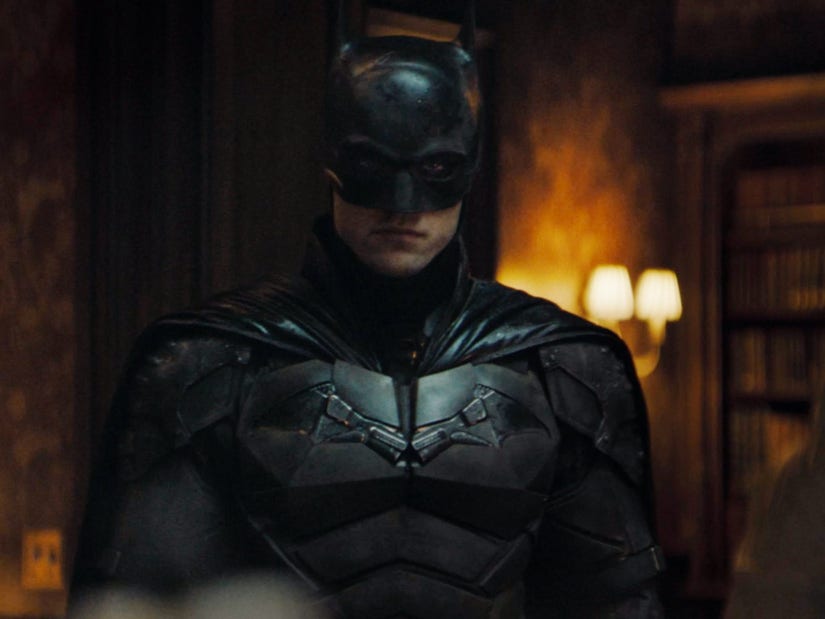 Warner Bros.
From Wonder Woman to Justice League, we've got you covered.
The day DC fans have been waiting for has finally arrived: DC FanDome.
The all-day, online event celebrates the company's biggest properties and projects, including upcoming movies, TV shows and comics. The convention -- basically DC's own version of Comic-Con At Home -- is free for all.
It's the films we're most interested in here at TooFab, as brand new footage and first trailers from Warner Bros.' slate are sure to rock social media as soon as they drop.
Expected throughout the day: new trailers for Patty Jenkins' "Wonder Woman 1984" and Zack Snyder's cut of "Justice League" for HBO Max, glimpses at James Gunn's "The Suicide Squad" and Matt Reeves' "The Batman" and new tidbits about "The Flash" movie and sequels to "Aquaman" and "Shazam!"
During a panel about the DC multiverse, President of DC Films at Warner Bros. Pictures Walter Hamada confirmed the current Justice League members are all on one Earth, while Pattinson will be separate -- as a "Year Two Batman."
"Aquaman" director James Wan and star Patrick Wilson couldn't really reveal anything about the sequel, except confirm Patrick's return. The stars of "Shazam" were in the same boat, only revealing that the sequel will be titled "Shazam: Fury of the Gods."
They were also briefly joined by Sinbad, who everyone believes was in a movie called "Shazam" that never actually existed. He hopes to get a part in the second film.
The biggest reveal of the day came at the end of the last panel: the first trailer for "The Batman," starring Robert Pattinson as the titular superhero.
The teaser, from director Matt Reeves, stepped away from the brighter colors DC has been dipping into with "Wonder Woman" and "Aquaman," and has a decidedly darker tone. Of course, this is The Dark Knight we're talking about -- seen here in full-on detective mode, investigating a series of murders. The movie takes place in Bruce's second year under his cowl, still "early in his trajectory" and a "growing legend" of Gotham. Reeves said the people of the city are still afraid of him.
The footage makes it pretty clear The Riddler (Paul Dano) is the main antagonist, as Bruce Wayne/Batman receives quite a few question mark-filled notes and rhyming clues taunting him throughout.
We do, however, get a great look at Zoe Kravitz's Catwoman in action as both a cat burglar and holding her own against Batman. There are also shots of the new Batmobile and what appears to be Colin Farrell under a lot of prosthetics as the Penguin.
According to Reeves, the movie will find Bruce discovering how his family fits in to the history of corruption of Gotham. He also promised the versions of Riddler and Catwoman in the film will be unlike anything we've seen in the past -- and said the movie would also be an origin story of sorts for those two characters, as well as Penguin.
"Selina isn't Catwoman yet that's actually part of the journey," he said, adding that Oswald Cobblepot actually hates his nickname.
The movie drops October 1, 2021.
Wonder Woman 1984 kicked off the event, where director Jenkins and stars Gal Gadot, Chris Pine, Kristen Wiig and Pedro Pascal dropped the second trailer for the film. Jenkins promised the movie will be a "big visual spectacular" and one they really want to debut in theaters, not at home via VOD amid the pandemic.
Set in the '80s, the new move sees Wonder Woman facing off against Wiig's Cheetah -- who we finally got a good look at after her super-villain transformation -- and Pedro's Max Lord.
This time around, Pine's Steve Trevor is the fish out of water, after he seemingly died in the first film. "My job again is to be in love with Gal, which is not a hard gig," he joked.
After a fan Q from Venus Williams, OG Wonder Woman Lynda Carter also popped up to celebrate the cast and crew and give them all her seal of approval. Wiig geeked out, revealing she even had WW Underoos back in the day.
While the sneak peek was full of killer action, the behind the scenes footage from the set looked like the core four had a great time goofing around during filming.
The movie is set, for now, for an October 2, 2020 debut.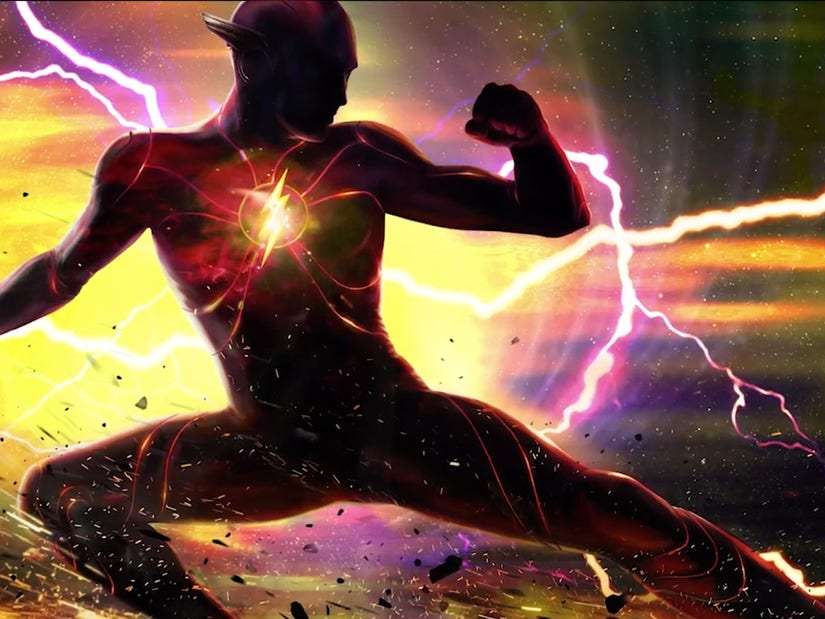 Warner Bros.
While there was no footage for "The Flash," which hasn't started filming yet, director Andy Muschietti did drop the first photo of Barry's (Ezra Miller) new suit (above). Bruce Wayne is responsible for crafting Barry's new look.
The film will follow the Flashpoint arc from the comics, which sees Barry traveling back in time to try and save his mother from being murdered -- and his dad being framed for the crime. Of course, it doesn't go as planned, as he really screws up the space-time continuum.
According to write Christina Hodson, she's seen doodles of Andy's vision for the Speed Force -- and said they "are unlike anything I've ever seen before."
As footage from DC films started to show on the screen, Miller teased "Flashpoint" means "all of the stories and characters can start to collide." The most interesting TV shows and films teased: Regina King on the "Watchmen" series and Keanu Reeve's version of Constantine -- could they pop up in the film, which is already said to feature Ben Affleck and Micheal Keaton's Bat-men.
The movie is set for a June 2, 2022 release.
Director James Gunn said making "The Suicide Squad" was "by far the most fun I've ever had making a movie," before finally confirming who everyone in the film's very-impressive cast is playing and the first looks at their new costumes.
Returning from the first film are Margot Robbie as Harley Quinn, Viola Davis as Amanda Waller, Joel Kinnaman as Rick Flag and Jai Courtney as Captain Boomerang. Joining the crew: Idris Elba as Bloodsport, John Cena as Peacemaker, Michael Rooker as Savant, Flula Borg as Javelin, David Dastmalchian as Polka-Dot Man, Daniela Melchior as Ratcatcher 2, Mayling NG as Mongal, Peter Capaldi as Thinker, Alice Braga as Sol Soria, Pete Davidson as Blackguard, Nathan Fillion as TDK, Sean Gunn as Weasel.
King Shark will also be in the film, while Storm Reid will play Tyla, Bloodsport's daughter.
A behind-the-scenes look at the movie showed all the characters suited up and working together in what looked like an epic battle film Elba compared to a "graphic novel brought to life."
According to Gunn, he had to most fun writing for Harley. "I think there's a chaotic trickster nature to her," he said. "As a writer, that's a really fun thing to deal with. A lot of it was me writing for Harley and Harley doing the writing for me."
The movie drops August 6, 2021.
DC superfans have been eagerly awaiting the release of Zack Snyder's full vision for "Justice League" ever since Joss Whedon stepped in to finished the film released in theaters. It'll drop on HBO Max in 2021.
Ben Affleck, Gal Gadot, Ray Fisher, Henry Cavill, Ezra Miller and Patty Jenkins all joined the panel to ask the director some fan questions. When Fisher asked which character Snyder hoped to "fully flesh out" with his version of the film, he leaned in hard on Cyborg.
"Cyborg is the heart of the movie," he said, "he's the thing in the end that holds the team together in a lot of ways and excited for fans to see just how that is realized."
Snyder said there'd be "tons more" of the The Flash and his "emotional arc" as well. "You're gonna see something of Flash in this film I don't think you've ever seen before," he added, saying it would have "something to do with his abilities" dealing with time and space.
He also confirmed the final product will be released in four, one-hour parts, which will also be bundled together as one film.
Set to "Hallelujah," the new footage gave us our best look at big bad villain Darkseid, a new glimpse at Superman in his black suit, Cyborg's transformation and the first look at Iris West, played by Kiersey Clemons.
Waiting for your permission to load the Instagram Media.
Dwayne "The Rock" Johnson showed off some concept art for his upcoming "Black Adam" film -- which has not started filming -- done by Boss Logic and Jim Lee. The teaser showed his rise from being a slave to one of the most powerful characters in the DC universe -- one who faces off against Shazam.
"I wish I could show you more, a lot more, but we're still in the early processes of this creation -- I can promise you this, we are going to go beyond your wildest expectations," he said after the footage. "At the end of the day, I truly have one boss that I aim to please -- besides my wife and my daughters -- that's you guys, the fans, the audience."
He called the characters "one of the most powerful superheroes, anti-heroes, villains, whatever you want to call him," someone who has no restraint when it comes to using his powers. "It's explosive, dangerous and very likable, to me at least," he added.
Johnson said he'd love to shoot a movie with Wonder Woman at one point and said it would also be "cool" to hang out with Superman. "You never know, Black Adam and Superman could become friends ... or they won't," he said, "Who knows, maybe we'll see."
Noah Centineo also teased his role as Atom Smasher, saying he's been doing a lot of training to get into superhero shape. "Just trying to do the best that I can to come and deliver when it's game day," he added. "It's an exciting character, it's a young character and it's a new, fresh face."
Joining Atom Smasher in the Justice Society in the film will be Hawkman, Doctor Fate and Cyclone.
The panel ended with Johnson telling the current members of the Justice League, "things will never be the same, because the hierarchy of power in the DC Universe is about to change."