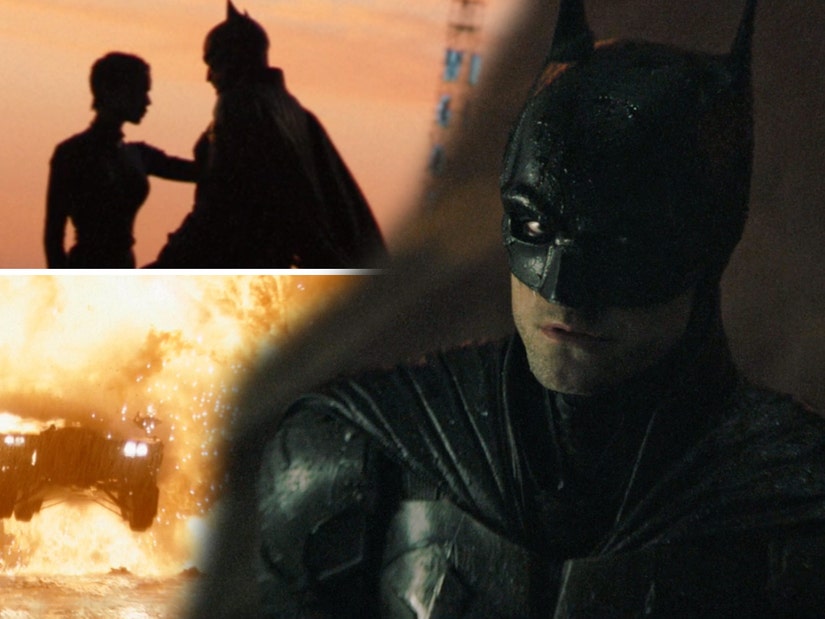 Warner Bros.
"Aquaman and the Lost Kingdom," "Black Adam," "Shazam! Fury of the Gods" footage debuts, while John Cena's "Peacemaker" brings his tighty-whities dance to TV.
For the second year in a row, DC FanDome celebrated the most exciting superhero content from the DC Multiverse.
The four hour event kicked off Saturday morning at 10am, with exclusive trailers, never-before-seen footage, breaking news and in-depth interviews for DC films, TV series, games and comics all expected throughout the day.
The most anticipated sneak peek of the day was definitely the new trailer for Matt Reeves' "The Batman," starring Pattinson and Kravitz as Bruce Wayne and Catwoman, respectively.
And related to that film, Bruce Timm is returning with a new series he promises is "more 'Batman: The Animated Series' than 'Batman: The Animated Series.' Tying into the latest big-screen epic, Timm's "Batman: The Cape Crusader" returns to that familiar eternally 1940s noir Gotham with a whole new Batman.
The event also included a first look at "Black Adam," a sneak peek at "The Flash" -- including a glimpse of Michael Keaton's Batman! -- and behind-the-scenes vignettes for both "Aquaman and the Lost Kingdom" and "Shazam! Fury of the Gods."
They also got their first look at the upcoming kids' film that puts every superhero's best friend front and center in the animated "DC League of Super-Pets."
On the television front, a farewell tribute was given to "Supergirl," alongside inside looks at "Batwoman," "The Flash," "Superman & Lois," and "Sweet Tooth." Fans got a first-look at Ava DuVernay's new teen superhero series, "Naomi." HBO Max also revealed a new look at the upcoming series "Peacemaker" and limited event series "DMZ."
Fourth seasons for both "Doom Patrol" and "Titans" were announced, while fans were treated to the surprise release of the first two episodes of "Young Justice" Season 4 on HBO Max. On top of that, a new animated Milestone movie is coming, from the company that brought "Static Shock!" to the world. "DC's Legends of Tomorrow" celebrates 100 episodes in typically quirky style with a fun new clip.
Keep scrolling for the biggest sneak peeks from the online event -- and watch it all in full above.
First Trailer for The Batman
Behind-The-Scenes Glimpse at Aquaman and the Lost Kingdom
Official Teaser for HBO Max's Peacemaker
Supergirl Farewell Tribute
The Flash Teaser Trailer Featuring Michael Keaton
First Look at Gwendoline Christie's Lucifer in Netflix' "The Sandman"
Gotham Knights Game Trailer
Live Action Batgirl Movie Concept Art Reveal
Patty Jenkins Confirms Wonder Woman 3 in the Works
Behind-The-Scenes Look at Shazam! Fury of the Gods
Sweet Tooth Q & A with Christian Convery
First Look at Ava DuVernay's Naomi
Doom Patrol Mid-Season 3 Trailer
DC League of Super-Pets Trailer
Batwoman "Groovy" Season 3 Trailer
DC's Legends of Tomorrow Celebrates 100 Episodes
Harley Quinn Season 3 First Look
Suicide Squad: Kill the Justice League Video Game Story Trailer
Injustice Animated Film Clip
Young Justice: Phantoms Sneak Peek