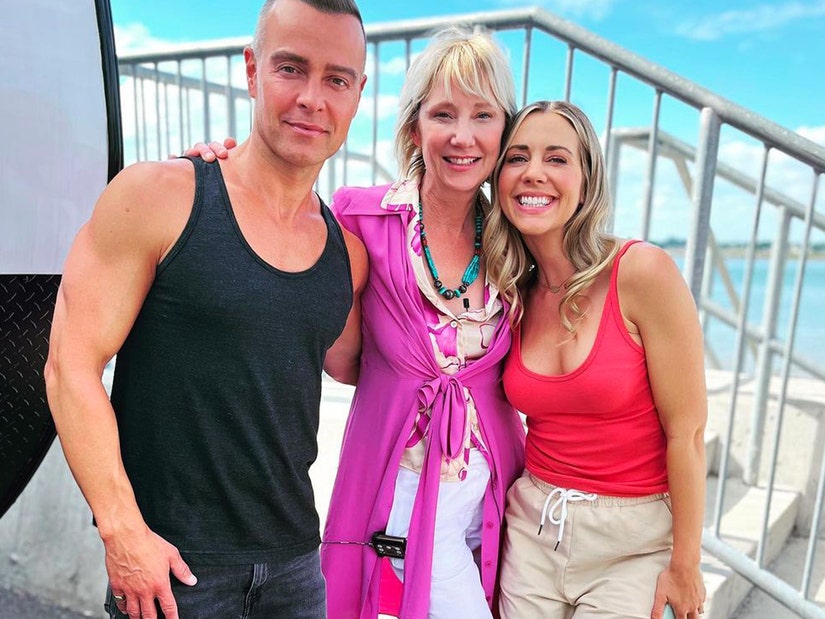 Instagram
The late actress' final Instagram post before her death was with the two actors on the set of their romcom.
One of the last projects Anne Heche filmed before her death was "Frankie Meets Jack," a romcom written by and starring husband-and-wife duo Joey Lawrence and Samantha Cope. And while it's not a large role or a big budget film, Lawrence said the actress treated it like she would a blockbuster
"We had a conversation before she came and joined us and I said, 'Anne, it's a small little movie, but we'd love to have you if you'd do so' and she said, 'Let me read it, I think I could have some fun here,'" Lawrence recalled to TooFab.
"She was a testament to that old adage that there's no small part. If you take something, you treat it with the professionalism that you treat your big movies with Harrison Ford and Johnny Depp," he continued.
"There was no drop off in her commitment. She didn't come in like [rolls eyes], 'I'm doing this because they're paying me a lot of money for a couple days.' None of that," added Lawrence. "We didn't feel any of that. She approached it with an amazing passion, an amazing energy and focus."
Lawrence said Heche "seemed like she was in such a great place" when she filmed with them, weeks before her death. He added that even though her part was small, she still showed up to the wrap party for the film and "stayed the whole time," talking to everyone there. "No ego, man," he added.
Waiting for your permission to load the Instagram Media.
Heche's final Instagram post was with both Lawrence and Cope, as well as Joey's brother Andy, who directed the film. She posted about the "good times" on set with them mid-July, before her death on August 11.
"She was such a light, like everything out of her mouth. While she was on screen, off screen, she had so much energy to give. She's one of those actors you work with and you're better for it," added Cope, who shares the most scenes with Heche in the film.
"She was just the life of the party the entire time, no ego, she showed up with great ideas, she just wanted to play herself and it comes through on screen," she continued. "She's just this larger than life, amazing person that you want to be around."
Cope said the late actress did a great job "exuding love and advice and wisdom and guidance" in the role, calling her, "Just fantastic" and adding they were "very lucky to have her."
"Life is short, dude," Lawrence told TooFab. "You just never know when your clock is punched. You just have to try and keep that perspective every day and be thankful to wake up and live the next one. It's not easy to do, you lose sight of that, I do often, but it is really short."
"Frankie Meets Jack" is Joey and Samantha's third movie together. The married pair, who just welcomed their first child together earlier this month, actually met on the set of their first collaboration ... another movie directed by Lawrence's brother Andy.
Joey said the two get "more comfortable with each and every" project they do together, adding that their plan is to "hopefully reinvigorate the romcom genre, which for some reason, studios have deemed the genre over."
"But fans haven't! Although the CGI of Avatar and all these things, it's impressive, but I feel like grounded little films with relatable circumstances and characters, I feel like people are always craving that stuff," he continued. "I know we are. Even watching that Julia Roberts, George Clooney thing 'Trapped In Paradise,' it makes you feel good and I feel like if people can make some more of those, audiences will show up."
Though they hadn't "really written anything" before, they teamed up to co-write the script on this one, getting really good feedback from friends before Fox picked it up for Tubi.
"This one was really fun too because the first movie we did together we were love interests, but he was trying to kill me the whole time," added Cope of the collaboration, which follows the thriller "A Deadly Deed." so this is more we actually both liked each other and it was a different kind of love.
"We just work well together," she concluded.
"Frankie Meets Jack" premieres February 3 on Tubi.