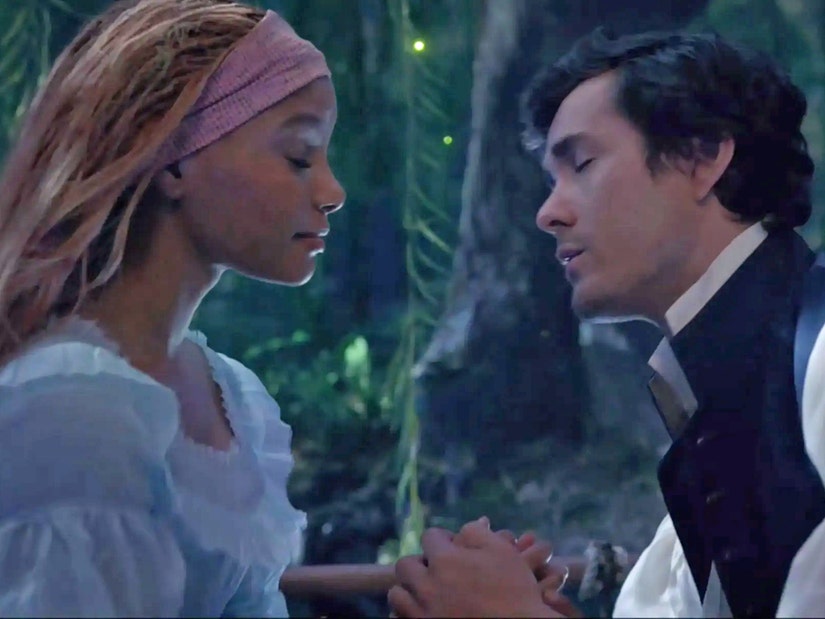 Disney
The snippet comes after Disney announced that the lyrics to songs "Kiss the Girl" and "Poor Unfortunate Souls" will be updated upon the film's release
"The Little Mermaid" fans are in for a treat with an early sneak peek into the movie's iconic "Kiss The Girl" scene.
A short clip of the moment was previewed as a part of the 2023 MTV Movie & TV Awards on Sunday. The exclusive teaser of "Kiss the Girl" -- primarily sung by Daveed Diggs as Sebastian -- featured the song's final moments as Ariel (Halle Bailey) and Prince Eric (Jonah Hauer-King) float on a boat surrounded by lush greenery, twinkling lights and dancing fish.
When the pair eventually lean in for a kiss, they are thrown overboard.
Though the new video featured snippets of the song with its original lyrics, the film's composer, Alan Menken, revealed that a few lyrics in two songs from the animated movie have been changed after consideration that they may be deemed offensive in today's climate.
In an April interview with Variety, Menken announced that the words to the songs "Kiss the Girl" and "Poor Unfortunate Souls" will be updated upon the film's release. Though specific lyric changes have yet to be revealed, he suggested that the original version of "Kiss the Girl" did not reflect today's understanding of consent.
"There are some lyric changes in 'Kiss the Girl' because people have gotten very sensitive about the idea that [Prince Eric] would, in any way, force himself on [Ariel]," the composer explained. "We have some revisions in 'Poor Unfortunate Souls' regarding lines that might make young girls somehow feel that they shouldn't speak out of turn, even though Ursula is clearly manipulating Ariel to give up her voice."
The original animated "The Little Mermaid" film was released back in 1989 and was voiced by Jodi Benson. In the live action remake, Bailey will swim and step into the role of Ariel.
"The Little Mermaid" will premiere in theaters on May 26.