Emma Stone joined fellow Hollywood starlets like Jessica Alba, Amber Heard, Rashida Jones, and Katie Holmes for Giorgio Armani and Vanity Fair's private dinner in L.A. last night. Super stylist Rachel Zoe was decked out in black to pose before the exclusive meal. It was Katie's latest outing with the brand after attending many of its shows over the years. Katie Holmes's wedding dress was even Armani!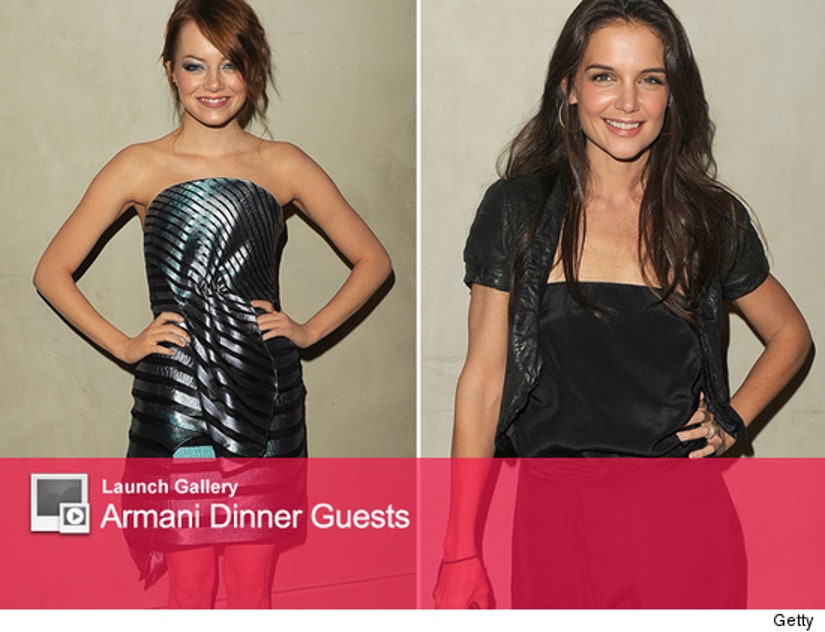 There were plenty of men represented, too: Adam Brody dressed up for the event as did Josh Hartnett, Aaron Eckhart, newly single James Marsden, and Darren Criss. It was a date night for Mark Wahlberg and Rhea Durham as well as J. Edgar star Armie Hammer and his wife Elizabeth Chambers. Emma attended after a long day on the set of The Gangster Squard with her two-time costar Ryan Gosling — the duo also acted together in Crazy Stupid Love. Katie Holmes, meanwhile, has been hanging out on the West Coast and shopping with her daughter, Suri Cruise, following their weekend visit to Tom Cruise on the Pittsburgh production site of One Shot. The debut of Katie's next acting gig is coming up, too, when the Halloween episode of How I Met You Mother, in which she plays the infamous "slutty pumpkin," finally airs.
Click "Launch Gallery" above to see the star studded night!