Kate Hudson is getting candid about her single status.
The 36-year-old star is gracing the cover of the December/January issue of Harper's Bazaar, where she opens up about her past relationships and raising her sons Ryder, 11, and Bingham, 4.
"It's hard to let go of something, even when you know that it's not right," she said of her relationships with ex-fiance Matt Bellamy and ex-husband Chris Robinson. "I've chosen something in my life that I'm very comfortable with that goes against a lot of people's more traditional feelings. If something's not right, I don't believe in maintaining something for the sake of what's considered a traditional family, because I believe that there are different ways to raise children. It's far more effective to raise children in happy homes."
Speaking of her kiddos, the actress can't help but gush about her boys. "He's so comfortable in his skin. That's the kind of thing you really want to protect," she says of Ryder. "There's no cockiness to him."
As for Bing, it seems music is in his blood. It sounds like he might be following in the Muse rocker's footsteps!
Besides her sons, Hudson doesn't have a special man in her life at the moment -- she's single for the first time in five years.
"It's nice to get acquainted with myself alone," she tells the mag. "You know, the goal when you get into a relationship is not to be out of the relationship. It's to try to stay in the relationship. But if it doesn't work, you can't force those things."
For the first time in her life, Kate is taking time for herself. "It's good to take a second to make my life about getting myself centered, clearing the energy, no overlapping," she declares. "I'm at that age now. I really do feel very lucky. I've had my kids and my relationships. I've set my life down—I'm in my house, and I'm alone with my children—and I'm at peace, and that's a really nice feeling. All I really want in my life is to maintain that."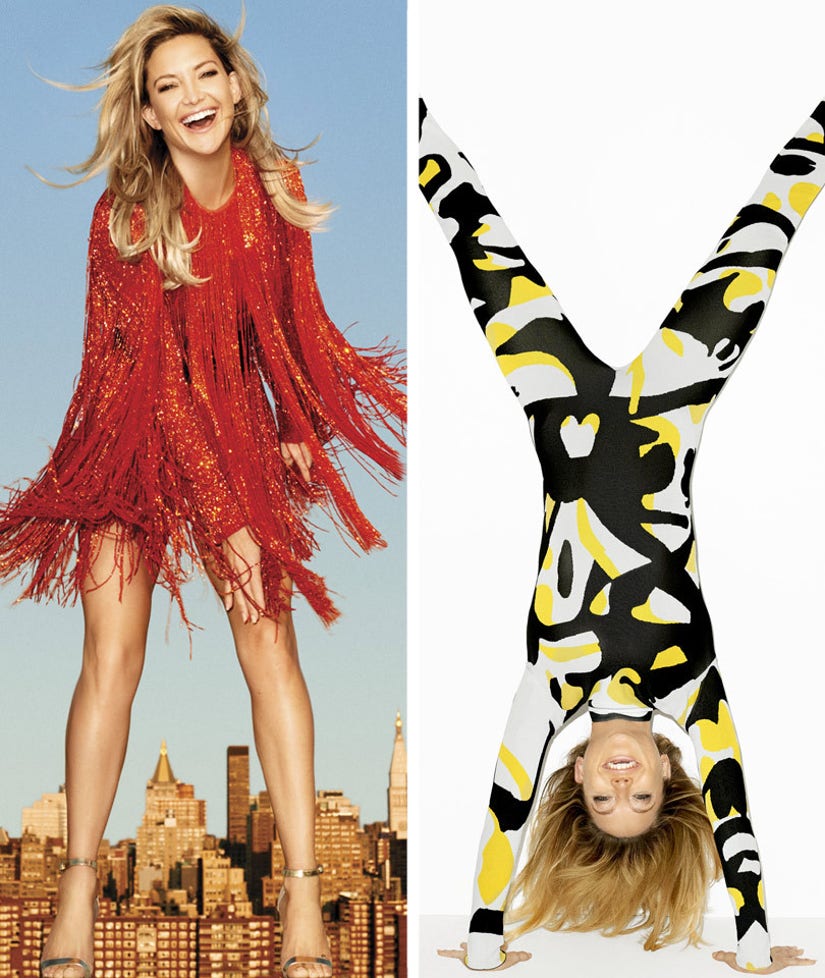 Terry Richardson
Hudson's career continues to thrive -- she currently has four movies in production. While she admits that it's tough to be away from home, Kate says she loves to act.
"I love what I do. I think a lot of people, especially when you're a woman, you have kids, and work on movies, it's hard because you're away from them," she reveals. "There's nothing lazy about it. You go to work, get on the first plane home even if it's for eight hours, go back to work. I don't want to be away from my family. I love it so much. I just enjoy being on movie sets."
Check out Kate's full interview in Harper's Bazaar when it hits newsstands on November 24.
For more of today's hottest headlines, check out the video below: